Global carmakers are likely to lose $ 61 billion by 2021 due to ongoing semiconductor shortages, current forecasts show.
We are starting to see the semiconductor shortage unfolding and projections of how much of its impact it will affect carmakers globally in 2021. Current forecasts show, The global carmaker could lose about $ 61 billion due to the shortage of semiconductor supplies in this sector.
Global automakers could lose $ 61 billion due to a shortage of semiconductors
Compared to the $ 1.63 trillion in revenue from the top 10 carmakers in the world each year, the number of $ 61 billion is lost due to the shortage of semiconductors cause is not much.
However, the Covid-19 pandemic has hit the auto industry quite heavily in 2020. Although sales have recovered stronger than expected in the second half of 2020, the automakers are The world has seen their sales fall 10-20% year-on-year. In particular, automaker Nissan had a big shock, with sales down 33%.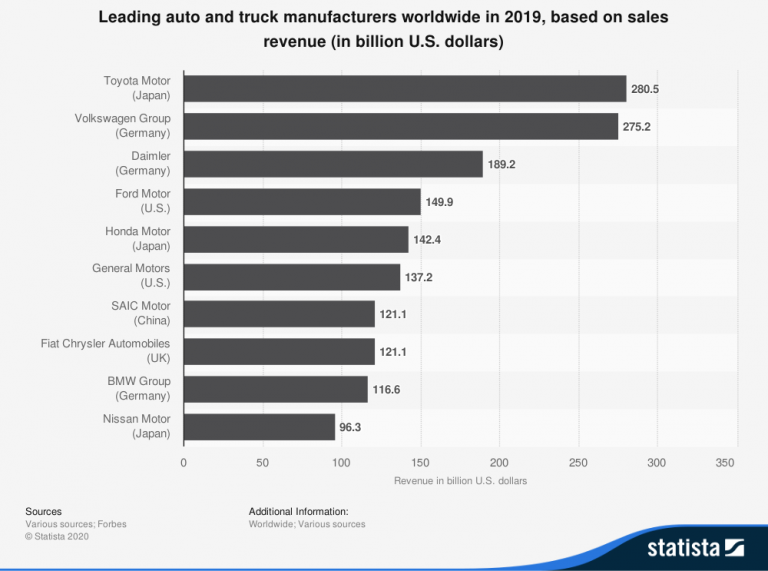 Revenue in 2019 of the world's top 10 car manufacturers (billion USD)
Follow Bloomberg, the relationship between Taiwan's leading semiconductor foundry company TSMC and other automakers has fallen to a low level, all blamed for the current shortage of semiconductors.
To address this shortfall, TSMC recently committed to shift some manufacturing industries and allocate additional resources to the automotive semiconductor industry. However, it is forecasted that it will not be until the third quarter of this year that TSMC will finish solving the production problems.
Phan Van Hoa(from Extremetech)
Huawei, Xiaomi and 88 Chinese companies cooperate to make semiconductors
Faced with a serious shortage of supply, Chinese corporations have linked together to develop and produce semiconductors by themselves.
.