On the morning of December 25, in Hanoi, the National Advisory Council on postage stamps had a meeting to comment on the design of 4 stamps to be issued in the last 6 months of 2021. Deputy Minister of Information and Communications Pham Anh Tuan attended as a way of the Chairman of the Council.
At the meeting, experts in history, military, art, music, agriculture, post … made suggestions to perfect 2 sets of commemorative stamps and 2 sets of thematic stamps.
Honoring musician Luu Huu Phuoc and Admiral Giap Van Cuong
Two sets of commemorative stamps are expected to be released in September 2021. In particular, the stamp "100th anniversary of the birth of musician Luu Huu Phuoc (1921-1989)", including 1 sample, will be released on September 12.
Musician Luu Huu Phuoc is one of the great talents of Vietnamese music, representing the Southern music school during the beginning of the neo-music scene.
He was a big name in Vietnam's revolutionary music, one of the first musicians to use a very successful march – derived from Western music. He has become the author of excellent politicians, with great ideological, high artistic value and historical value. His typical main songs include: "Youth Marching", "Going to the Road", "Soul of a Soul", "Liberation of the South".
Not only a musician, Luu Huu Phuoc is also a politician, researcher (Professor, Academician, Music Theorist; Former Minister of Cultural Information of the Provisional Revolutionary Government of the Republic of South Vietnam. Male; Former Member of National Assembly, Chairman of the Committee for Culture and Education of the National Assembly of the Socialist Republic of Vietnam).
With the contributions of musician Luu Huu Phuoc to the Vietnamese music scene, he was awarded many medals and medals by the State of Vietnam, including the First Class Independence Medal (1987), the Ho Chi Minh Prize. Minh in art and literature phase 1 (1996) …
The stamp "100th anniversary of the birth of Admiral Giap Van Cuong (1921-1990)", including 1 stamp sample, will be issued on September 13, 2021, to honor Admiral Giap Van Cuong's contributions to his career. protect the country.
Admiral Giap Van Cuong was born on September 13, 1921 in Bao Dai commune, Luc Nam district, Bac Giang province. He participated in 2 resistance wars against French colonialism and American imperialism. In 1974, he was promoted to Major General and Deputy Chief of Staff of the Vietnam People's Army.
His career is closely related to the Vietnamese Navy. In 1977, he was appointed Commander of the Vietnam People's Navy and held this position until 1980. In 1988, he was appointed the first admiral of the Vietnam Navy.
From an experienced infantry soldier, he became an eminent Navy commander. When mentioning him, people not only talk about the first admiral of the Navy, but also mention "Vision of Giap Van Cuong", "Will of Giap Van Cuong".
His name and career stood out as the brave Commander of the Vietnam People's Navy in the defense of Truong Sa and gave birth to the DK1 rigs day and night protecting the southern continental shelf of the country.
For his great contributions to the defense of the Fatherland, he was awarded the First Class Independence Medal by the State; two first-class Military Achievement Medals and awarded the title Hero of the armed forces (May 7, 2010).
Encourage conservation of precious chicken genes and geological parks
Two thematic stamps are expected to be released in August and October 2020. The first set of stamps on a number of famous Vietnamese chickens, including 4 stamp samples, will be issued on August 25 to encourage the conservation and preservation of Vietnam's precious and purebred chicken genes.
Based on pictures and documents provided by the Institute of Livestock Production (under the Ministry of Agriculture and Rural Development), the stamp set will introduce the types of chickens including: Multi-finger chickens; Dong Tao chicken; H'Mong chicken; Lac Thuy chicken; bamboo chicken.
In which, multi-finger chicken is purebred chicken breed, rare for a long time, associated with livelihoods and culture of ethnic minorities in Phu Tho province (North Vietnam). In addition to economic and cultural value, multi-finger chickens are also valuable genetic resources, which have important implications for biodiversity, genetic diversity, and livestock development.
Dong Tao chicken (also known as Dong Tao chicken) is an endemic and rare chicken breed in Vietnam. This is a traditional chicken breed of the people of Dong Tao commune (Khoai Chau district, Hung Yen province). People used to use them for worshiping, festivals or advancement of the King. Dong Tao chicken is on the list of rare poultry breeds in Vietnam that are currently under genetic conservation.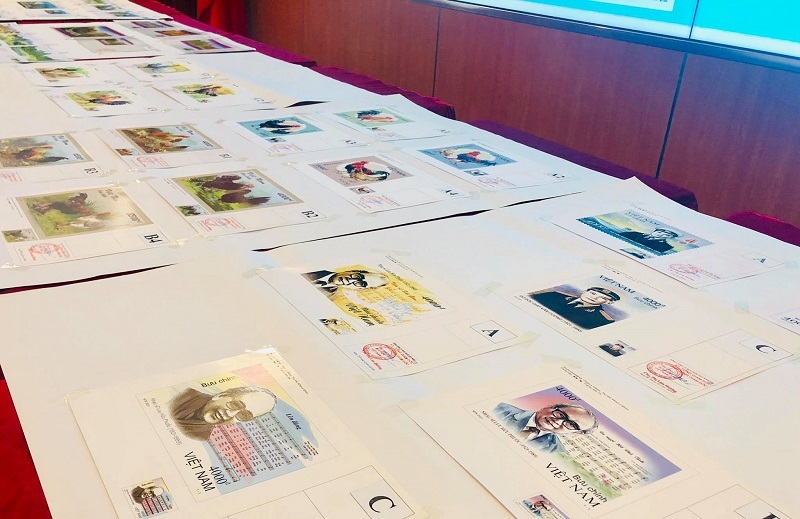 Postage stamp designs have been selected and commented on by the National Advisory Council for postage stamps for completion and release in the second half of 2021.
H'Mong chicken, also known as Mong chicken, Black Mong chicken or Meo chicken or black-bone chicken, is a rare and purebred (indigenous) chicken breed of Vietnam, originating in the Northern mountainous region, and being ethnic The H'Mong has extensive farming. H'Mong chicken is characterized by black meat, black bones, low fat content, firm meat and the most delicious among chicken breeds in Vietnam today. In addition to being used as food, the H'Mong people also cook gypsum to improve their health. Currently commercial H'Mong chicken is considered a specialty dish.
Lac Thuy chicken is a purebred chicken breed of Vietnam, considered an endemic and rare chicken originating from Lac Thuy district, Hoa Binh province and raised for a long time, is a species that is under genetic conservation.
Bamboo chicken is an indigenous chicken breed that used to be quite popular in the South of Vietnam, especially the South West. Nowadays, this breed is popular throughout Vietnam.
The second set of thematic stamps are the set of stamps on UNESCO Global Geopark in Vietnam, including 3 stamps and 1 block, scheduled to be issued on October 3, 2021, to contribute to raising people's awareness. people in the work of preserving and promoting the values ​​of the Global Geopark Heritage in Vietnam.
Global Geopark is a natural, unique area with clear boundaries, which contains a set of geological heritages of scientific value, distributed within a certain, harmonious scope. with natural landscape, at the same time containing values ​​of biodiversity, archeology, history, socio-culture and suitable area for local economic development, through tourism development. calendar and other ancillary services. A national geopark when eligible will be recognized by UNESCO as a "Global Geopark".
In Vietnam, UNESCO honored 3 Global Geopark, including: Dong Van Plateau Global Geopark, Ha Giang (recognized by UNESCO on October 3, 2010); Cao Bang Non Nuoc Global Geopark (recognized by UNESCO in April 2018); Dak Nong Global Geopark, Dak Nong Province (recognized by UNESCO on 7/7/2020).
Dawn

Displaying 35 high-quality collections at the Southern Regional Stamp Exhibition 2020
35 high-quality stamp collections of 33 collectors from Ho Chi Minh City, Binh Duong, Can Tho, and Kien Giang are on display at the Southern Regional Postage Stamp in 2020 with the theme "Reaching with country".
.