On August 10, Samsung Vina Electronics Company launched two new versions that have just joined the Galaxy ecosystem, Watch5 series and Buds2Pro at the Galaxy UNPACKED 2022 event.
Both versions have improved design as well as a deep upgrade in health monitoring features with an improved BioActive sensor and promote better training progress for users, opening a new era of fitness. fashion and health.
Galaxy Watch5 series – PT 5.0 and users realize the goal of self-improvement
Watch5 series with comprehensive advanced technology will bring users a healthy lifestyle of the new era. Watch5 will record sleep, measure blood oxygen levels when the user sleeps. From there, analyze and give suggestions for users to better arrange rest time.
Samsung Watch5 Series is like a standard PT 5.0, helping users to easily adjust their exercise and eating regimen to improve health and optimize their physique with features such as measuring musculoskeletal index, measuring fat, BMI , MBR, blood pressure measurement, electrocardiogram, heart rate measurement/spo2 measurement, monitoring and detecting abnormal symptoms.
The device has a minimalist and trendy design with a touch screen, which now has an expanded area to support more convenient operation, firmer contact surface, and high grip; glass made from sapphire increases the ability to limit scratches; Titanium bezel is lighter, more durable and hypoallergenic.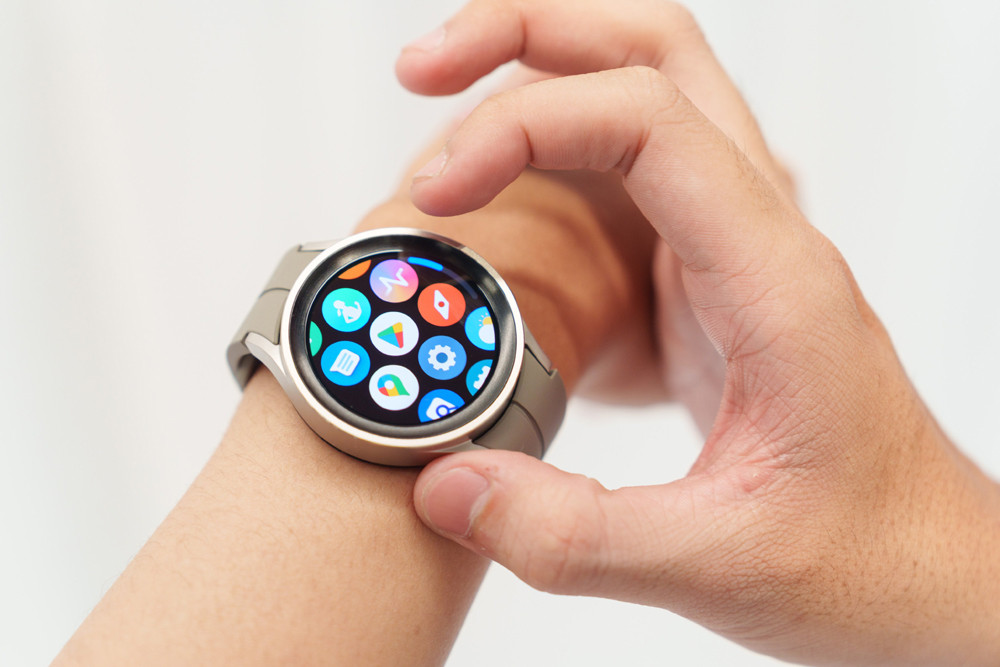 The Samsung Watch5 Series features a vastly improved battery life. Watch5pro 45mm version with 590mAh battery is enough for long day use.
With the new version, Watch5 series will have 5 colors: Graphite black, sliver purple, Sapphire blue, Titanium gray, Phantom black.
Cinematic sound with Galaxy Buds2pro
Galaxy Buds2 Pro is Samsung's latest headset model, improved in design with a compact ergonomic shape that fits the curve of the ear, helping to increase the experience of sound quality as well as noise resistance but still bring the best experience. feels comfortable to wear for a long time.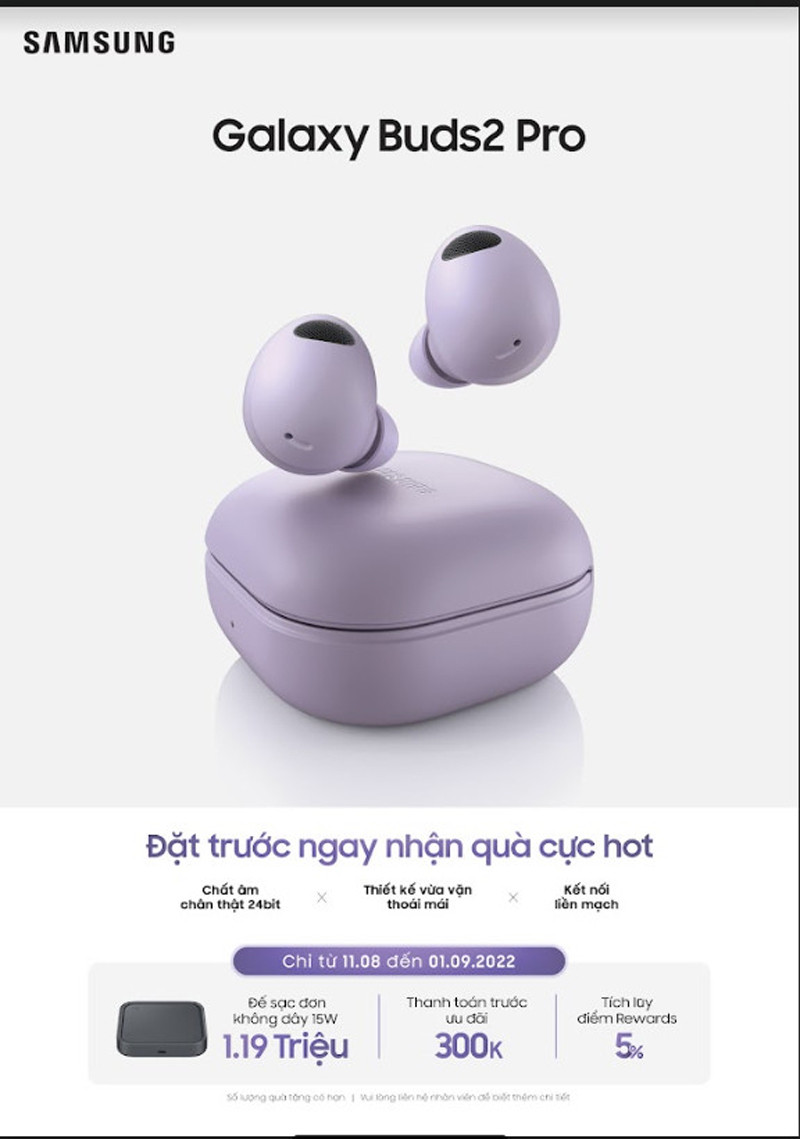 Samsung this year upgraded the sound quality of the Galaxay Buds2 Pro with a 2-way speaker system including 100mm Treble speakers and 5.3mm Bass speakers, along with a 24bit Samsung Seamless Codec Hi-Fi audio codec for true-to-life sound quality. , no noise mixed. The new headphones also support Samsung's proprietary Samsung Scalable codec via Bluetooth 5.2.
Buds2pro has up to 8 hours of battery life on a single charge. Smart search mode helps users not to lose their headphones. In addition, Buds2pro also has a neck stretch reminder mode, notifying when the user bends the neck for too long, avoiding increasing pressure on the cervical spine.
Samsung offers 3 stylish color versions of Buds2pro: Graphite Black, Bora Purple, and Ivory White.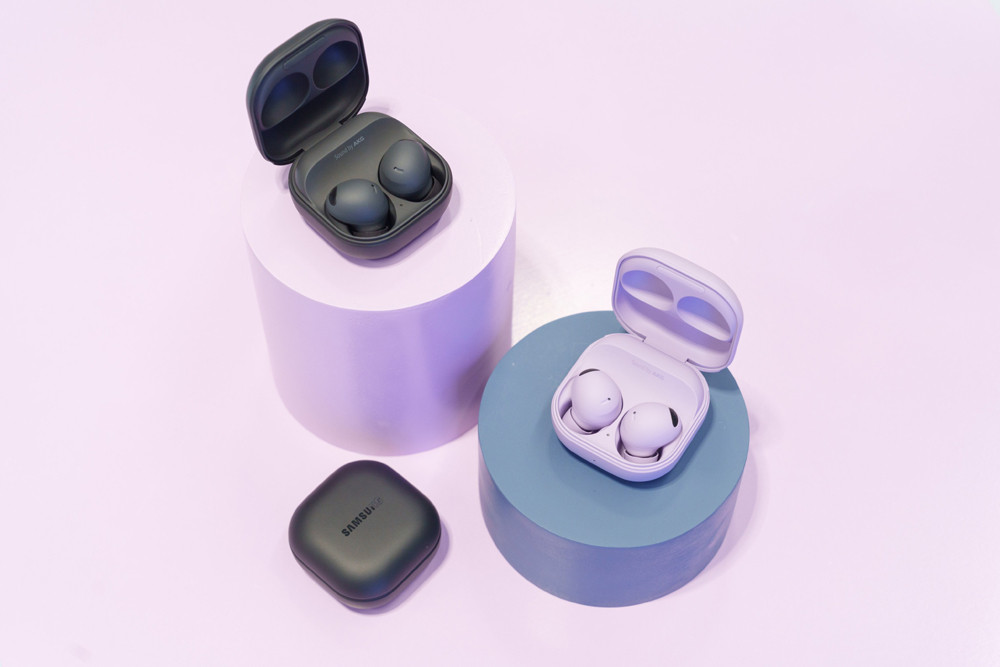 In Vietnam, the price of Galaxy Watch5 is as follows:
• Galaxy Watch5 40mm Bluetooth: VND 6,990,000
• Galaxy Watch5 40mm Bluetooth LTE: VND 7,990,000
• Galaxy Watch5 44mm Bluetooth: 7,490,000 VND
• Galaxy Watch5 44mm Bluetooth LTE: 8,490,000 VND
• Galaxy Watch5 Pro 45mm Bluetooth: 11,990,000 VND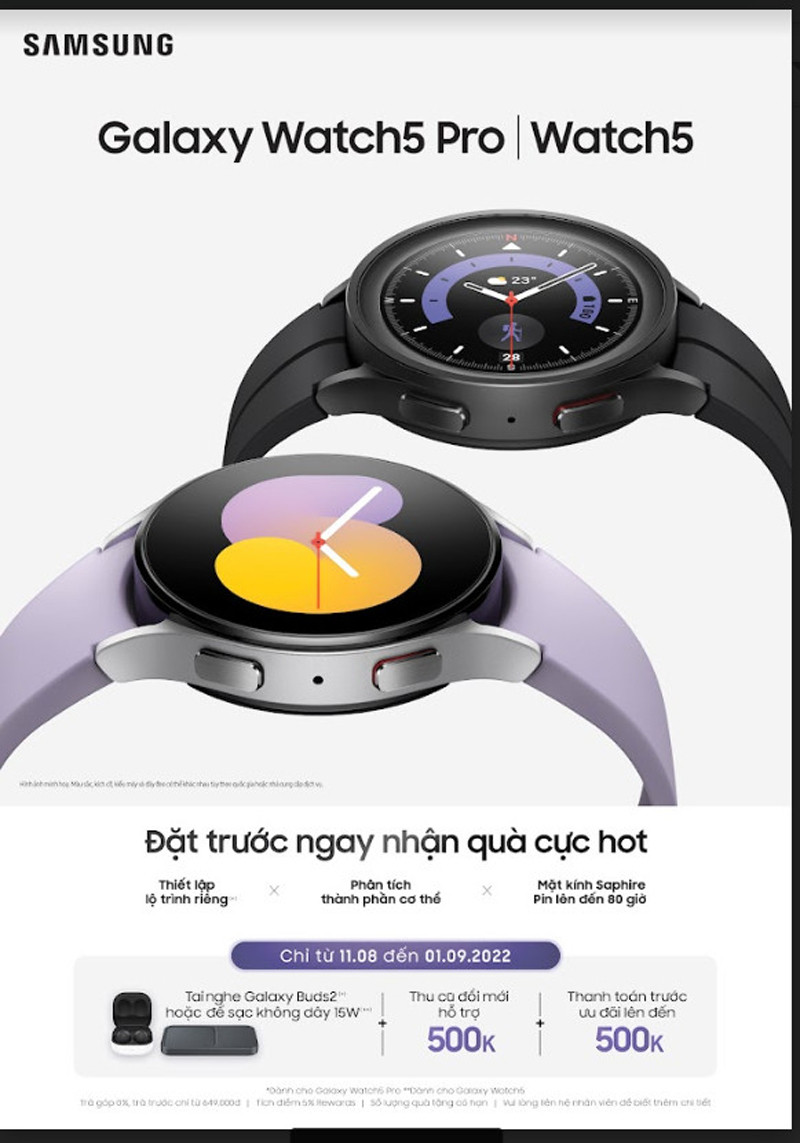 Galaxy Watch5 and Galaxy Watch5 Pro can be pre-ordered in Vietnam market from August 11, 2022, officially open for sale from September 2, 2022 and early delivery from August 26, 2022.
Customers who pre-order Galaxy Watch5 Series watches have the opportunity to receive attractive offers:
• Comes with Galaxy Buds2 wireless headset, old and new collection supports 500,000 VND, 0% installment payment when buying Galaxy Watch5Pro smart watch;
• Comes with a 15W Wireless Charging Dock, old and new, supporting 500,000 VND and 0% installment payment when buying Galaxy Watch5 smart watch.
In Vietnam, Galaxy Buds2 Pro has an official price of VND 4,990,000.
Receive special offers when pre-ordering Buds2pro from August 10, 2022 to September 2, 2022 including: Free 15W wireless charging dock; Preferential payment up to 300,000 VND; Accumulate 5% Rewards points.
Doan Phong
.