Da Nang people will experience the 5G network with unlimited capacity in many public areas and famous tourist attractions in the area.
On December 13, the 5G mobile network provided by Viettel was put into operation in Da Nang city. Accordingly, from today, the people of Da Nang can experience completely free 5G service and unlimited capacity.
5G deployment areas in Da Nang include Bach Dang street area (section from Novotel hotel to APEC park), Da Nang City Administration Center, Da Nang City Party Committee, Da Nang Museum, Science Library. general education, Han Market, Dragon Bridge, Museum of Cham Sculpture.
5G mobile network has just been inaugurated and put into operation in Da Nang.
This is a pilot 5G network with cooperation between Viettel and Samsung to enhance network quality and allow users to fully experience the benefits of 5G network.
Samsung's 64T64R 5G Massive MIMO antenna used in the test is the most modern 5G technology available today. This system is capable of transmission in densely populated and congested areas, helping to expand coverage and increase data rates to enhance the experience for 5G users.
The actual testing process in Da Nang shows that the measured 5G speed can be up to 1,300 Mbps. Through testing, the average 5G speed here reached 500 Mbps, 2.8 times higher than the world's average 5G speed (According to Opensignal – the world's leading mobile quality testing and analysis unit in the world). , the world's average 5G speed is 175.3 Mbps).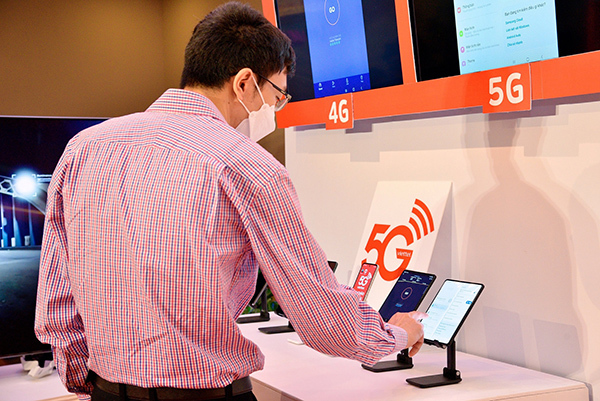 Tested 5G speeds in Da Nang are currently recorded at an average of 500 Mbps.
Da Nang city belongs to the group of pillars of the digital economy of the country. This locality has been continuously ranked by the Ministry of Information and Communications as the top province/city in terms of digital transformation for many years.
The resolution of the Executive Committee of the Da Nang City Party Committee on digital transformation also affirms that by 2025, with a vision to 2030, digital transformation is a "new driving force" in city development.
To realize that goal, the city's telecommunications and information technology infrastructure has been prioritized for investment in synchronous construction using advanced technology. However, this infrastructure only meets the maintenance and operation of e-government, has not expanded the computing and storage capacity to deploy smart city applications such as artificial intelligence, processing big data management…
At the opening ceremony, Vice Chairman of Da Nang City People's Committee Tran Phuoc Son shared: "The information technology industry, electronics and telecommunications associated with the digital economy is one of the five key areas that need to be prioritized for development. in Da Nang City".
Da Nang has set a target that by 2025, the digital economy will account for at least 20% of the city's GRDP, of which the IT industry will account for at least 10%. Notably, Da Nang wants at least 50% of the city's residential areas to be covered by 5G services to support people to connect and enjoy quality digital services.
Trong Dat

Turn off 2G wave in 2023 to be ready for the digital economy and digital society
During a meeting with ITU Secretary General, Minister Nguyen Manh Hung proposed Vietnam's initiative to turn off 2G by 2023, when this subscriber density is about 5%.
.