FPT Corporation has just been awarded the title of "5-star green energy construction project" for FPT Fornix Data Center.
The ceremony to announce and award the title of Establishments and construction works using green energy in 2021 by the City People's Committee. Hanoi held the morning of 11/12.
The program to recognize the title of Green energy user in 2021 by the German Development Cooperation Organization GIZ in collaboration with the Hanoi Industry Promotion and Consulting Center for Industrial Development (Hanoi IDC, under the Hanoi Department of Industry and Trade. ) deploy, towards the goal of promoting the use of clean energy according to the goal of green, stable and sustainable economic growth, improving competitiveness, increasing the ability to integrate into the new generation economy.
The program has evaluated and recognized the title of green energy facility, attracting more than 90 participating units in the area. Program-participating facilities are supported in energy efficiency assessment by an energy simulation tool, assisted in calculating energy efficiency index, building an energy management system; evaluate the application of equipment and technical innovation with a high degree of automation in the direction of Industry 4.0 technology.
After reviewing rigorous criteria, the program selected 41 qualified applications for the title of green energy user.
The ceremony to announce the title of facility, construction using green energy in Hanoi 2021 took place at Novotel Hotel, Thai Ha.
With a presentation to introduce 4.0 technology solutions to projects and their benefits, and practical applications at DC Fornix – FPT Data Center was honored as one of the best facilities in the world. , a 5-star green energy-using construction project in Ho Chi Minh City. Hanoi.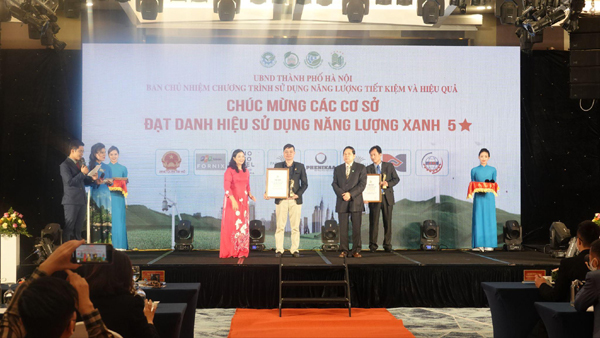 FPT Telecom representative received the title of Hanoi green energy facility and construction in 2021
Data Center FPT Fornix is ​​a data center owned by FPT Corporation – the leading data center service provider in Vietnam with more than 23 years of experience in providing IT services to domestic enterprises. and international. FPT Fornix is ​​built according to Uptime Tier III Constructed Facility standard – a rigorous certification for Data Center, recognized by prestigious organizations in the data center field in the world.
Winning the title of Ha Noi 2021 Green Energy Facility and Building has shown FPT's interest not only in quality when building FPT Fornix according to Uptime Tier III Constructed Facility – a rigorous certificate for Data Center, but also interested in management issues, setting green energy usage and saving energy in the apparatus.
Minh Hoa
.