"Chieu sage treatment" is a policy being pursued by MoMo – Vietnam's new technology unicorn in order to expand the scale of growth with technology.
After a successful fundraising with an amount of up to 200 million USD, the new "unicorn" startup MoMo is actively implementing activities to strengthen its position and increase the technology content of its products.
Most recently, the company has gathered a group of leading data scientists and artificial intelligence under the common name of the AI ​​Committee.
This is a working group set up to concretize MoMo's artificial intelligence application strategies. This working group is also responsible for finding and adding teams, and accumulating in terms of products and technologies.
MoMo technology "unicorn" is "teaching the best" to gather Vietnamese talents in AI.
Officially established in June 2021, up to now, MoMo's AI Committee has 7 members. In which, many experts have many years of experience working for the world's leading technology corporations.
Next is Dang Hoang Vu – Doctor of Cambridge University, former expert of Hewlett Packard. Before returning home, Mr. Vu worked in the user protection department at Facebook. Since May 2021, Mr. Vu has been in charge of developing data and AI application platforms in MoMo's business areas.
Another Data Science Director of MoMo is Ms. Tran Thi Lac Thanh. Ms. Thanh holds a PhD in Computer Science from UMass School (Amherst, USA). Dr. Tran Thi Lac Thanh spent many years working in data science at Twitter and LinkedIn in Silicon Valley.
Notably, in MoMo's AI Council, there is also Mr. Pham Kim Long – the author of UniKey, the most popular Vietnamese typing software on computers and mobile devices of Vietnamese people.
After leaving the position of Director of Zalo AI, Mr. Long is now taking the position of Director of AI Research & Development of MoMo. Here, Mr. Long is in charge of research groups on natural language processing technology and computer vision.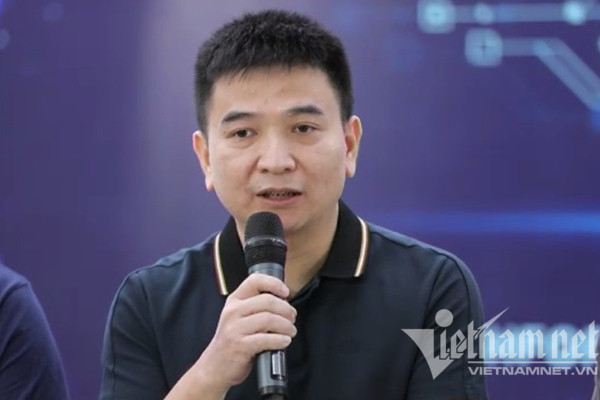 Unikey "father" Pham Kim Long shared about the reason why he suddenly gave up his position as the leader of Zalo's AI segment to join MoMo. Photo: Trong Dat
In a seminar on AI recently held, explaining the reason for joining this technology startup, Mr. Pham Kim Long said that this is an opportunity because he feels the need to change to have more challenges. new consciousness.
"Momo has a longer vision of AI and is tied to practical goals. It is important not to ask for immediate results. Mr. Tuong (MoMo CEO) also gave me a very specific problem when he wanted to use AI to solve the problem of using chatbots to take care of customers," said Mr. Pham Kim Long.
Sharing more about his work, the "father" of Unikey software said that his goal in the near future is to find solutions to apply AI to bring more user-friendly and transparent user experiences.
This expert's ambition is to use facial recognition technology in payments, and bring a virtual voice assistant to the application.
Starting to invest heavily in AI/Data since 2019, MoMo has applied AI to many components of MoMo application such as eKYC solution, product recommendation system, preferential distribution, user protection…
Currently, this technology "unicorn" has nearly 600 technology engineers, of which AI experts account for about 20% of the workforce.
Trong Dat
Vietnamese people are good at math: Advantage to develop AI technology
With certain advantages in terms of society and people, Vietnam has the opportunity to close the gap in AI technology with the world.
.