Scammers impersonate employees of banks and financial technology companies to invite online loans, then ask customers to transfer 10% – 15% of the loan value to prove financial capacity and appropriate always.
Scammers impersonate employees of banks and financial technology companies to invite online loans, then ask customers to transfer 10% – 15% of the loan value.
What tricks do scammers use to get money?
As VietnamNet reported, there have been a series of customers who fell into the trap of scammers lending money online with low interest rates. The tricks of these subjects change quickly and to deal with the authorities, and at the same time make customers unable to react.
Sharing about this issue, Mr. Tran Viet Vinh, CEO of Fiin Credit, said that this sophisticated scam trick is often performed by subjects such as making phone calls claiming to be employees of banks and technology companies. Finance offers to borrow money online. After that, they texted and sent a link to a strange website address. This website is often faked under the brand name with logo, image, name, identity … of reputable banks, financial companies, and financial technology. These objects lure people with loan needs to download the app or register for an account or apply for a loan at that fake website. The loan limit was raised by them from a few tens of millions of dong to a billion dong with extremely favorable interest rates and simple loan procedures.
After the borrower completes the registration procedures, these scammers will ask, urge the borrower to transfer them some money in advance to confirm the loan or prove the financial ability or ability to repay the loan. The amount of this advance request depends on the object given, it can be from 10% – 15% of the approved loan value. They inform that after receiving this prepayment for verification, the company (the scammer) will transfer the loan disbursement to the borrower including the entire amount the borrower has transferred for verification.
In order to create trust, the fraudsters will forge notices of banks and financial companies and send them to borrowers, including: Business registration papers, loan approval letters, loan contracts… and ask the borrower to transfer money first to verify…
"It is worth mentioning that their bank accounts receiving money are all personal accounts, not business bank accounts that are listed. If people transfer money to them, then they will block contact, can't be contacted, website can't access accounts, and people are tricked into losing money transferred. Many customers, after being misappropriated by fraudsters, then contact Fiin Credit, only to find out that they have been scammed by objects impersonating financial technology companies, "said Tran Viet Vinh.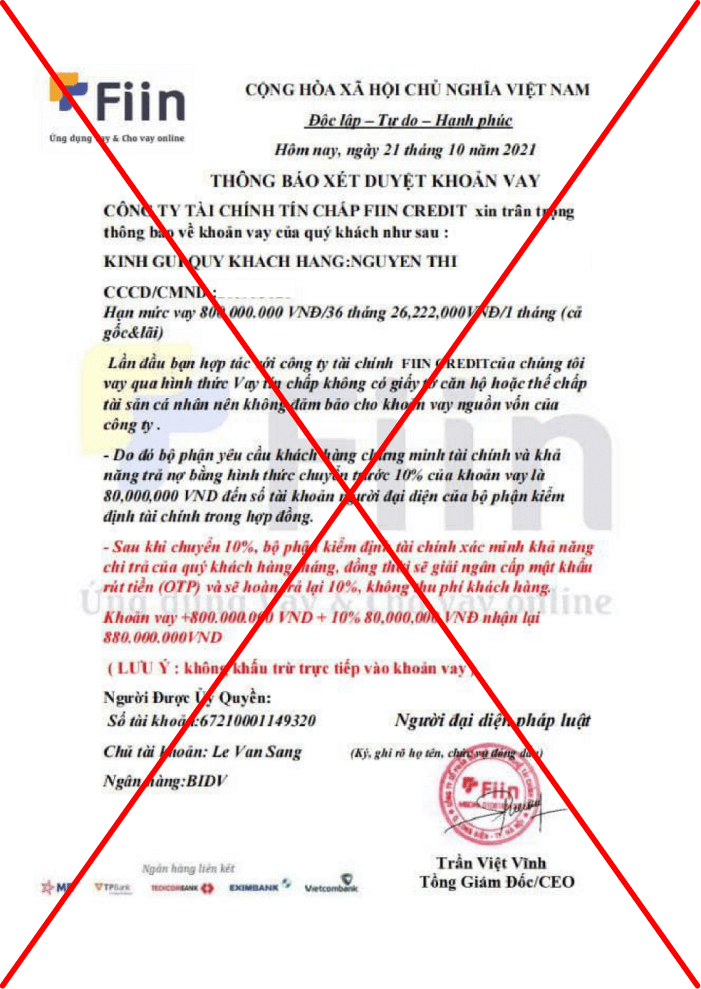 Scammers impersonate Fiin Credit.
Sharing with VietnamNet about this issue, a representative of Tima said that the fraudsters pretended to be Tima JD Credit Finance Company Limited or JD Credit, impersonating TIMA Group Joint Stock Company to create trust. for customers. To lure customers into a trap, scammers offer very attractive offers such as borrowing money through the App with an interest rate of 0.5% with a large loan from 10 million to 1 billion dong. Borrowers, just download the app on Android via a link, register an account. Specifically, customers are instructed to download the app from an advertising link. After clicking on the link, the device will ask you to download a file. Although this type of file is recommended by Android devices as "possibly harmful to your device", customers are still being tricked.
However, in order to appropriate money from people who need to borrow money, scammers require a 10% prepayment of a financial capacity verification fee, by transferring money to some of the scammers' accounts.
After completing the registration, the person wishing to borrow money will receive the document "APPLICATION OF LOAN REGISTRATION DOCUMENT", stamped and signed in the name of Tima JD Credit Finance Co., Ltd. With the reason of needing to prove financial capacity, the scammer asked customers to transfer 10% of the loan value in advance to the account: MBBank: 1111108121971 to the account holder HO THI HUYNH UYEN. The text of the message when transferring money is Full name + last 4 numbers of ID card. Of course, after transferring money "proving financial capacity", customers were tricked to lose 10% of their money and did not receive the loan afterwards.
In the scene of "sufferers" such as Fiin Credit, Tima, Mr. Le Minh Hai, and Ceo Tienngay.vn, fraudsters have impersonated Tienngay.vn to contact customers for loan advice. By sophisticated tricks, these organizations/individuals not only continuously send messages to invite customers, but also ask customers to transfer money to the account number provided with an amount equal to 10% of the loan value. reason to prove the customer's ability to pay. This is a blatant fraud, not only causing loss of personal property of customers but also affecting the reputation and reputation of Tienngay.vn.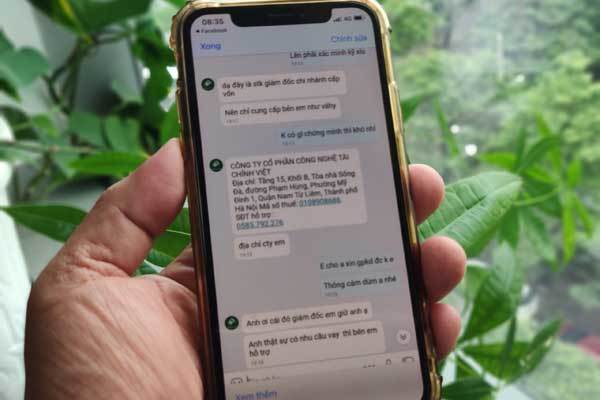 Scam objects impersonating Tienngay.vn
Customers beware of new scams
Fintech companies say that in order to avoid being scammed by bad actors, customers must be careful and learn about the company. Representatives of Fiin Credit, Tienngay.vn, and Tima confirmed that they did not collect any fees before disbursing. Loan premiums through these companies are deducted directly from the disbursement amount with no additional collection outside of the loan. When the application is approved successfully, the two parties sign a contract and agree on loan terms without the condition of having to pay fees.
Tima's representative said that the above scams are not like the problem of taking Internet banking and OTP accounts to steal money from bank customers, which has lasted for many years. However, the phenomenon of fraud that requires customers to transfer money first to get a loan from financial companies also needs the authorities to take measures to create a transparent credit environment for vulnerable people. , vulnerable. When the above scams are exposed, people will strengthen their knowledge to avoid being trapped by bad actors.
Sharing about this issue, according to Mr. Tran Viet Vinh, it is an effective problem to advise people to raise their vigilance in the media. In addition, the authorities also soon investigate and handle the subjects to avoid causing social instability when entering the digital economy and digital society.
Invites readers to watch:
Part 3: Online loan scams attack corporate customers
Thai Khang
Part 1:

A series of customers fall into the low-interest online loan scams
Taking advantage of the difficult situation affected by Covid-19, many scammers have impersonated the brand of online loan applications to appropriate money from gullible people.
.