According to experts, instead of destroying the dogs and cats of people with Covid-19, just wash the pets clean and isolate them from people.
On the evening of October 9, public opinion was angry at the information that 15 dogs were destroyed by Mr. and Mrs. Pham Van Hung (49 years old) from Long An to Khanh Hung commune, Tran Van Thoi district, Ca Mau.
According to information from Tran Van Thoi District Health Department, Mr. Hung and his wife and their family were confirmed to have Covid-19 so the Steering Committee for Disease Prevention and Control decided to destroy the entire herd of dogs. The district is asking Khanh Hung commune to have a detailed report on the incident.
Previously, the image of Hung and his wife bringing the dogs back to their hometown by motorbike on a distance of more than 300km was spread throughout social networks, making many people emotional. Mr. Hung said dogs are like family members, so when he returned to his hometown to avoid the epidemic, he took them with him.
Exchange with VietNamNet On the morning of October 10, Dr. Truong Huu Khanh, a specialist consultant of the Department of Infection – Neurology, Children's Hospital 1, Ho Chi Minh City said: "It is not necessary to destroy pets of Covid-19 patients." .
Dr. Khanh analyzed that, in fact, if an F0 hugs, kisses, coughs, sneezes, spreads saliva, etc. to a pet's fur, skin, or nails, then someone else hugs, kisses and caress that pet. infection with the SARS-CoV-2 virus. As for the possibility that dogs and cats are infected and then spread to humans through the respiratory tract, there has been no case.
"I think in this situation, it is only necessary to wash the pets clean and isolate them from everyone, not destroy them," emphasized Dr. Khanh.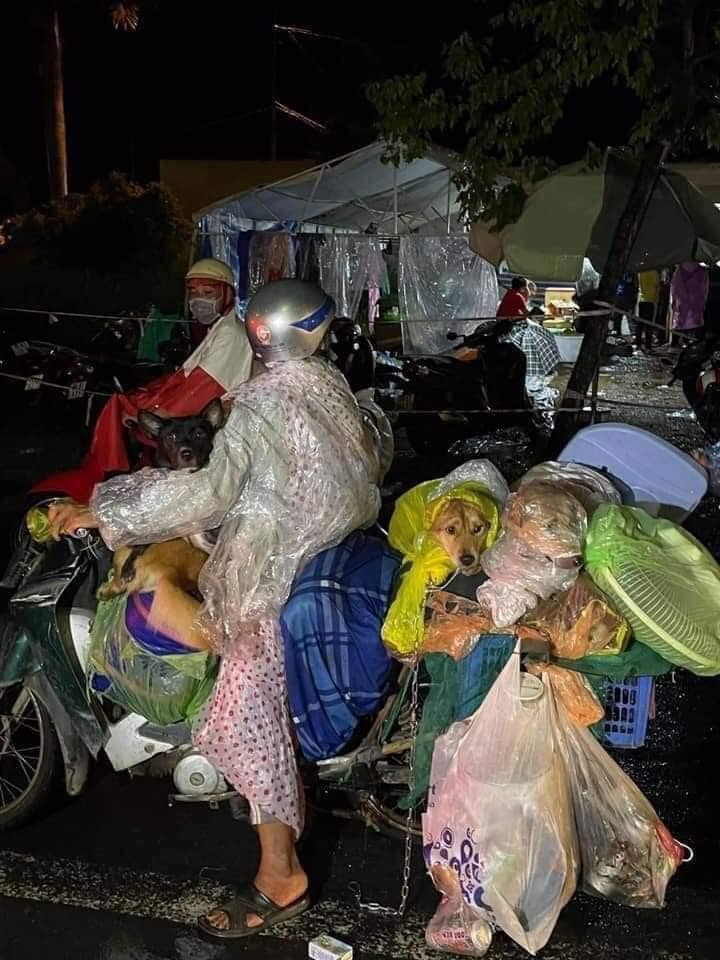 The image of Hung and his wife carrying the dogs back to their hometown to avoid the epidemic has been shared on social networks in recent days, making many people emotional.
Sharing the same view, Assoc. Prof. Dr. Nguyen Huy Nga, former director of the Department of Preventive Medicine, Ministry of Health, said that currently, the Ministry of Health only recommends that people with Covid-19 and their household members should not come into contact with objects. livestock because there is evidence the virus has spread to animals, not recommending euthanasia.
"A lot of people have tested positive for SARS-CoV-2, but the health sector has not had any guidance on culling their dogs and cats," Associate Professor Nga said.
According to him, humans can transmit the virus to animals, especially in close contact, making them positive for SARS-CoV-2. However, the risk of infection from pets to humans has not been proven. In theory, this risk also only comes from contact with skin surfaces, pet hair, and there is no evidence of airborne transmission.
"Therefore, instead of destroying the patient's dogs and cats, they just need to be kept separately, not letting other people come into contact with them," Assoc.
Regarding the above incident, Mr. Tran Tan Cong, Chairman of the People's Committee of Tran Van Thoi district, Ca Mau this morning said that he went to the commune to grasp the situation and have a solution.
"Your purpose is to serve the prevention and control of the epidemic, but it is a bit urgent. The Provincial People's Committee has directed, we will clarify the case", Mr. Cong said.
>>> Update the latest Covid-19 situation
Trieu Duong

Clarifying the case of culling the couple's dogs back to Ca Mau to avoid the epidemic
The leader of Tran Van Thoi district (Ca Mau) said that the locality is clarifying the case of the destruction of the dogs of the couple riding a motorbike.
.