As predicted, at the earliest in 2024 Apple will launch the first folding screen iPhone, users expect this to be an impressive smartphone with many outstanding improvements.
Apple's patent leaks, along with reputable sources from famous analysts such as Ming-Chi Kuo, Ross Young all show the possibility that Apple will launch an iPhone with a folding screen in the future ( iPhone Flip). Supply chain sources also revealed that Apple has been supplied with OLED panels by Samsung to perform folding tests.
Expected features on folding iPhone
Follow MacRumors, Apple is said to have experimented and abandoned the idea of ​​​​designing a folding phone in the form of a tablet-smartphone hybrid like the Samsung Galaxy Z Fold. Experts say it will have a clamshell design like the Samsung Galaxy Z Flip.
Reliability
When Samsung launched the Galaxy Fold, doubts about durability arose. These concerns increased when Samsung had to postpone the launch of the Galaxy Fold after receiving many negative reviews about the soft plastic OLED folding screen.
Although Samsung has since launched products with many improvements, the Galaxy Fold is still a device that is very susceptible to dirt and water resistance, which reduces consumer confidence in the devices. equipment. Since then, Samsung has significantly improved with its folding smartphone line, such as adding ultra-thin glass and water resistance.
Durability is said to be Apple's main concern so users expect Apple to take things to another level in this area.
Design
Apple is said to have always focused on product design, so users expect Apple's impressive breakthroughs in this segment.
Samsung's Galaxy Z Flip 3 is said to be the most beautifully designed folding smartphone on the market today. Samsung even released a special version of the Z Flip 3, users can choose how to mix and match colors for the back of the device.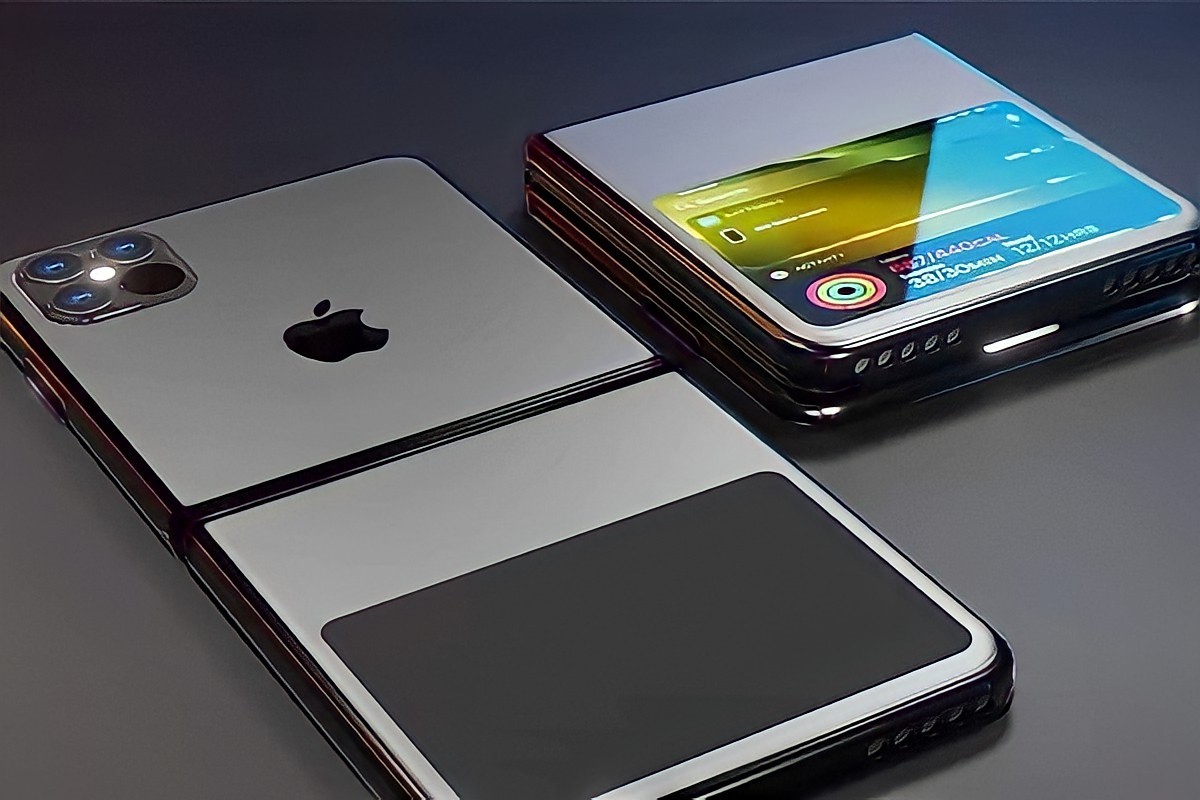 Design of the back of iPhone Flip
Follow Tom's Guide, the back design of the folding iPhone will have an extra screen placed next to the three-camera cluster to display notifications when the device is closed. This will help the iPhone Flip set itself apart from other Samsung products, but it won't be enough to make it a flagship product of the company. The secondary display needs to be in always-on mode to bring benefits. However, even the current high-end iPhone lines are still not equipped with this feature.
User interface optimization
Analyst Ming-Chi Kuo predicts that the iPhone Flip may have a screen as large as 8 inches. This means that the phone when folded will also have a larger screen than usual.
However, if the screen is smaller, it is not a concern. Samsung Galaxy Z Flip 3 6.7-inch screen is split in half with impressive multitasking, the top and bottom half of the screen can use two different applications simultaneously.
Apple has led the way with optimizing its mobile operating system for smartphones, tablets, and smartwatches. Users hope it will also take the lead in optimizing the operating system on the folding phone line.
Apple is not always at the forefront of the race to launch new products, but always with impressive results. For example, the Apple Watch launched in 2015, later than the previous smartwatch lines, but now Apple has occupied 55% of the global smartwatch market as of 2020.
Apple is definitely keeping a close eye on the folding smartphone market. Counterpoint Research forecasts that sales of folding phones will grow tenfold by 2023, which will help increase overall consumer awareness of this market, along with folding technology continuing to improve, all will be the stepping stone for the rumored iPhone Flip launch in 2023 or 2024.
Huong Dung (According to SlashGear)

iPhone features that MacBooks should 'learn'
Many people are used to the convenience that the iPhone brings and "wish" one day these features will appear on the MacBook.
.