Deputy Minister of Information and Communications Pham Anh Tuan said: Phong Tho must develop socio-economic, protecting the environment, landscape and border.
During the working program in Lai Chau province, the delegation of Ministry of Information and Communications led by Deputy Minister Pham Anh Tuan had a meeting with the border district Phong Tho.
Border patrol at Sin Sua Ho commune, Phong Tho district, Lai Chau. (Photo: Laichau.gov.vn).
Specialties of Phong Tho: Types of tea and rare medicinal herbs
Chairman Vuong The Man district said: This important border district has 16 communes, 12 communes have border lines with China.
Although the current poverty rate of Phong Tho is 22%, the district has applied good technology in many fields, regularly operating activities through the Internet and smart phones.
The district covers an area of ​​103,460 km², of which only 10% is agricultural land.
With a population of more than 65,000 people, the district has many ethnic minorities living together, including Thai, H'Mong, Ha Nhi, Lo Lo, Dao, and even Kinh.
Phong Tho possesses pure and pristine beauty. There are no large fields, but this place is famous for the top of Bach Moc Luong mountain higher than 3,000m and the Nam Na river flowing through.
Phong Tho is also an area with many precious medicinal plants. Tea and medicinal herbs are famous specialties of Phong Tho. If there is a production process and distribution into commercial products, it will create more jobs for local people. But at present, the district has not formed this development policy.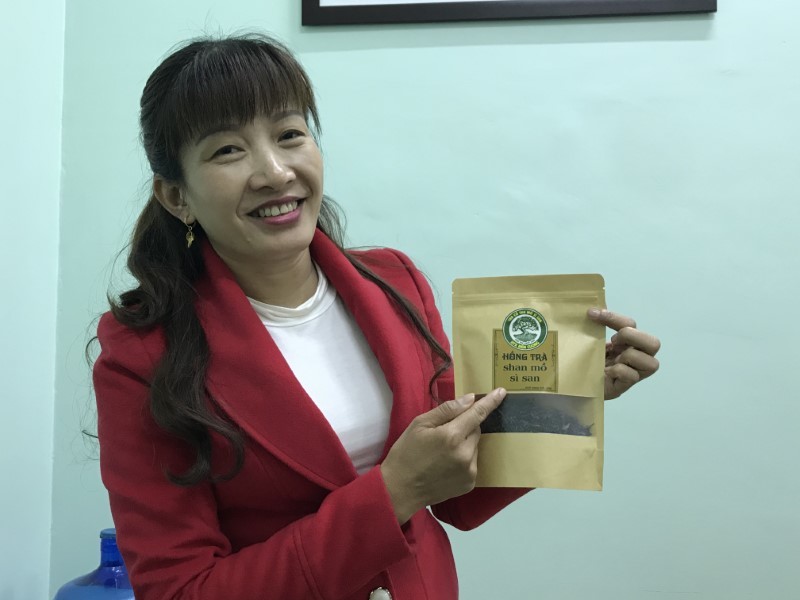 District Vice President Mai Thi Hong Sim introduces a thousand-year-old tea specialty of Phong Tho
Chairman Vuong The Man said that the synchronous implementation of solutions, mobilizing all resources to overcome difficulties in building a new countryside, has contributed to modernizing rural infrastructure, improving the quality of life for people. locality.
The district has also re-deployed the land planning, the face of the mountainous countryside has clearly changed, the people's life has been gradually improved and enhanced. However, the training of district cadres is still limited, especially improving the quality of key contingents at commune level.
Over the past 10 years, the locality has stepped up the implementation of the "All-People Border Day", mobilizing the strength of the entire political system in protecting the sovereignty and security of the border.
The Chairman of Phong Tho district proposed to increase phone coverage in border areas to ensure communication, and a plan to equip cameras along the Vietnam-China border line in the area. The district also wishes to allocate more capital to build new rural tourist spots, creating more tourism business for indigenous people.
Environmental protection for Phong Tho tourism development
Speaking at the meeting, Deputy Minister of Information and Communications Pham Anh Tuan emphasized: Development of transport infrastructure and electrical infrastructure are important tasks that Phong Tho needs to focus on. The district government also needs to participate in production and business activities of the people, ensuring the output of products so that people do not get pressured by traders.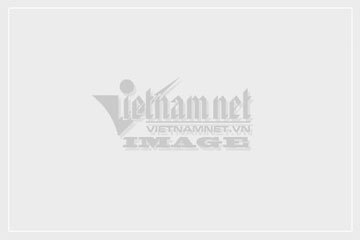 Deputy Minister Pham Anh Tuan worked with the People's Committee of Phong Tho district
"Phong Tho is currently being supported by 3 national target programs, so it is necessary to do it well to achieve high efficiency, making" a dish "to become a model for implementation", Deputy Minister said. review.
During the complicated Covid-19 epidemic, the border area of ​​Phong Tho district was also a hot spot for epidemic prevention. Border guard soldiers in Phong Tho have planted posts outside the forest for months to prevent people from entering and leaving illegally through the trails, openings, to minimize the spread of disease across the border.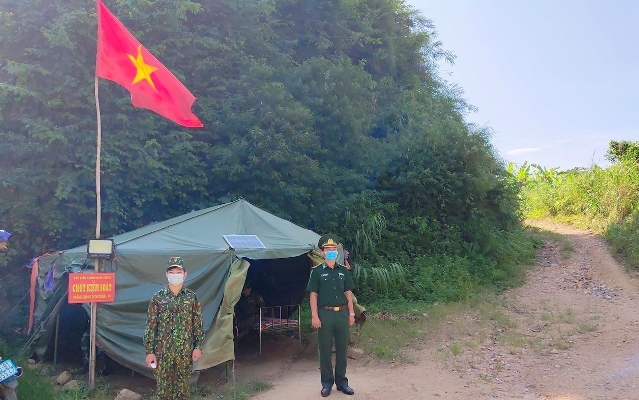 Huoi Luong Border Guard Station (Phong Tho District) established a blocking post at Po To Border Control Station to check and control people entering and leaving through the trail and openings.
From the beginning of the year until now, the Huoi Luong border post discovered and quarantined at Ma Lu Thang border gate 101 cases of illegal entry into the country; propaganda, prevention, request to return to the locality 85 cases of intending to illegally leave China to work as hired labor, visit relatives, buy, sell or exchange goods; prevent 3 cases, 3 cases of Chinese people intending to enter the area to visit relatives.
During the working program with Phong Tho, the delegation of the Ministry of Information and Communications led by Deputy Minister Pham Anh Tuan also visited and presented 5 Covid-19 checkpoints along the border with China.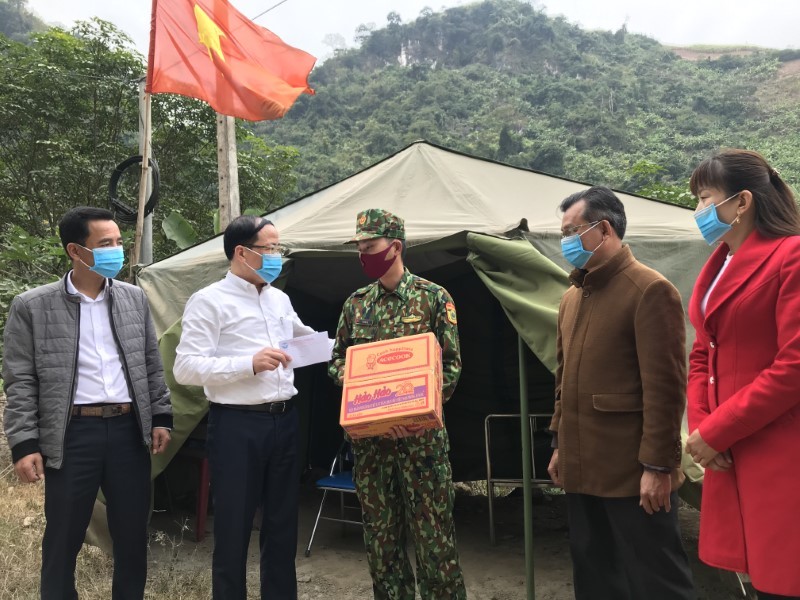 Deputy Minister of Information and Communications Pham Anh Tuan visited Covid checkpoint along the border of Phong Tho district with China
However, in addition to the development of rural modernization, Deputy Minister Pham Anh Tuan also noted that Phong Tho district leaders need to pay special attention to the protection of natural environment and landscape, and to choose development forms. sustainable agriculture, environmental protection, towards the development of tourism under check-in model to attract tourists.
At the meeting, Deputy Minister Pham Anh Tuan also assigned Lai Chau Department of Information and Communications to survey and formulate a project of installing smart cameras along the border line of Phong Tho district, and at the same time working on a digital conversion plan for Sin Sua Ho commune. Phong Tho district also needs to coordinate with Lai Chau Department of Information and Communications to combine image communication with the province. These are important steps to open a smart tourist path for the land in the border area with unique potentials from nature, forests and mountains; thereby contributing to sustainable socio-economic growth.

Lai Chau and the "nothing to lose" transformation
Digital transformation is the advantage of poor provinces because it doesn't have to invest too much. What is important is the determination, consistency of the head, and the consensus of the entire political system.
Pisces
.