With just one tweet, billionaire Elon Musk continued to make the cryptocurrency market wobble this morning Vietnam time.
A few hours ago, billionaire Elon Musk suddenly posted a tweet on Twitter. The content of the tweet is quite long to explain why Tesla will not accept payment for its electric car with Bitcoin.
While it won't sell any Bitcoins, Tesla will be looking for alternative virtual currencies with less than 1% energy consumption compared to Bitcoin.
Elon Musk's tweet made investors sell off cryptocurrencies.
Immediately, Elon Musk's tweet sent the entire cryptocurrency market reeling. In less than 3 hours of posting, Bitcoin and all alternative virtual currencies (altcoins) had a "bloodbath" session, blowing away 300 billion USD in capitalization compared to the peak time of 2,500 billion USD in one day. before.
In it, Bitcoin dropped about 13% in 24 hours to just under $50,000. Other cryptocurrencies also lost more than 10% of their value and the least was Ethereum with about 7%.
From the beginning of the uptrend until now, Ethereum and a group of virtual currencies with a strong ecosystem have led the Bitcoin resistance group and after each market correction, Bitcoin's dominance rate decreases. .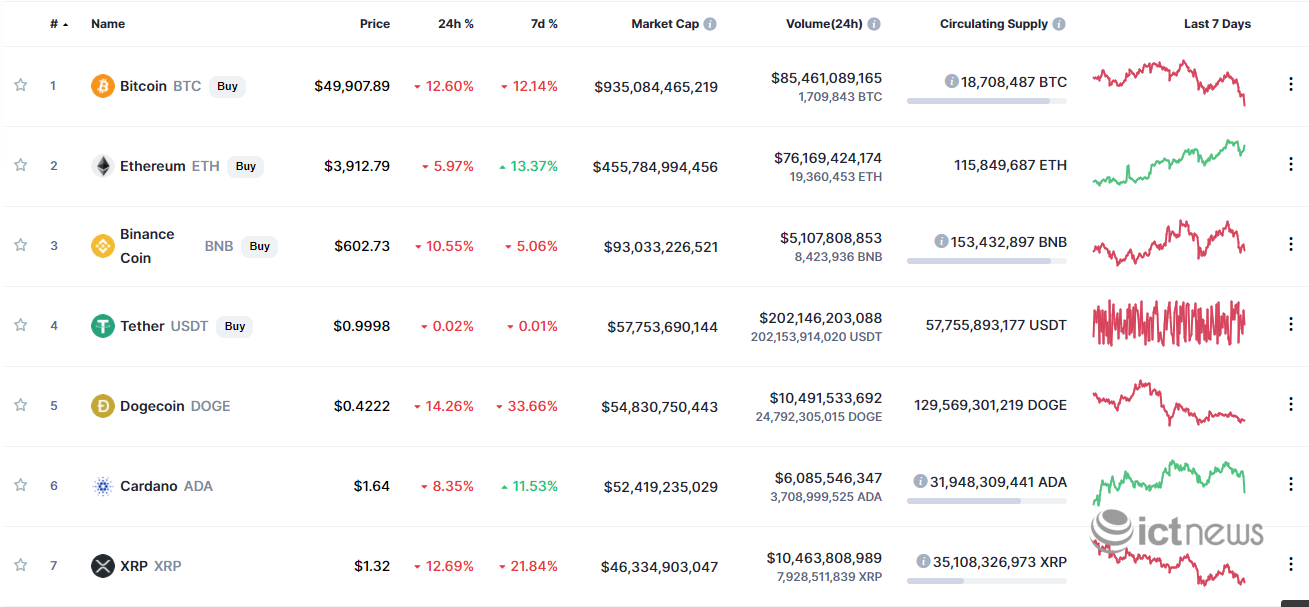 The entire crypto market has lost about 12% or $300 billion in market capitalization.
Currently, Bitcoin only accounts for 41.5% of the entire cryptocurrency market capitalization while Ethereum has surpassed 20%. However, Bitcoin's decline has shown signs of slowing down when it fell below the $50,000 mark, indicating the possibility of a market recovery.
At the end of last month, Tesla also "bloodbathed" the virtual currency market by selling off 10% of its Bitcoin holdings to beautify financial statements. At that time, Bitcoin also fell below $ 50,000 amid investor anxiety about the bubble bursting.
Nearly a week ago, Elon Musk continuously had tweets that manipulated the market. First, clicking on the image of a Shiba Inu dog caused the satirical virtual currency of the same name to skyrocket in value. Then came a series of moves in favor of literally putting Dogecoin on the moon.
Phuong Nguyen

Just making Dogecoin plunge, Elon Musk is about to put it on the moon
As soon as the Dogecoin virtual currency dropped by nearly 30% in value, Elon Musk made a new move that surprised the virtual currency market.
.