In a survey on digital readiness, up to 45% of Vietnamese respondents shared the worry that automation makes them feel at risk at work.
According to the Vietnam Digital Skills Readiness Report conducted by PwC in 2021, although they are worried about the impact of the digital transformation process, 84% of Vietnamese respondents said that they would learn skills new skills or complete retraining to improve future employability.
In response to the need to improve digital skills of Vietnamese people, recently, the Department of Information and Communications, Department of Education and Training of Hau Giang province, in collaboration with PwC Vietnam and CyberKid Vietnam, organized the program for the first time. "New world. New skills" (New world. New skills).
This is a program built with the goal of promoting digital competence and raising awareness of information security for teachers and students through technology.
Sharing about the program, Mr. La Hoang Trung – Director of the Department of Information and Communications of Hau Giang province said: "Teachers are a human force that plays a particularly important role in the digital transformation of the education sector. sex. We will continue to work with businesses and organizations to develop and implement digital technology capacity building programs for teachers in particular and the workforce in general."
According to Mr. David Tay – Project Director "New World. New skills" in Vietnam: "With the rapid development of technology, new jobs will be created, while others will disappear. The gap between the skills people have today and the skills needed for tomorrow is widening at an unprecedented rate, and there will be a gap if we do nothing."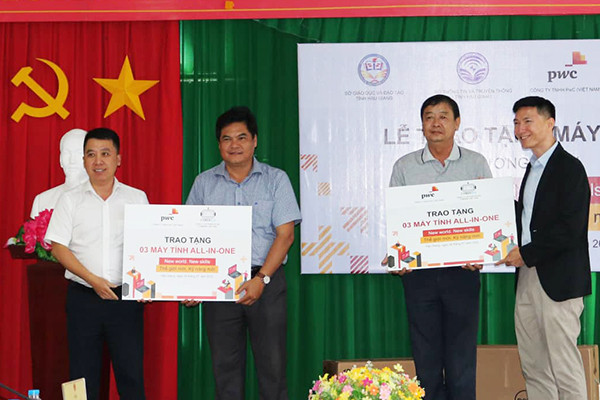 Hau Giang is a pioneer province with PwC and CyberKid in implementing the program "New World. New skills" in Vietnam, with the first activity being the training course "Improving online teaching skills and information security awareness for high school teachers", including the participation of 50 teachers working work at local schools.
The training session equipped teachers with online teaching skills, effective Powerpoint skills, and at the same time raised the awareness of teachers and students about information security, contributing to promoting the application of Powerpoint. information technology, digital transformation in the field of education.
Also on this occasion, PwC Vietnam and CyberKid Vietnam donated 6 computers to Hau Giang province to expand access to technology for teachers and students.
Trong Dat
.