Technology devices are currently an "effective arm" to make online education more effective in the context of the complicated development of the Covid-19 epidemic.
Printer – an important device to support teaching
The Covid-19 pandemic has had a strong impact on all sectors of the economy, especially the education sector. Schools closed and had to transition from face-to-face instruction to online. Teachers and students also have difficulty adapting to new teaching methods.
However, this is also an opportunity to accelerate the digital transformation in the field of education to catch up with the trend of Hybrid Learning (a form of learning that combines online teaching to supplement the actual classroom) that is gradually increasing. popular worldwide.
Ms. Nguyen Thuy Uyen Phuong – CEO Tomato Children's Home
As the founder of the pioneering chain of intensive extra-curricular preschools in Vietnam – Tomato Children's Home, Ms. Nguyen Thuy Uyen Phuong said that in the past year, Tomato and other educational institutions have faced many difficulties due to the epidemic. sick.
"In the early stages of changing teaching methods, there were quite a few obstacles and difficulties that Tomato encountered such as human-to-human interaction, teaching methods and the biggest difficulty cannot be ignored. is the number of technology devices to support teaching", shared CEO Uyen Phuong.
The fact that teachers teach online at home requires initiative in preparing necessary equipment, documents and supporting tools for teaching. One of the most important devices is the printer.
When the epidemic occurred, teachers could not go to school and teaching activities, lesson plan preparation, research on new teaching methods had to take place at home, so equipping teachers with printers also became difficult. become a necessity next to other technology devices such as computers, monitors, webcams, headsets, etc.
"Printers with fast printing speed and simple operation are also necessary equipment for home teachers, to print teaching materials as well as students' tests," Phuong said. .
With these requirements, Ms. Uyen Phuong was advised by the HP brand to use the HP LaserJet M200 family and small business printer product line. This is a laser printer product line aimed at convenience, high performance and environmental friendliness.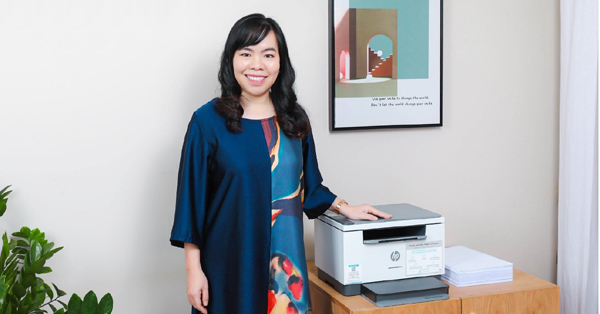 The HP LaserJet M20 printer has a compact design that fits in any space
Fast printing, diverse and environmentally friendly connections
Ms. Uyen Phuong expressed: "The HP LaserJet M200 printer is quite compact, space-saving, and energy-saving. Fast 2-sided printing speed, save paper. Especially with the HP Smart application, which can print and scan wirelessly, it is very convenient, helping teachers to print quickly and without spending much time."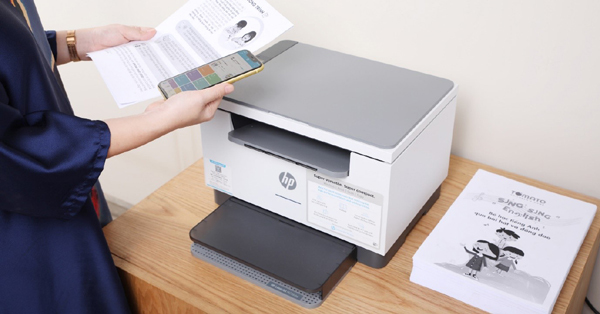 Print quickly over the phone with the HP Smart App
According to HP representatives, HP LaserJet M200 has a 1-sided printing speed of up to 29 A4 pages per minute, 2-sided printing at 18 pages per minute, the first page only takes 7 seconds. 64MB memory, up to 500 MHz processing speed, and can print up to 20,000 pages/month. HP LaserJet M200 also owns a resolution of up to 600×600 dpi, making printed documents with high quality, bold, clear text, sharp images.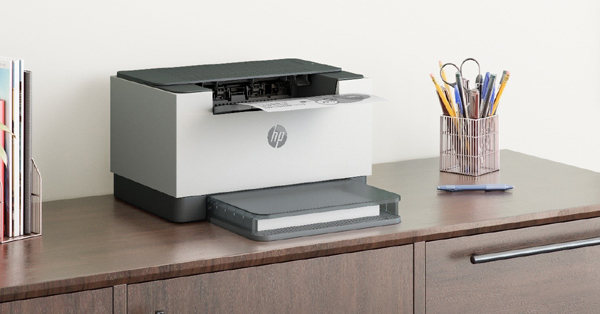 Fastest automatic 2-sided printing in its class
Another point that makes Uyen Phuong and her colleagues love the HP LaserJet M200 printer is that it can be connected in many ways such as USB port, LAN, Wifi. You can also print and scan documents easily from your phone or tablet via the HP Smart application, then share to a cloud system such as Dropbox, Google Drive, email…
Thanks to this convenience, the work of teaching and exchanging documents between teachers and between teachers and students saves time and effort.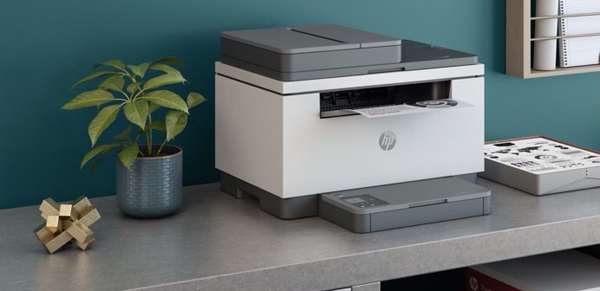 Environmentally friendly genuine printer and ink products
In addition, the HP LaserJet M200 printer series also meets strict environmental eco-label standards such as Energy Star or Blue Angel. HP actively designs and tests its printing systems to meet the ecolabel for emissions. As a result, the air quality in the home and office is guaranteed to work with peace of mind. Along with that, genuine HP ink contains eco-friendly recycled ingredients.
"Education transformation strategy needs to start from a human strategy combined with the support of technology devices. Actively grasping advanced technology to apply in teaching is the way we move to the future", Ms. Uyen Phuong shared with educational institutions.
HP LaserJet M200 includes product codes M211d/dw and M236dw/sdw, with genuine 1-year warranty with prices starting from VND 3,790,000.
Learn more at: https://www.hp.com/vn-en/printers/laserjet-200-series.html or contact hotline 1800 588 868, website: baohanhhp.vn or Zalo HPVietnam.
Pearl league
.