If it passes the rigorous tests from FINDDX, WHO will certify that VinBrain's DrAid™ is allowed to be applied globally, helping to screen and detect early to rule out dangerous diseases such as tuberculosis, Covid-19, thalassemia. congenital blood.
Solving the "problem" of the global health industry
Low living standards, polluted living environment, and outdated health care at the frontline are the main reasons why TB is still a "nightmare" not only for people in remote areas. in Vietnam, but also a common problem in underdeveloped and developing countries.
According to medical experts, tuberculosis is one of the leading causes of death worldwide. WHO estimates that about 10 million people get TB and 1.4-2.2 million people die from TB each year. In the period 2000 – 2022, it is estimated that nearly 40 million people died from TB, 6 times higher than the number of deaths from Covid-19.
Not only health, TB burden also affects national income and human development index of countries. Studies on health economics show that each TB patient will lose an average of 3-4 months of work, thereby reducing the average family income by 20-30%. Families where someone dies prematurely from tuberculosis can lose up to 15 years of income.
Along with the advances of science and technology, the TB approach strategy of many countries around the world is changing. Instead of "waiting" for sick people, countries have moved to proactively screen in the community. To accomplish this huge amount of work, applying artificial intelligence in diagnosis on chest X-ray films, helping to detect diseases early and accurately is considered a breakthrough step.
The "key" of DrAid™ and medical innovation
It is no coincidence that the application of artificial intelligence in diagnostics has such high expectations. The fact that the trial has shown outstanding effects helps bring hope to shorten the time to eliminate dangerous diseases such as tuberculosis from the community. For example, DrAid™ of VinBrain Company (belonging to Vingroup) – a pioneering AI diagnostic software product that runs on both Cloud (cloud system) and On-Premise (on-premise software).
Regarding the mechanism of operation, after analyzing the chest X-ray image, if DrAid™ suspects that a patient is at risk of being positive for TB, medical staff will conduct more in-depth testing (GeneXpert) to confirm receive tuberculosis. Conversely, if there are no abnormalities, the AI ​​will notify so that the GeneXpert test can be skipped. According to VinBrain, the accuracy of VinBrain's TB model has now reached more than 96%. AI diagnoses will be automatically exported to medical reports according to international standards, helping doctors save time, improve diagnostic efficiency and efficiency.
In particular, with the application of AI, the cost burden on patients will be significantly reduced. Currently, the cost to detect a case of tuberculosis is about 78 USD (equivalent to 1.7 million VND). Meanwhile, the cost per case of straight chest x-ray combined with DrAid™ is only a few dollars and results will be available within 15 seconds. This will help optimize the medical journey as well as help low-income patients in underdeveloped and developing countries easily access. Right in Vietnam, DrAid™ with its multi-faceted effectiveness has been effectively deployed in hospitals and highly appreciated by the Ministry of Health.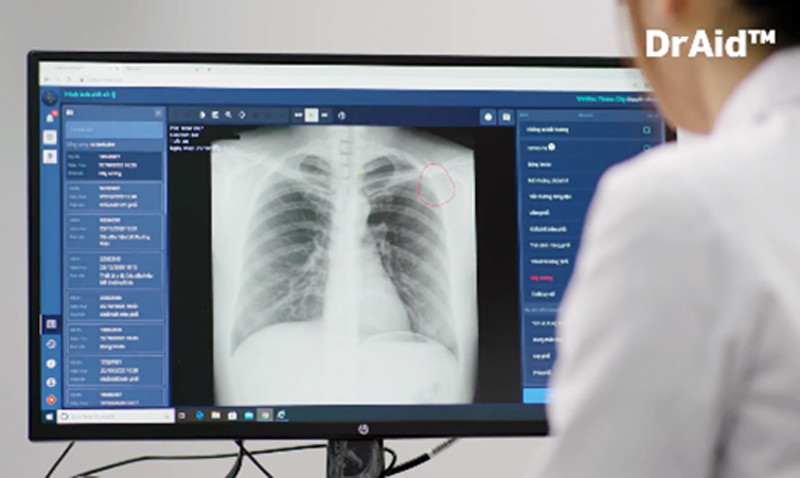 Not only Vietnam, hope is being opened to the world when recently, VinBrain was officially selected by FINDDX to become one of the objects that this organization considers and evaluates for long-term cooperation. long.
Specifically, FINDDX will evaluate the DrAid™ product and develop a roadmap for extensive research cooperation to bring this product to underdeveloped and developing countries. If it passes the rigorous tests from FINDDX, WHO will certify that VinBrain's DrAid™ product is allowed to be applied on a global scale.
Not only tuberculosis, DrAid™ can also be a sustainable model in the diagnosis of major diseases of the world such as Covid-19 or Thalassemia. VinBrain expects digital technology solutions to be a good "support net" to help poor and disadvantaged people access comprehensive medical services, receive care and improve their health.
DrAid™ is one of the pioneering AI solutions for doctors in image-based diagnosis developed by VinBrain. On July 21, DrAid™ was officially named in the list of AI-based products of Ferrum Health – the leading company in AI solutions for businesses in global health systems. Ferrum's customers are prestigious medical institutions concentrated in Europe and North America. Find out more information about VinBrain at: https://vinbrain.net/
FINDDX is a non-profit organization, based in Switzerland and authorized agency representing WHO in finding, researching and accessing technology units to evaluate diagnostic aid products. predicting the screening and early detection of dangerous diseases that are a global burden. Currently, FINDDX has conducted an assessment of more than 150 global partners.
The Dinh
.