In the first week of October, there were 140 reports of online fraud cases submitted by users to the National Cyber ​​Security Monitoring Center (NCSC).
According to the National Cybersecurity Monitoring Center (NCSC – Department of Information Security, Ministry of Information and Communications), in the first week of October, this agency discovered 59,601 servers and devices in Vietnam with the ability to be mobilized becomes a source of DRDoS distribution.
This unit also recorded 203 cases of attacks on Vietnamese websites/portals. In which, 4 cases of attack change the interface, 80 cases of phishing attacks and 119 cases of malicious code installation attacks.
The National Cybersecurity Monitoring Center also specifically warns users against phishing attacks. This is a form of cyber attack where attackers masquerade as a reputable unit to trick users into providing them with personal information.
The National Cyber ​​Security Center (NCSC) is an agency with the function of monitoring and supporting information security for people, businesses and information systems of the Party and State. . Photo: Trong Dat
Phishing attack is one of the most common forms of cyberattack in the world today when many people can be fooled by websites that pretend to be large organizations, businesses, and service providers such as social networks. unions, banks,…
In the past time, the most fake organizations and service providers can be mentioned as Amazon, Facebook, Office365, Outlook, Webmail, WhatsApp, …
In particular, the list of malicious IP addresses or domains with the most connections from Vietnam includes differen***.ru, disordersta***.ru, atomictri***.ru, morp***.ru , ydbn***.me, a.ase***.in, ww2.bbbjdnxb***.ru, a.deltahe***.ru, sdk.ase***.in, sdk.ase*** .print. Users need to exercise caution when encountering websites or links with such addresses.

List of malicious IPs/domains with multiple connections from
Vietnam
According to the recommendation from NCSC, for malicious IPs/domains with many connections from Vietnam, agencies, organizations and units need to check and handle devices in the entire network if there are signs connect to these addresses.
Notably, in the past week, there have been 140 reported cases of fraud reported by users to the National Cyber ​​Security Monitoring Center (NCSC).
Through inspection and analysis, NCSC found that among these, there were many cases of fraud related to the bank's website, fraud related to the Covid-19 epidemic.
Besides, the National Cybersecurity Monitoring Center also noted about websites pretending to be businesses to scam Vietnamese users.
The most prominent among them are longpr***.mov.vn (faking FPT Telecom website), sns***.com (faking Sacombank bank), taikhoan.***-garena.ml and acco** *-garena-en.com (fake Garena website to steal accounts).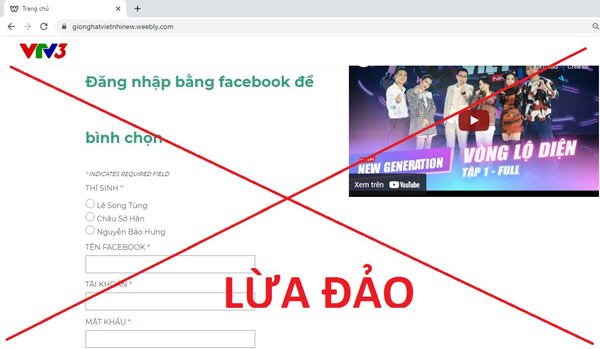 Website interface of the gameshow Voice of Vietnam children. Through this website, the purpose of the bad guys is to trick users into logging into their Facebook accounts by voting for the contestants. User account information will then be appropriated by the bad guys to perform fraud.
In addition, there are scam sites related to game account recharge such as napthe**.com, napgamefreef***.vn, napthe**freefire.com (freefire card recharge scam), or pubg. storezi***.com, pubgmobile**.mobi (PUBG game card recharge scam).
In addition, there are two websites gionghatvietnhi***.weebly.com and chuongtrinhsieutainang***2021.weebly.com. These are fake websites to steal Facebook user information to fake and appropriate property.
In case of encountering suspicious websites, users can actively access the website https://canhbao.khonggianmang.vn, send warnings about cyber fraud, security holes or attack problems to The National Cybersecurity Monitoring Center checks, analyzes and issues warnings.
Trong Dat

Tips to not become a victim of email scams
Email phishing is a trick where bad guys deceive victims by sending fake emails to an acquaintance or a reputable organization or unit. With this trick, many Internet users are trapped by scammers.
.