Vietnam Post has just launched the delivery service "Banking and Finance EMS", designed specifically for banking, insurance and financial customers, with low freight rates, fast delivery time, security and safety. high with many amenities attached.
Banking and Finance EMS is a package delivery service of documents, documents, pin-card codes from financial, banking and insurance businesses to recipients and collects information/images, transfers Return documents to the requested address.
With 3 service packages: Standard Package, Silver Package and Gold Package, Banking and Finance EMS service not only meets the maximum delivery requirements of customers, but also increases service options suitable to customers' special needs. of different customer groups.
In addition to the basic utilities common to all 3 service packages such as: express delivery in the direction, delivery to recipients up to 3 times, successful delivery via SMS, EMS Banking and Finance also provides additional services for customers. customers with exclusive utilities according to the actual needs of customers.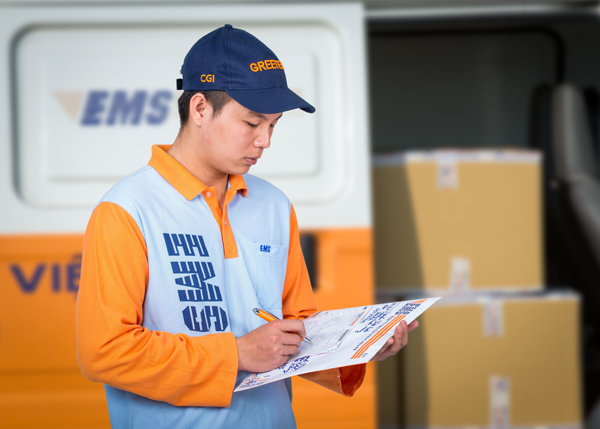 Vietnam Post said that for customers who need to deliver pin codes, cards can simply use the Standard service package. The Silver and Gold service package allows the sender to deliver additional documents, contracts/credit records, insurance along with information collection and collation, take photos of customer records and return the records to the sender. Particularly for the Gold Service Package, the postman will take pictures of relevant documents at the request of financial, banking, and insurance organizations and businesses (maximum 8 photos) and send them back via email. Contact the My Vietnam Post app, website donhang.vnpost.vn or through software connecting API with the post office.
Service charges are calculated from 12,500 VND/intra-provincial postage, from 16,500 VND/inter-provincial postage (including VAT and other surcharges). Refund fees are also waived for customers using Silver and Gold Service Packs and 50% off for Standard Packages to optimize delivery costs for customers.
In addition to price policy incentives, Vietnam Post also builds a delivery process specifically for EMS Banking and Finance services. Postal items using this service will be individually stamped and prioritized for delivery to ensure the time target within 12 hours within the provinces of Hanoi, Da Nang, and Ho Chi Minh City; 24 hours with Hanoi – Ho Chi Minh City route, within other provinces/cities and within the region. For inter-regional parcels, delivery time will range from 1 – 2.5 days depending on each specific area.
A representative of Vietnam Post affirmed that, being the only delivery company that can order to transport letters, official documents and documents to serve Party and State agencies, with a professional, strict, high-quality professional process. Trust, Vietnam Post is confident to be the best service provider for a group of customers that require high information security such as banking and finance.
To consult and register to use the service, contact the hotline: 1900 54 54 81 or go to the nearest service points of Vietnam Post.
Xuan Thach
.