The Fei Protocol algorithmic stablecoin platform has just been stolen nearly 80 million USD on 30/4. The project side offers a bonus 10 million USD if the hacker returns the amount of digital currency taken.
Specifically, Fei Protocol announced that the platform's Fuse protocol on Rari Capital was hacked. Data from the hacker's wallet address shows that this account has obtained nearly 28,000 ETH, worth about 78 million USD. Hackers have started transferring this amount of money to the Tornado Cash "mixer" platform to launder money.
Fei Protocol announced an attack through a vulnerability in Rari Capital's Fuse protocol.
Via the Twitter page, Fei Protocol said to suspend all transactions on the platform to minimize losses. The team also said it was investigating the root cause of the attack.
Fei Protocol is a protocol built on top of the Ethereum blockchain that uses tokenomic and smartcontract to anchor a 1:1 exchange rate to USD for the platform's Fei USD (FEI) stablecoin. However, news from the hack may have destabilized the digital currency, causing the price of FEI to drop to 0.986 USD/copper. The governance token of the Fei Protocol project, TRIBE, also plummeted about 16% after the bad news.
Blockchain security research firm Blocksec said hackers attacked with a "reentrancy vulnerability". According to Coinapewhich is a common problem on smart contracts built on Ethereum.
Bloomberg argues that an attack of this type usually occurs when the protocol's smart contract executes an order with an external smartcontract. The out-of-protocol contract's return signal then attempts to exploit a flaw in the outgoing command's programming. Cryptocurrency developer Moralis says the 2016 The DAO hack is one of the best examples of this attack method.
Fei Protocol builds algorithmic stablecoins, which can be easily used by DAOs (decentralized autonomous organizations). Meanwhile, Rari Capital is a decentralized finance platform, lending and depositing high interest rates with Fuse protocol. The management boards of these two projects have agreed to merge in December 2021.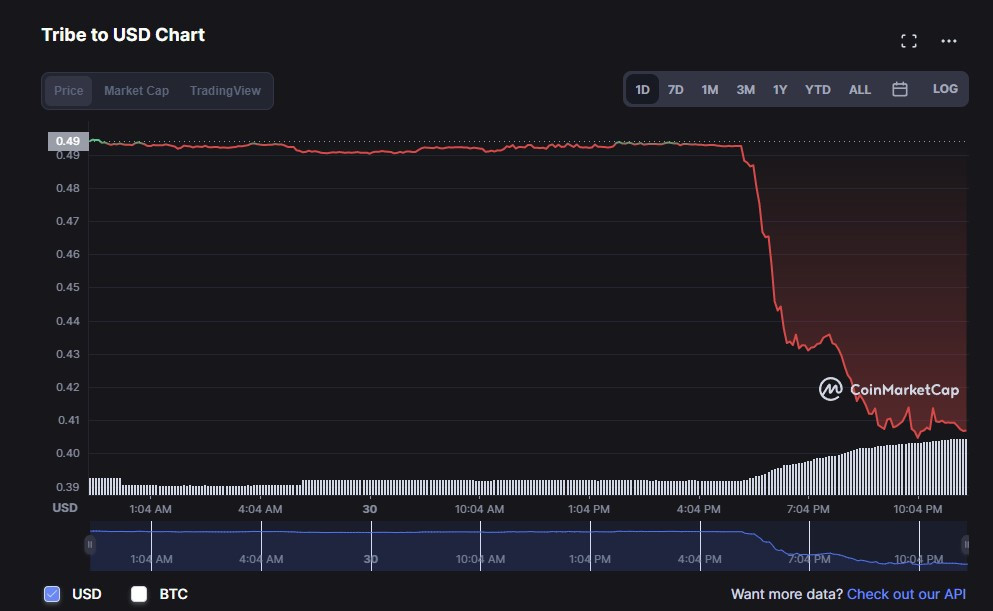 Fei Protocol's governance token drops after bad news. Photo: Coinmarketcap.
The past week has been a dark period for DeFi projects with a series of attacks. Total damage recorded approx 100 million USD. A few hours before Fei Protocol, Saddle Finance, another DeFi protocol on Ethereum, was more stolen 10 million USD. Deus Protocol on the Fantom blockchain was also hacked and taken away by hackers 13 million USD.
DeFi platforms that have just been attacked extend the list of crypto projects to be hacked in 2022. Wormhole decentralized financial solution on the Solana blockchain was hacked in early February, causing damage approx. 326 million USD. By the end of March, Axie Infinity's Ronin bridge was taken over by hackers 600 million USD.
The information about cryptocurrencies in the article is not investment advice from zing News. Cryptocurrency investment activities are not recognized and protected by Vietnamese law. Cryptocurrencies always carry many financial risks.
(According to Zing)
.