The Qualtrics report conducted by Coinbase shows that, over the past year, the number of Britons who have purchased crypto has increased by 4%, to 33% of those surveyed. Coinbase is a digital currency exchange headquartered in San Francisco (California, USA).
A survey conducted in October 2021 shows that the percentage of people who have ever bought cryptocurrency in the UK is 29%. Notably, more than half of those surveyed plan to increase their crypto holdings within the next 12 months.
According to a Coinbase report, Bitcoin is currently the number 1 cryptocurrency in the hearts of Britons. This is the most commonly owned cryptocurrency.
In addition to Bitcoin, 52% of crypto buyers in the UK already own Ethereum. Dogecoin and Binance Coin are also popular cryptocurrencies.
Not only the people but also the British Royal Treasury are interested in Bitcoin. The unit even created and issued a royal NFT amid the discussion of stablecoin regulations in the UK.
According to a Coinbase spokesperson, with a population of 67 million, the UK will become a leading crypto hub in Europe.
Technology is driving cryptocurrency adoption in the UK. More and more Britons are buying cryptocurrency, Coinbase research concludes. However, the results of this report are considered quite optimistic.
According to another statistic conducted by Statista, the number of people owning cryptocurrency in the UK is only about 7%, much lower than the results published by Coinbase.
Meanwhile, another Cointelegraph report shared the same opinion, stating that the number of people owning crypto in the UK is just under 10%.
On the other hand, Vietnam is ranked highly by all reports in the cryptocurrency popularity surveys.
According to Chainalysis, Vietnam is a perfect example of a country where the level of participation in cryptocurrency transactions far exceeds the ranking of the economy.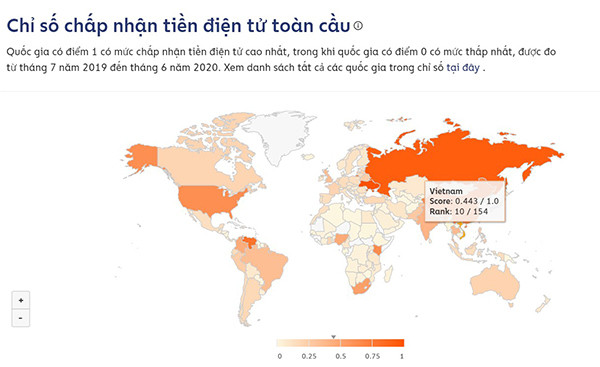 Although only ranked 53rd in GDP with about $262 billion and is ranked as a low-middle-income country, Vietnam still has a fairly high level of acceptance for cryptocurrency transactions.
Accordingly, Vietnam ranks 10th out of 154 countries in the Global Cryptocurrency Acceptance Index. This is one of the rare indexes where Vietnam has the same rank as developed countries such as the US, China or South Africa, even more than many other developed countries such as the UK, France, Germany, and Spain. , Japan, Korea…
Finder's survey conducted with 42,000 people across 27 countries also shows that Vietnam is the country with the highest rate of cryptocurrency adoption.
Specifically, 41% of Vietnamese respondents confirmed to have purchased cryptocurrency. 20% of Vietnamese respondents said they bought Bitcoin. This is the highest of all surveyed countries.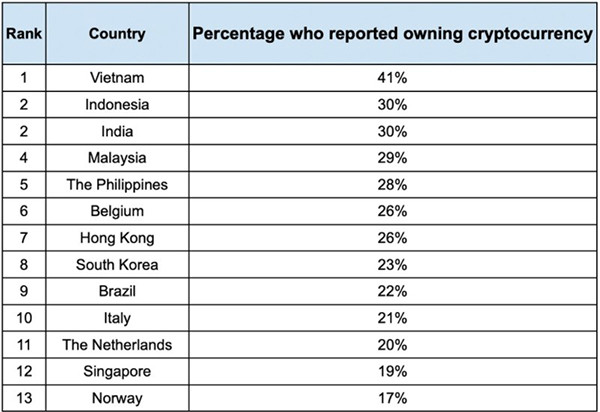 Compared to European countries, Asia is a more open region as many countries here have researched, piloted, and even deployed central bank digital currencies (CBDCs) using public technology. Blockchain technology.
First, the case of China's electronic renminbi (e-CNY) can be mentioned. Statistics as of December 31, 2021 show that China's electronic yuan has 261 million users with a total transaction value of more than 87.5 billion yuan.
Earlier this year, Nikkei Asisa reported that Japan would issue a digital currency with a value pegged to the Japanese yen.
Different from traditional fiat currencies, stablecoins allow users to transfer digital assets globally at a cheap price and faster execution time, while maintaining price stability.
Even in Cambodia, Cambodia's Bakong digital currency has reached 7.9 million people, accounting for half of the country's 16.7 million population. Currently, there are 6.8 million transactions in Cambodia made through Bakong with a total value of 2.9 billion USD.
A survey by Bank for International Settlements in January 2021 found that 86% of 65 central banks polled said they were engaged in working with CBDCs. About 60% of central banks are open to the possibility of issuing their own digital currencies in the near future.
In the case of Vietnam, the State Bank of Vietnam recently issued a plan to implement Decision No. 1813/QD-TTg dated October 28, 2021 of the Prime Minister approving the project on development of non-payment of payments. using cash in Vietnam in the period of 2021-2025.
One of the contents mentioned in the plan is that the State Bank will study and propose mechanisms and policies on national digital currency.
Trong Dat
.