Changpeng Zhao, also known by the nickname CZ, is the founder and CEO of Binance – the world's largest cryptocurrency exchange by volume.
According to the information VietNamNet has just received, Binance CEO – Changpeng Zhao (CZ) has just arrived in Vietnam. He is a USD billionaire and an important voice in the crypto community.
Currently, Changpeng Zhao is ranked 19th in the Forbes list of the world's richest people. The total fortune that this billionaire owns is about 17.4 billion USD.
Billionaire Changpeng Zhao was born in 1977, is a Chinese-Canadian. He graduated in information technology from McGill University (Montreal, Canada).
CZ worked for a time at the Tokyo Stock Exchange, then moved to Bloomberg LP – a financial subsidiary of Bloomberg.
In 2013, he first heard about Bitcoin, after reading about the white paper, he decided to sell all his assets to invest. Not long after, CZ's investment lost 70%, but he quickly realized that cryptocurrency was the place where he could use all the financial market experience he had accumulated to build his fortune. Karma.
Before founding Binance in July 2017, CZ was a member of the Blockchain.info development team and held the position of chief technology officer of OKCoin – the world's 2nd largest cryptocurrency exchange at that time.
During Binance's Initial Coin Offering (ICO), Changpeng Zhao raised $15 million. Six months after its founding, Binance became the number one exchange in the world with about 6 million registered users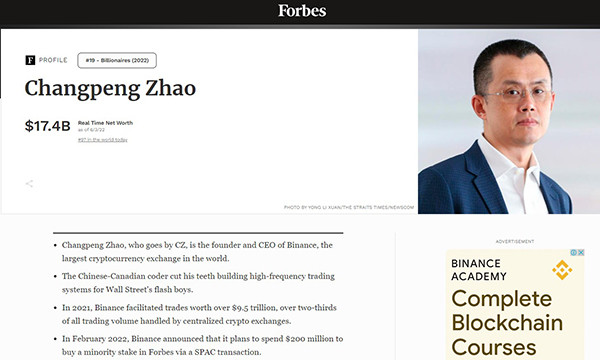 The purpose of billionaire Changpeng Zhao's trip to Vietnam is to meet with leaders of ministries and domestic technology circles.
According to the Vietnam Blockchain Association, billionaire CZ will be present at the Vietnam NFT Summit event held this weekend in Hanoi.
One of the highlights of CZ's visit to Vietnam this time was the announcement of Binance's cooperation on research exchange, Blockchain technology application, human resource training in Vietnam and internationally through the Vietnam Blockchain Association. Male.
At the Vietnam NFT Summit event on June 4, 2022 at Melia Hanoi Hotel, CZ will participate in dialogue sessions with the Vietnamese Blockchain technology community.
Billionaire CZ will share his perspective on the future of technology in the process of global digital transformation as well as Vietnam's opportunities in the new wave of technology. In addition, the CEO of Binance will have many exchanges with the growing business community and blockchain applications in Vietnam.
Trong Dat
.