Coway has just launched a new product impressed by its elegant design and many convenient features for users.
In the context of a pandemic, health care and protection is always a top concern. Everyone has a sense of preserving and taking care of their health by changing their diet, exercising appropriately and strictly implementing the 5K regulations. Many people also tend to buy air purifiers.
Recently, Coway launched an air purifier with removable filter called Cartridge AP-1019C with compact design, outstanding features, suitable for all families.
Easy to use design
Coway is known for products with optimized user experience design. The same goes for the AP-1019C cartridge. The product has a compact size, 340 x 165 x 469 mm, weighs only 5.5kg, easy to move when needed.
With a filter area of ​​up to 33m2, the product is suitable for many different room interior styles, from small offices to bedrooms, living rooms… The touch control buttons are clearly annotated, easy to understand, and turn on. , turn off the device or change the fan mode easily. Next to the control buttons is an air quality display light for users to change the appropriate wind mode.
The difference of Cartridge compared to previous products is the modular filter design that is easy to disassemble for cleaning or replacement. The pre-filter, which requires frequent cleaning with water, is now designed to be disassembled with a lifting movement, allowing users to clean themselves with water at no extra cost.
In contrast, HEPA filters and deodorizing filters are not recommended to be cleaned with water, but should be replaced every 12 to 24 months. So that users do not need to memorize a lot of information themselves, the Cartridge air purifier is also equipped with a light system to signal the time to clean or replace the HEPA filter and the convenient deodorizing filter. These design innovations have earned the Cartridge numerous international design awards.
Exceptional Features
Cartridge has an advanced air filtration system with a powerful 3-filter system. In particular, it is impossible not to mention Coway's exclusive HEPA filter capable of removing over 99.4% of viruses in the air according to the latest test results of the Korean laboratory (KCL – Korea Conformity Laboratories). In addition, the product also removes allergenic pollens and bacteria, molds, keeping the space safe for human health.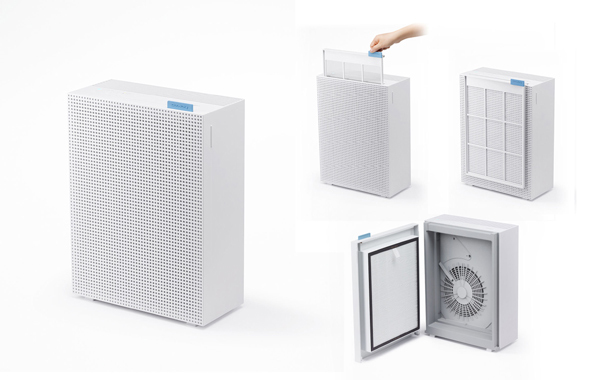 However, not so that using Cartridge costs a lot of electricity. According to the manufacturer, with a capacity of only 35W, if you turn on the AP-1019C air purifier 24 hours a day, the electricity cost customers have to pay is only about 50,000 VND/month. In particular, when the product is run in Auto mode, the fan speed will automatically change depending on the air quality thanks to the dust sensor. When the state of clean air is maintained for a certain period of time, the machine will automatically switch to Silent mode, the filter speed of the machine will be reduced to the lowest level to save maximum energy. .
Low noise
Coway understands that everyone needs a quiet space, whether working or resting, so he created the Cartridge air purifier with a maximum noise reduction when operating at 47.8dB, equivalent to the sound of rain falling, creating a feeling of relax while working. At night, users can adjust to turn off the signal lights or reduce the fan speed, creating a quiet space to rest and relax after a long day.
From February 1 to 28, when buying Cartridge AP-1019C on Coway Vina website, customers will receive a gift of a Colgate water flosser worth 2.9 million VND, VinID voucher 100,000 VND for each order. In particular, customers also have the opportunity to participate in a lucky draw program with a total value of up to 1 billion VND by filling in purchase information on Coway Vina website at the link: https://bit.ly/3GBM5sd.
Details:
Hotline: 1800.556.892
Fanpage: facebook.com/cowayvina.official
Website: cowayvina.com.vn
Pearl league
.