Since the pandemic, the laptop market has changed a lot. New computer models are now focused on online support, instead of just focusing on configuration and design.
The trend of working and learning remotely is growing in popularity. The demand for laptops with large screens but thin, light, easy to carry is favored by many people.
Recently, on the Vietnamese market, such a laptop model has appeared. It is a Huawei MateBook D 16 for VND 23.99 million. This model has a 90% screen-to-body ratio and a novel 16:10 aspect ratio, creating a wider viewing angle than the 16:9 aspect ratio.
With a 16-inch FullView screen and a weight of only 1.7 kg (equivalent to a 15.6-inch laptop), this laptop model has erased the stereotype that a thin and light laptop must come with a small screen.
In terms of configuration, HUAWEI MateBook D 16 is equipped with a 12th generation Intel Core H-Series Processor, 16GB of RAM and a high-speed hard drive. This is considered a relatively "fluffy" configuration compared to common office tasks.
A notable point when it comes to the configuration of the MateBook D 16 is the Huawei Sharkfin Fan cooling system and the improved Metaline antenna technology that helps maintain a stable wireless network speed even when WiFi is weak.
Compared to other office laptop models, Huawei's new computer model is also highly appreciated thanks to the bounce of the keyboard as well as the relatively long key travel (1.5 mm). These are details usually only seen on external keyboards. Besides, due to the large size, the manufacturer has added the presence of the numeric keypad area. This is a detail that is often cut out to save space on laptops with small screens.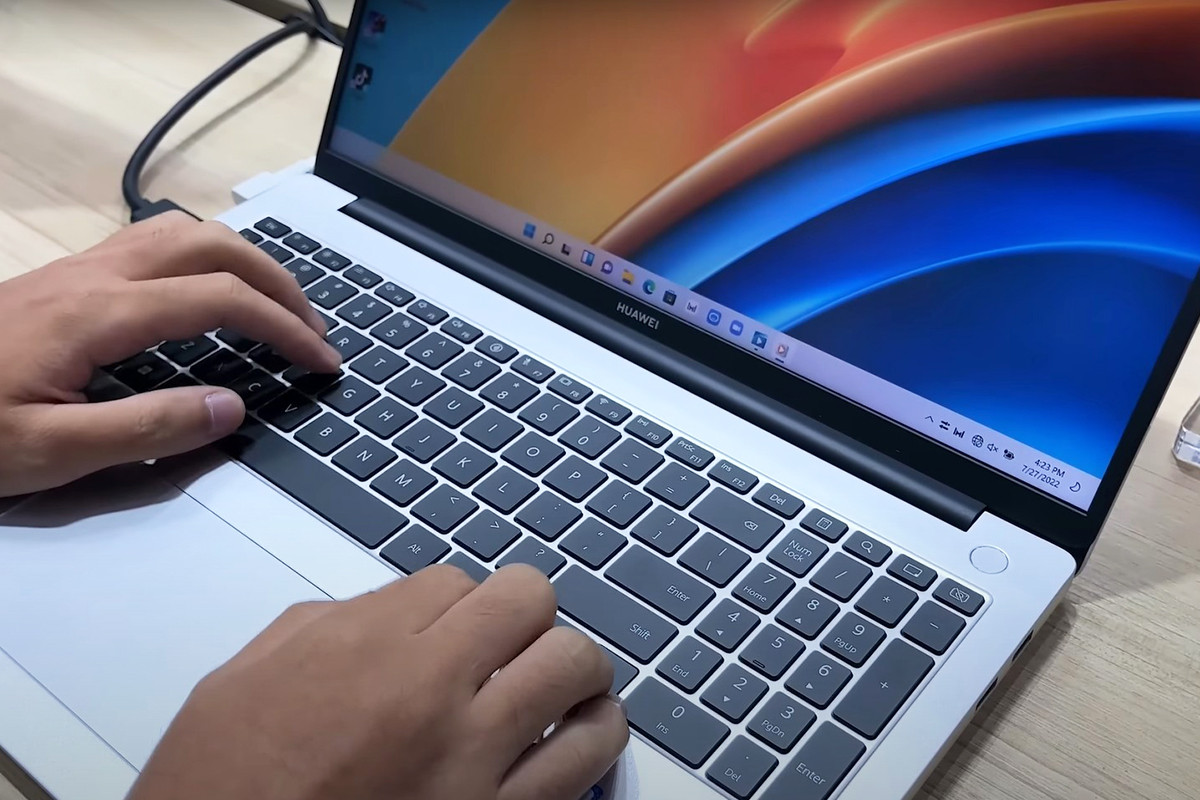 In addition, Super Device can be considered a "money-making" feature on Huawei laptops. This is a feature that allows users to connect only with a headset, mouse, keyboard, speaker and printer near the laptop. Users can even turn a laptop into a phone, or connect a laptop to a tablet and perform drag and drop to move data.
Studying and working online has become a mandatory need for users today. To solve this problem, the manufacturer has integrated the front camera with high image quality (1,080p) integrated with artificial intelligence.
The difference of this feature is that, AI Camera's FollowCam will direct the sound so that the listener always hears the information clearly even when the presenter moves. The AI ​​also adjusts the presenter's vision, so that they appear to be making eye contact all the time.
Notably, MateBook D 16 is equipped with up to 4 microphones placed on the front edge of the device. AI algorithms will also play a role in noise reduction, while the microphones are capable of supporting sound recording from sources up to 5 meters away from the device.
It can be seen that, since the pandemic, the office laptop market has changed dramatically, with the presence of many new features to meet the changing needs of users.
Trong Dat
.