Modern enterprises are facing increasing costs and difficulties in data processing. Big data environments are often complex with many systems and tools that need to be well coordinated to function smoothly. At the webinar, experts from CMC Telecom and Google consulted on building the most optimal Data Warehouse architecture with a data modernization strategy for increasing business revenue.
Google Data Warehouse is a solution provided by Google with outstanding feature development, which can help customers solve many problems in collecting, storing, managing data and providing information to customers. user. With Google Data Warehouse, businesses get "Business Insight", predict market trends, predict customer needs, analyze the benefits and benefits in each business decision to optimize costs and break through business. collect.
The event attracted the attendance of IT, IT Manager, CTO who are interested in data management, customer information, optimization of customer collection, thereby improving productivity and earning higher profits. for your business.
Understanding that concern, at the beginning of the seminar, Mr. Bui Hoang Anh – Director of CMC Telecom's SME Center shared about the great benefits that Data Warehouse brings to businesses: "Integrated Data Warehouse data in one source, the same format, meeting all information needs, thereby saving users time and increasing data search efficiency. Standardized data sources help managers and leaders make rational, quick, and more productive decisions; earn higher profits. Enterprises define, manage and run projects and operations efficiently and accurately thanks to data warehouses.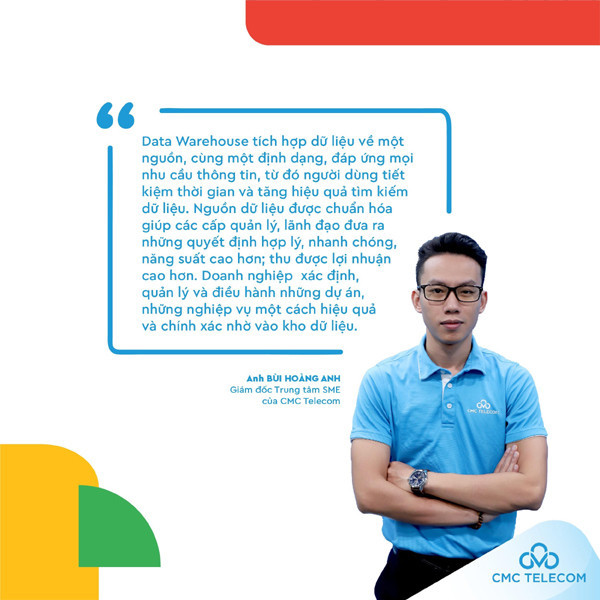 In order for businesses to have a more direct and clear view of this solution, the Data Warehouse architecture demo was also specifically "performed" by technology expert Nguyen Dang Vinh.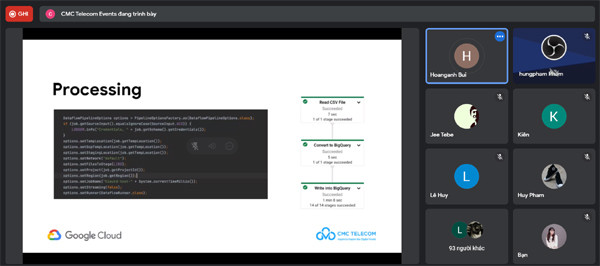 Demonstrating the benefits of Google Data Warehouse, the representative of Google, Mr. Nguyen Ngoc Diep – Senior Solution Consultant, recounted a specific situation about the use of Data Warehouse in Vietnam and the world through a real story of one FSI representative numbers such as HSBC, Starling Bank, ANZ,…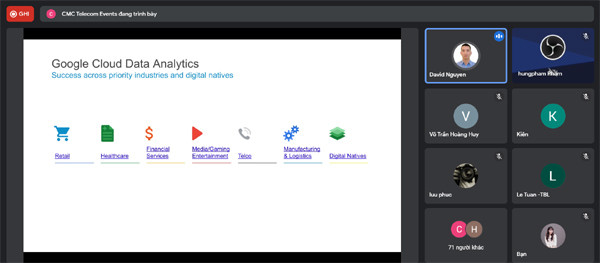 CMC Telecom is a telecommunications partner of Google in Vietnam recognized as a global premium partner – Premier Partner. CMC Telecom has more than 200 experts with Google certifications in cloud computing, specialized certifications in security for Cloud and especially AI and Big Data. With the platform advantage of a digital infrastructure company, proactive in transmission lines, bandwidth as well as Data Center, customers using CMC Telecom's services will be able to use Google Cloud Interconnect's direct connection.
Thuy Ngan
.