On March 29, 2022 CMC Telecom launched the CMC Kubernetes Engine service, providing an environment for developing and deploying applications on the Cloud, helping businesses save time, optimize resource costs and accelerate modernization Infrastructure.
CMC Kubernetes Engine (CMC K8s) is a container orchestration platform built and deployed by technology engineers of CMC Telecom on CMC Public Cloud infrastructure. CMC K8s is based on Google's powerful open source platform that allows users to work in an environment that automates the management, scaling and deployment of applications in the form of containers. This is a key service in CMC Telecom's cloud computing solution ecosystem to help businesses achieve comprehensive digital transformation.
CMC K8s was born to help businesses focus on the core to speed up the process of completing applications with high quality. This solution provides a complete virtualization environment that enables the development, testing, deployment and distribution of applications on the Kubernetes platform.
According to CMC Telecom, users will save many hours of effort and minimize mistakes from many outstanding features of CMC K8s:
Automatically deploy CMC K8s services: easily initialize K8s Clusters on demand with just a few mouse clicks.
Full features of the Kubernetes distribution platform: container administration, resource control and orchestration, storage drives, downtime-free application upgrades, security and configuration management, and more.
Integrate independent and long-term data storage solution Persistent Storage in block form: providing independent and long-term storage resources with high read/write performance.
Cluster management through command line tools and interfaces: allowing users to interact and administer the cluster such as application deployment, scheduling, container administration, etc.
System administration through portal: allows users to increase/decrease nodes or configure nodes according to their needs.
Features of CMC Kubernetes Engine
Also according to CMC Telcom, one of the outstanding advantages that makes CMC K8s considered a new generation platform is being built on a modern cloud computing platform, operating in the Uptime Tier III data center of CMC Telecom. following a multi-layer security model that complies with PCI-DSS, ISO 9001:2001 and ISO 27001 standards. K8s of CMC Telecom will help users speed up application development and testing, quickly deploy and efficiently. , safe.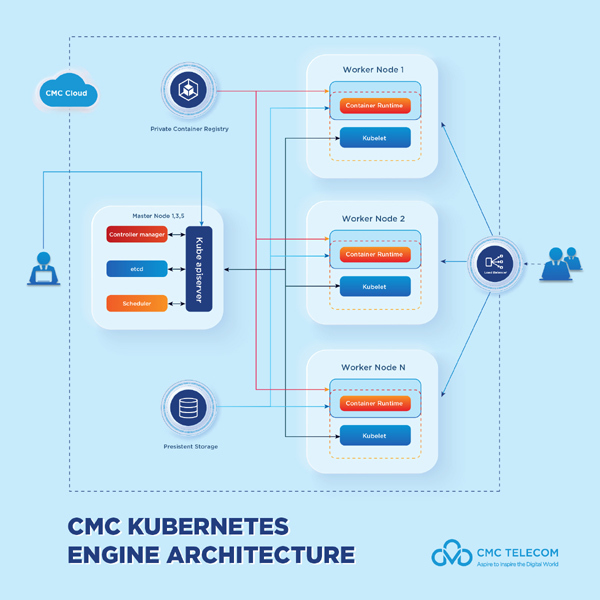 System Architecture of CMC Kubernetes Engine Architecture
In addition, CMC Telecom currently owns Direct Connect lines (direct connection) to the world's leading Public Clouds such as AWS, Google and Microsoft. Enterprises using K8s service of a "domestic" Cloud provider like CMC Telecom will not have to face the risks of connection lines as well as expensive data transfer costs.
In addition, by providing K8s services based on the openstack platform, CMC Telecom always ensures to update the latest version and accompany customers to bring optimal and specialized solutions for each business.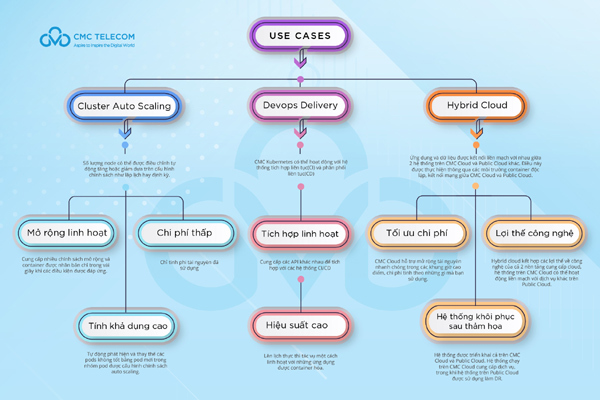 Use cases for CMC Kubernetes Engine
In the context of the current volatile market economy, organizations and businesses need to constantly innovate and continuously optimize their operating models. Deploying and developing applications on the cloud platform with CMC Kubernetes Engine is a powerful transformation solution that helps businesses have a modern, flexible, "elastic" technology infrastructure, fast deployment quickly respond to all "urgent" requirements of business.
Thuy Ngan
.