In the morning of August 3, 2022, CMC Telecom will cooperate with Uniphore to organize a free webinar "Moving to Cloud, Transform with Conversational AI & Automation" to reveal the benefits of virtual PBX, share breakthroughs in technology Conversational AI and automation
Customer care centers are the areas that are often "poured" by businesses with the desire to support the best "god". However, in many businesses, that investment did not bring the expected results when the customer experience was broken for many reasons such as: delayed response, unprofessional call center staff…
Realizing the importance of improving customer experience, at the seminar "Moving to Cloud, Transform with Conversational AI & Automation" organized by CMC Telecom in collaboration with Uniphore, experts will reveal the benefits of total virtual radio, sharing breakthroughs in conversational AI technology and automation. These solutions bring a new look to departments, call centers, and case studies that successfully use conversational AI to improve and enhance customer experience.
Within the framework of the event, Mr. Le Anh Vu, Creative Director of CMC Telecom will share "secrets" to optimize customer experience. The representative of CMC Telecom participating in the seminar, including Mr. Nguyen Toan Anh – Director of Telesales Center of CMC Telecom, will "reveal" the secret of revenue breakthrough with CMC One.CX.
According to Uniphore, at the webinar, Mr. Nguyen Thi – National Managing Director and Mr. Vuong Ngoc Trac – Senior Sales Engineer will share stories about AI and conversation automation technology to create resilience for businesses. Vietnamese industry. Mr. Thi has more than 20 years of experience working in the field of customer service solutions for large multi-industry clients; Mr. Vuong Ngoc Trac also has more than 10 years of experience in consulting solutions, system engineering and operation in many large enterprises.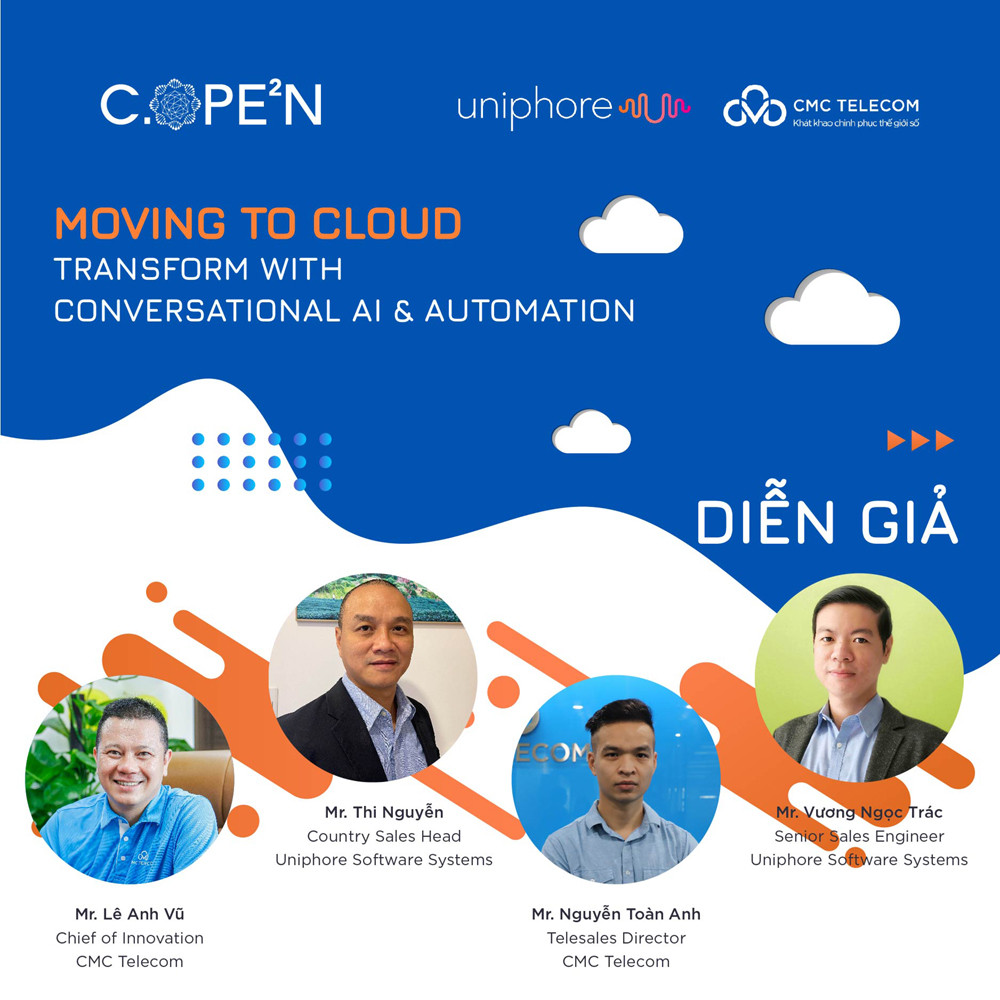 The event, jointly organized by CMC Telecom and Uniphore, is for businesses who are interested and want to improve customer experience through "god" care. The event is held for free via Zoom. Conference attendees will have the opportunity to receive a valuable Airpod Pro from the program organizers.
The event will take place from 10am – 11:30am on August 3, 2022 on the Zoom platform
Link to register for the event: https://event.cmctelecom.vn/uniphore
For any event support needs, please contact the organizers
Tel: 0399.858.346
Email: [email protected]
Thuy Ngan
.