Sri Lanka Political Crisis Latest News: Sri Lanka's main opposition party on Sunday agreed to form an all-party interim government following the possible resignation of President Gotabaya Rajapaksa. Sri Lankan President Gotabaya Rajapaksa announced on Saturday that he would resign on July 13. In Sri Lanka, Prime Minister Ranil Wickramasinghe and Rajapaksa offered to resign after protesters barged into the President's official residence in Colombo's heavily guarded Fort area on Saturday, demanding the resignation of President Rajapaksa.
After the possible resignation of Rajapaksa, the opposition parties met to look for ways to move the country forward in the current economic crisis. "We have agreed in principle to form an interim government with the participation of all parties," said Vimal Veeravansa, leader of the splinter group of the ruling Sri Lanka Podujana Peramuna Party (SLPP). "It will be a government where all parties will be represented," he said.
No need to wait for 13th July
Another leader of the SLPP group, Vasudev Nanayakara, said they did not need to wait for Rajapaksa to resign on July 13. President Rajapaksa on Saturday informed parliament speaker Mahinda Yapa Abhaywardene that he would resign on Wednesday after the country's opposition parties demanded his resignation. Prime Minister Ranil Wickremesinghe has also offered to resign.
interim government of all parties
The main opposition party Samagi Jan Balvegaya (SJB) said they held extensive internal discussions. SJB general secretary Ranjith Madduma Bandara said, "Our target is to form an interim government of all parties for a limited period and then hold parliamentary elections." Leaders of political parties represented in Parliament are scheduled to meet on Monday afternoon to discuss convening a meeting of the House for change of power after Rajapaksa's resignation.
way to form government
Wickremesinghe had said on Saturday that he was willing to resign to pave the way for the formation of an all-party government in the country. The prime minister's media division had said that he would resign as prime minister after an all-party government was formed and a majority was proved in parliament. His office said that Wickremesinghe would continue as prime minister till then.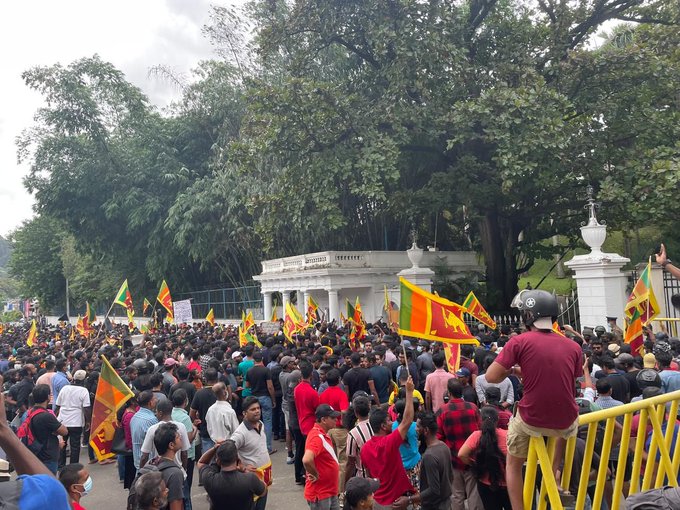 Also read- Goa Congress Crisis: 7 Congress MLAs reached the meeting with BJP, know what is going on in Goa
Five Sri Lankan cabinet ministers resign
Wickremesinghe had told party leaders that he was taking the decision to step down in view of the fact that nationwide fuel distribution is to be resumed from this week, the director of the World Food Program is due to visit the country this week and Debt Continuity Report for IMF to be finalized soon. Meanwhile, five Sri Lankan cabinet ministers have announced their resignations following massive anti-government protests. Sri Lanka's army chief General Shavendra Silva on Sunday called on all Sri Lankans to support the armed forces and police to maintain peace in the country.
Also read- Goa Political Crisis Update: Big news amidst rumors of break in Congress, Speaker withdraws notification of election of Deputy Speaker
,