Released directly to the Vietnamese market through application stores such as Apple Store and Google Play, Chinese online games are raging in the domestic market.
Chinese enterprises can easily publish games directly to Vietnam
If in the past, online games were mainly released on computers, it would be extremely difficult for Chinese businesses to publish games in Vietnam, when they had to locate servers in the country and were affected by the quality of the transmission line. as well as payment management, or language barrier … In recent years, with the trend of online games shifting to release on mobile phones, things have changed.
Genshin Impact is issued directly by Chinese enterprises to Vietnam
Chinese businesses now easily publish games directly to the domestic market through the Apple Store and Google Play app stores and especially they also have a Vietnamese version available, for users to easily play the game. With the servers of mobile games being brought to the cloud, along with the increasing quality of telecommunications transmission lines … Vietnamese game players hardly encounter any obstacles to participate in games from China. This country.
In addition, both Apple and Google also directly support payments for games posted by businesses on their app stores, making businesses from China no longer have to worry about payment issues. It is easy for users in Vietnam to recharge games and direct money flows to game publishers from China.
Many popular games are being released directly by Chinese companies including Genshin Impact by miHoyo Limited, Illusion Connect of Superprism, Three Kingdoms: Globar War by ZBJoy Games, Wannabe Chanllengae of Com2uSz, Campaign 3- Honkai Impact3 by miHoyo Limited, Raid: Shadow Legends by Plarium Global …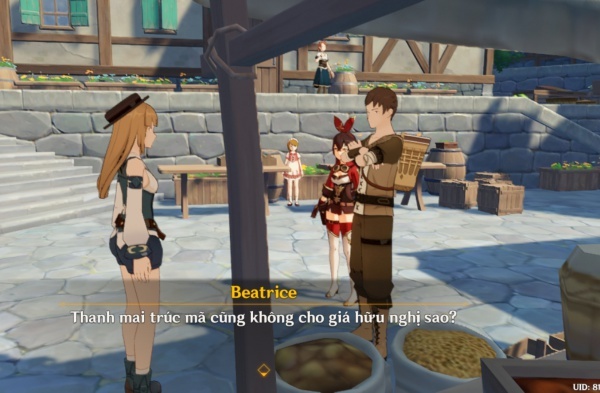 Genshin Impact is the top Chinese game with the top revenue in Vietnam market
In which, Genshin Impact is the leading direct-selling Chinese game in Vietnam today.
There is the support of domestic enterprises
It is easy for Chinese businesses to publish games to the Vietnamese market, besides the help of Apple and Google through the app store, there is also the support of domestic businesses.
With a number of domestic e-wallet units linked to pay directly to app stores like the App Store or Google Play, domestic users can easily buy online games, as well as in-game items quickly. fast. This payment is very simple, just need to perform a few steps on the smartphone to be able to perform and deduct from the e-wallet account or prepaid / postpaid mobile subscriber account.
In addition, Chinese online games are supported by a payment unit called Upay. At Upay's payment gateway integrated in the game, like the aforementioned Genshin Impact game, Vietnamese users can make payment for the game through network scratch cards, GATE cards or Zing cards … next to the picture payment method by credit card.
The form of recharge in the game Genshin Impact via Upay portal.
ICTnews Genshin Impact has also been recharged into the game with the integrated recharge cards in the game and successfully reported the payment via upay365.com. It is known that the owner of this Upay also invited Chinese businesses to join their payment channel and pledged to pay off.
Thus, with the ease of publishing games through application stores, besides the assistance of domestic enterprises in payment, Chinese enterprises are freely releasing games into the Vietnamese market to collect attract players. This causes inequality for domestic firms, while they are subject to regulatory sanctions, Chinese businesses are not subject to any sanctions. They do not need permission, do not get approval for the content of the script, do not need to put a server in the country …
At the same time, the Vietnamese state also suffers huge tax losses, and when direct money flows abroad, it cannot be managed.
In fact, this inequality issue has been going on for a long time and domestic enterprises have continuously consulted the authorities, but the results have not changed much. Many domestic companies have not been able to compete and leave the game market, and others have had many difficulties in doing business in this area in the past time.
In addition, with the release of online games directly into the domestic market, Chinese game businesses are not excluded from using it for political purposes such as spreading unhealthy content, violating traditional standards. fine customs. illegal propaganda of the cow's tongue line in the game …
Le My

Mobile game management is creating many shortcomings
The shift to mobile games will make the management of online games more difficult.
.