The appearance of Make in Vietnam satellites in the past 10 years has proved that Vietnamese people can fully master space technology themselves, paving the way for big goals and dreams in the future.
Nano Satellite F-1
This is the first microsatellite built by a private Vietnamese corporation to be launched into orbit. Nano satellite F-1 was launched to the International Space Station (ISS) on July 21, 2012.
Nano F-1 is a research result of FPT Space Research Department (FSpace) of FPT University's Institute of Technology.
Satellite F-1 has dimensions of 10x10x10cm and weighs 1kg. On the nanosatellite F-1 is attached a low resolution camera (640×480) to take pictures of the earth; one 3-axis magnetic field sensor to serve the satellite posture determination system and several temperature sensors to collect data from the space environment.
F-1 nanosatellite of FPT University Technology Research Institute.
The main purpose of the research and development of the F-1 nanosatellite is to build a team of Vietnamese people capable of grasping and mastering space technology through the design and manufacture of satellites and stations. The ground is used to control satellites.
The successful launch of the F-1 nanosatellite is an important event marking the first satellite manufacturing capacity made by young researchers of a Vietnamese university.
This success contributes to proving that Vietnamese people can master space technology by themselves, paving the way for Vietnamese space conquest projects later on. However, it is a pity that the F-1 nanosatellite lost its signal when it was released from the International Space Station (ISS).
PicoDragon . satellite
The PicoDragon satellite was launched to the space station (ISS) on August 4, 2013. After more than 3 months of being kept on the International Space Station (ISS), on November 19, 2013 (Vietnam time), PicoDragon was put into orbit. This is also Vietnam's first microsatellite successfully operating in space.
Pico Dragon satellite has size 10 x 10 x 11.35 cm, mass 1 kg. This is a product developed by a team of young engineers and researchers of Vietnam Space Center (VNSC – Vietnam Academy of Science and Technology).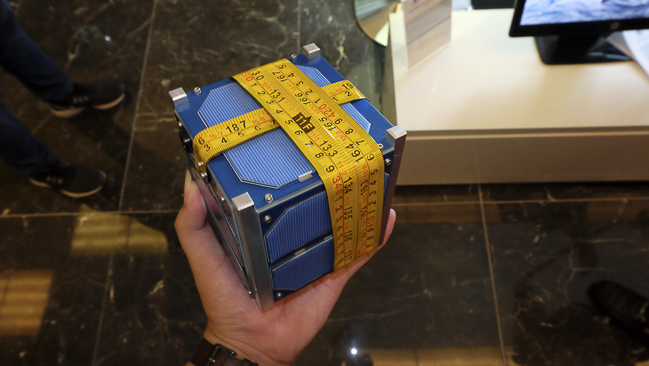 1:1 scale model of PicoDragon satellite. Photo: Trong Dat
In the process of manufacturing PicoDragon satellite, all steps in satellite development from research, design, manufacture, integration to testing are done in Vietnam.
Particularly, the vibration and heat tests for satellites were carried out at the laboratory of Professor S.Nakasuka – University of Tokyo and some other tests at the Japan Aerospace Agency (JAXA) and the Aeronautics Company. IHI aerospace (Japan).
The mission of the PicoDragon satellite is to take pictures of the Earth, measure a number of satellite parameters and the space environment by sensors mounted on the satellite and test communications with the ground.
MicroDragon Satellite
MicroDragon was launched into space on January 18, 2019. This satellite was developed by 36 students who are researchers of the Vietnam Space Center under the Vietnam Academy of Science and Technology) under the guidance and technical support of experts from JAXA. and professors of Kyushu Institute of Engineering and Technology, KyuTech (Japan).
To achieve this result, a group of Vietnamese students have studied at 5 leading universities in Japan including: University of Tokyo, Keio University, Hokkaido University, Tohoku University and Kyushu Institute of Technology since 2013. – 2017.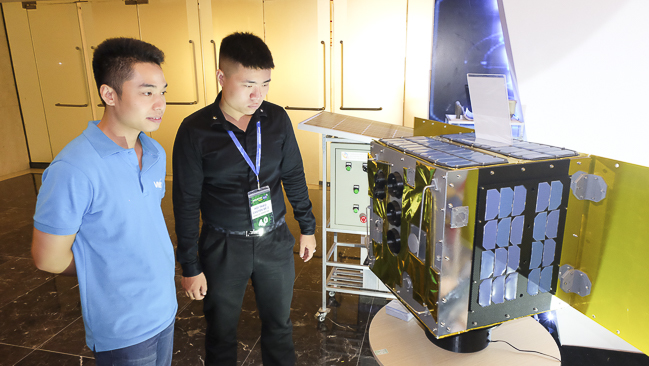 Model version of the MicroDragon satellite. Photo: Trong Dat
MicroDragon is a product in the Basic Satellite Training Component, part of the Project "Prevention of Disasters and Climate Change Using Earth Observation Satellites" (abbreviated as Space Center Project). Vietnam).
This is a satellite with the task of observing coastal waters to assess water quality, locate aquatic resources, and monitor changes in phenomena occurring in coastal waters to serve the aquaculture industry. Vietnam.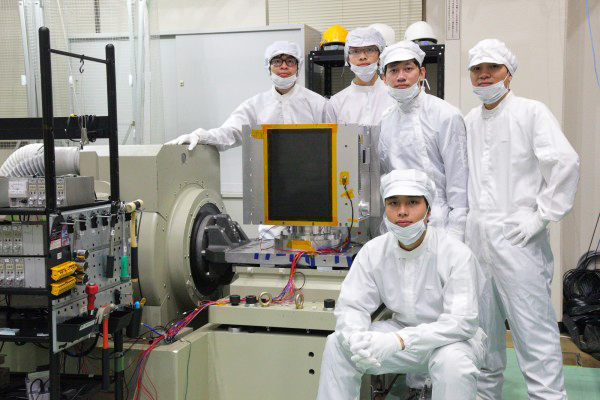 Vietnamese engineers in the process of learning and practicing manufacturing MicroDragon satellite in Japan.
MicroDragon uses a system of two multispectral cameras with adjustable liquid crystal filters (LCTFs), which can capture at 12 spectral bands (from 412nm-1,020nm), best ground resolution images of 78m, The image size is about 36×48km when the satellite operates in an orbit of 500km.
Image data sent from MicroDragon satellite is the basis for exchanging satellite data with the world community, thereby helping Vietnam to enhance its ability to respond quickly in disaster prevention and climate change activities. .
Satellite NanoDragon
NanoDragon is the latest satellite developed by Vietnamese people. This satellite was launched into orbit on November 9, 2021.
NanoDragon is a cubesat, nano-class satellite. This satellite weighs about 4kg with dimensions of 3U (100 x 100 x 340.5 mm). The entire process of research, design, integration, and functional testing of NanoDragon satellite is completely done in Vietnam, by research staff of Vietnam Space Center (VNSC).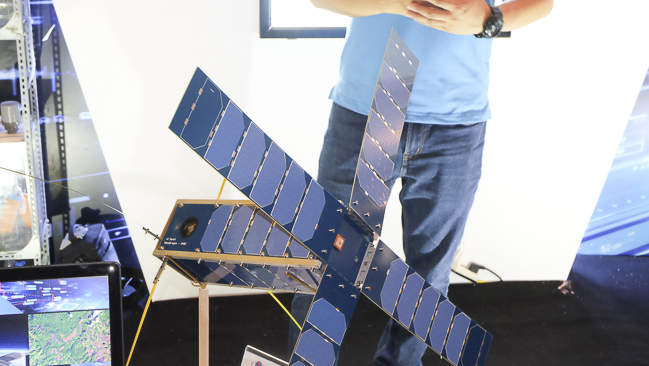 NanoDragon satellite model has just been launched into space in early November 2021. Photo: Trong Dat
NanoDragon is a product in VNSC's small satellite development roadmap to implement the "Strategy for development and application of space science and technology until 2030" approved by the Prime Minister in early 2021.
NanoDragon satellite was developed with the aim of demonstrating that it is possible to use micro-satellite beam technology to receive automatic identification system (AIS) signals used for vehicle tracking and monitoring purposes. convenience at sea.
Trong Dat

Successful launch of NanoDragon Make in Vietnam satellite
At 7:55 a.m. 16 seconds on 9/11 (Vietnam time), the NanoDragon satellite along with 8 other satellites was officially put into orbit by the Epsilon No. 5 rocket.
.