The flow of trade to Southeast Asia opens up many opportunities for Vietnamese manufacturers to enter the global supply chain. Using SAP software and moving to AWS Cloud will help businesses operate efficiently and react quickly to business opportunities.
According to IDG International Data Corporation, customer satisfaction is increasing when running SAP (System Application Programming) software on AWS. Cost savings were the main driver for them to migrate SAP to AWS with 96% of customers reporting the total cost of ownership of TCO (all costs related to equipment investment, operation, and maintenance of the system). IT in a Business) reduction and overall average savings of up to 26%. In addition, customers also report that running SAP on AWS delivers strong business performance through rapid innovation, shorter time to market, and improved customer service.
In order to help managers "pocket" for themselves the strategy of using the AWS cloud to transform into smart manufacturing enterprises, CMC Telecom cooperated with AWS and Apzon IRS to organize the "Cloud" webinar. solution trends in Manufacturing" at 9:30 am on 10/8/2022.
Register to participate at: https://event.cmctelecom.vn/aws-manufacturing
Experts say that market trends and consumer behavior are changing rapidly around the world. Managers are faced with decision making with an increasing number of integration options that must be aligned with business goals and budget fit. The requirement of quality management, cost control and improvement of delivery speed has become an indispensable and urgent requirement at this time.
Accordingly, the webinar "Cloud solution trends in Manufacturing" is an opportunity to help businesses grasp how to use SAP effectively to accurately plan resources, understand the process of moving SAP to AWS from the ground up. Practical "case study" through which to find suitable strategies for yourself.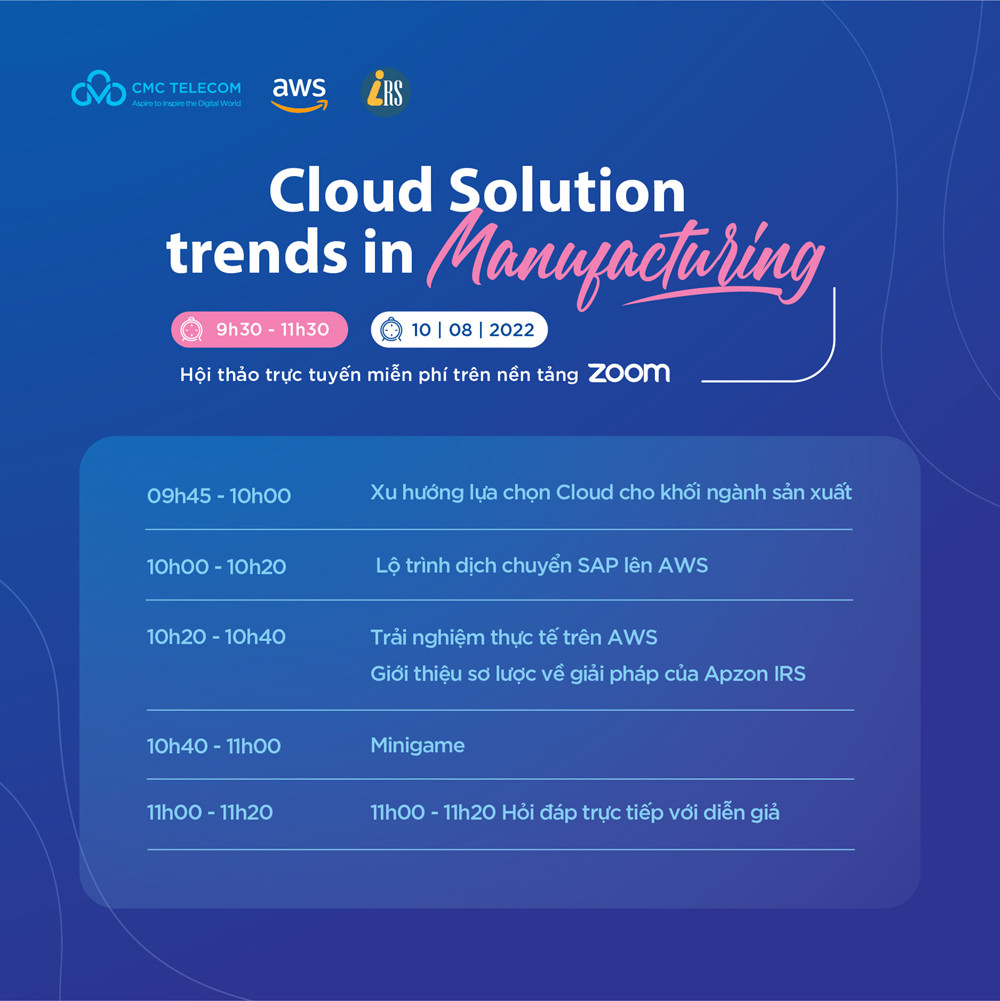 CMC Telecom is currently Advanced Tier Services – a senior strategic partner of AWS in Vietnam. CMC Telecom is recognized by AWS for its ability to provide leading AWS solutions with certifications such as Direct Connect Partner, Well-Architected Partner, Immersion Day Partner, Solution Provider…
With a team of Cloud experts possessing full AWS Professional certifications and the advantage of being a telecommunications infrastructure provider with neutral data center and connection infrastructure, CMC Telecom can deploy to large customers with high demand. international bandwidth usage up to 10 Gbps.
Apzon IRS was one of the first SAP Business One partners (since 2007). Up to now, APZON IRS Vietnam is focusing on products and solutions based on SAP Business One platform, providing customers with optimal and effective solutions in the management and operation of production activities. thereby helping enterprises improve their competitiveness.
Thuy Ngan
.