Importers, distributors and users of DJI products can be subject to administrative penalties, or even criminal penalties.
On November 9, community group members using Drones reflected that the map feature in the DJI Fly app displayed "cow's tongue line"Illegal in the East Sea.
DJI's new App, DJI Fly, is using an illegal "cow's tongue line" map in Vietnam and is available on both Google Play and AppStore app stores. DJI Fly is used to control two drone models, the Mavic Mini and Mavic Air 2, which are officially imported into Vietnam through private agents.
DJI has not released an official comment on the incident. The DJI distributor in Vietnam said there will be a software update, but as of November 16, the DJI Fly app on iOS and Android still shows an illegal cow's tongue map.
DJI has sophisticatedly violated Vietnam's territorial sovereignty
According to lawyer Phan Vu Tuan, representative of the law firm Phan Law, this is a very sophisticated infringement. Because, products circulating on the market are DJI drones that do not contain infringing elements. Only the DJI Fly companion app contains elements of infringement of Vietnam's sovereignty and territorial integrity.
The DJI Fly controller app displays illegal "cow's tongue lines".
In fact, the product can only be used fully and fully functional when there is the DJI Fly app. This results in the DJI Fly app being not a product for sale, but users who want to use a fully functional DJI aircraft must install the app.
In the event that the DJI Fly application is considered an integral part of the product when circulating in the market and using, DJI manufacturing, importing and distributing units will violate the law.
First, the manufacturers, importers and distributors may violate the unity and territorial integrity of Vietnam according to the provisions of Articles 1 and 11.2 of the 2013 Constitution.
According to the provisions of Article 6 of Decree 18/2020 / ND-CP, the prohibited acts in measurement and mapping activities include: publishing and circulating surveying and mapping products, and map publications. relating to national territorial sovereignty without showing or improperly expressing national sovereignty or border.
Violating individuals and organizations will be fined 30-20 million VND. The additional sanction is confiscation of material evidences and means of administrative violations.
In addition, the violating unit may constitute a criminal offense under the Criminal Code 2015, amended and supplemented in 2017, specifically in Article 111, crimes infringing territorial security.
Individuals and organizations that act to falsify national borders or take other actions to harm the territorial security of the Socialist Republic of Vietnam will be sentenced to 1 year imprisonment to life in prison. depending on the level of violation.
Article 117 of the 2015 Penal Code also stipulates that the Crime of making, storing, distributing or disseminating information, documents and items against the State of the Socialist Republic of Vietnam will be sanctioned from 1-12. year in prison.
Users of the DJI Fly app are subject to criminal prosecution
According to lawyer Nguyen Huu Triet, LSX Co., Ltd. currently information about the DJI Fly application using the cow's tongue line map has been widely posted on the mass media. If users of DJI Fly application have a cow's tongue line map, they will also commit violations of Point b, Clause 1, Article 20 of Decree 159/2013 / ND-CP above. The fine will be from 10-20 million VND, together with mandatory removal of the application on mobile devices in use.
Meanwhile, lawyer Phan Vu Tuan said that users of the DJI Fly application to control flying equipment could constitute crimes as prescribed in the 2015 amended and supplemented Penal Code 2017. High fines. especially life.
At the same time, the equipment importer and distributor will also be subject to administrative penalties, even criminal prosecution.
In order to tighten and strengthen the management of goods containing elements that infringe national sovereignty, in the near future, Decree 128/2020 on sanctioning of administrative violations in the customs field will take effect. on December 10, 2020.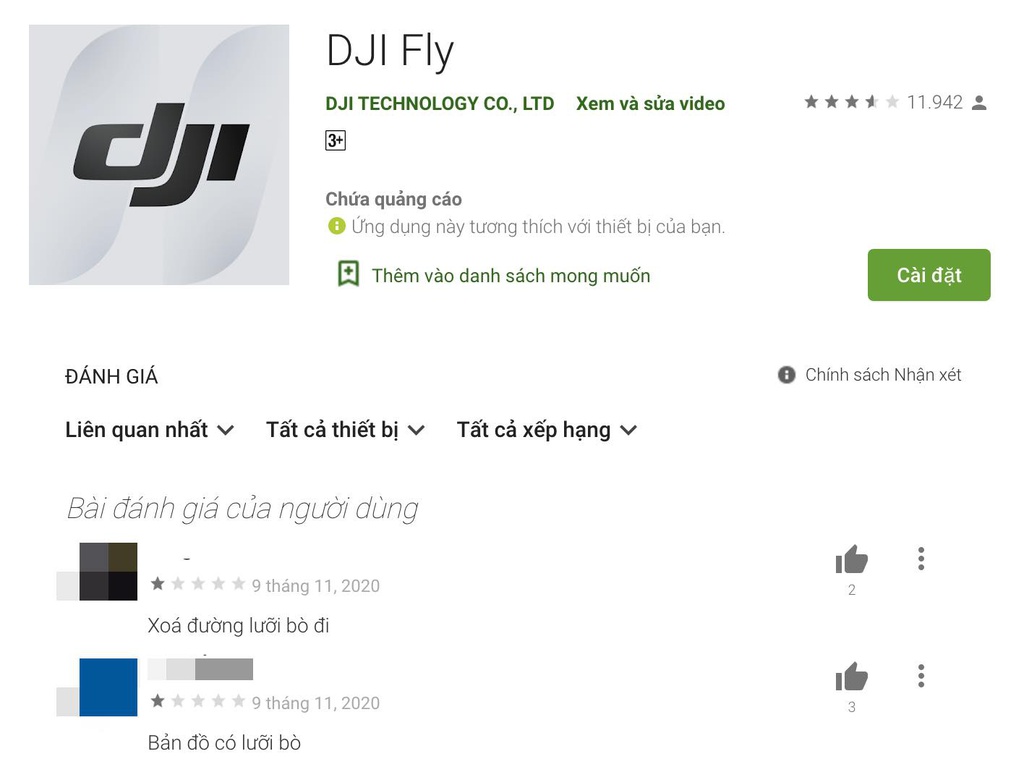 User rating one star DJI Fly for it contains "cow's tongue line".
Accordingly, Article 16 of the Decree specifies the act of "Export, import, trading in temporary import for re-export, transit, or transfer of goods with images, contents showing improper national sovereignty. family or have other contents affecting the security, politics, economy, society, and diplomatic relations of Vietnam "will be sanctioned depending on the severity of the violation.
The unit importing or distributing violating equipment will be fined 10-100 million VND depending on the quantity of imported goods. At the same time, confiscation of material evidences of administrative violations are goods with images and contents showing improperly national sovereignty or having other contents affecting security, politics, economy, society and relations. diplomacy of Vietnam.
There are no regulations to manage mobile app stores
The permission of Google and Apple to post and download the DJI Fly app in Vietnam can be considered as an act of trading, distributing or circulating content that does not reflect the national sovereignty, territory of Vietnam.
"However, up to now, Google and Apple have not had a commercial presence in Vietnam, so it is very difficult to apply the current legal regulations to handle these units. This is a painful issue that forces the competent state agencies to soon overcome to prevent similar acts ", emphasized lawyer Phan Vu Tuan.
Meanwhile, lawyer Nguyen Huu Triet said that the current law does not have specific regulations to regulate the operation of application stores, leading to the current state that application stores are providing and trading many products. products violating the laws of Vietnam, such as gambling redemption, violent games, vulgarity, games with politically sensitive content, about sovereignty of islands, distorting history …
"Currently, there is a draft Decree amending Decree 72/2013 / ND-CP and Decree 27/2018 / ND-CP supplementing clear and transparent regulations to create favorable conditions for businesses. operating in this field, "said Triet.
Specifically, the draft Decree supplements the concept of application stores; Responsibilities and obligations of the app store. "Hopefully the draft will soon be finalized and approved in the near future, to create a fair and healthy playing field, to ensure the compliance of Vietnamese laws and regulations," said Triet.
In 2019, a number of businesses have imported or temporarily imported into Vietnam a number of goods with images or "cow's tongue line" map content. These goods were later confiscated and the violating unit fined.
Import and Export Department has recommended importing enterprises to be wary of goods that violate territorial sovereignty, national borders.
In particular, the Department also recommends importing businesses to ask foreign partners not to attach and install the image of "cow's tongue line" on products imported to Vietnam.
In October 2019, Volkswagen Vietnam and its importing partner had to apologize after the image of "cow's tongue line" appeared in an imported car on display in Vietnam.
At that time, Mr. Nguyen To An, Head of the Motor Vehicle Quality Division of the Vietnam Registry Department, said that the unit asked the Chinese car importer to immediately remove the "cow's tongue line" map software. "on all models.
According to Mr. An, the regulations of the motor vehicle registration field only check for technical safety and environmental protection. The import of cars "through the eyes" of the agencies is a matter of national sovereignty and patriotism, so we still ask the Chinese importers and distributors to quickly remove the software. "Cow's tongue line appears on the map".
According to the Zing

Vietnamese mobile users need to be wary of 7 malicious applications
Avast security experts have both information about the malware spread through the App Store and Google Play app stores.
.