Many virtual lands have been successfully sold for millions of dollars. A real piece of land or house can now also be divided and sold into parts thanks to virtual technology.
Once considered an asset with little real value, the price of virtual land is skyrocketing thanks to the growing interest of users in metaverse projects, a new concept developed by Facebook. and Microsoft recently supported.
Even in October last year, billionaire Mark Zuckerberg changed the name of this social network to Meta, as an affirmation of his determination to pursue his dream of building a virtual world. This led to an explosion of a series of virtual universe projects.
Coinmarketcap statistics show that there are currently about 200 projects with metaverse elements classified on this data site.
In which, Decentraland (MANA) and The Sandbox (SAND) are currently the two most appreciated projects with a total market capitalization of $4.3 billion and $3.1 billion respectively, among the top 40 Blockchain projects. has the highest total market capitalization. Ranked 3rd in terms of market capitalization among metaverse projects is Axie Infinity – a famous Blockchain game startup from Vietnam.
Map of virtual lands in the universe of The Sandbox.
Metaverse is being considered as the next era of the Internet, where people can meet, work and live like in real life. That's why many companies have started pouring money into investing and buying virtual land, in order to prepare for the craze to generate huge income in the future.
In fact, Metaverse Group once agreed to buy a piece of land in the virtual world of Decentraland (MANA) for $2.43 million. Another digital real estate investment company, Republic Realm, also bought another 6.5 hectares of virtual land on Decentraland for more than $ 900,000.
Virtual plots of land are designed in the form of NFT. As a result, virtual land can be bought and sold just like real property, even with anyone, regardless of geographical location or country.
In addition to recreational value, virtual land owners also receive economic value in the form of resources. That's why virtual lands are so expensive.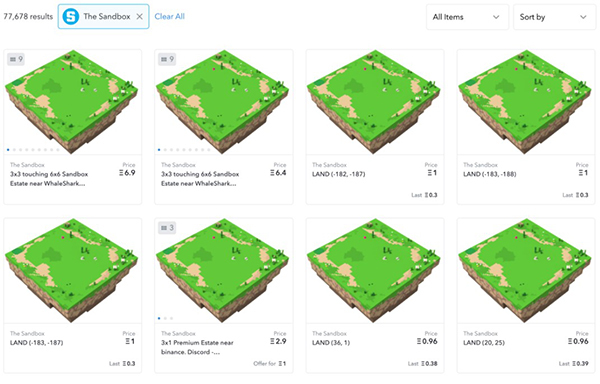 Lands in virtual universes can be sold for thousands or even millions of dollars.
Just like any other piece of land, the most important thing about a real estate whether virtual or real is the location. Recently, a virtual real estate investor paid $450,000 to become the virtual neighbor of American rapper Snoop Dogg.
At the end of 2021, a virtual land in the game Axie Infinity was sold for 2.4 million USD. This lot is located in Genesis, an area described by the developer as extremely rare. This is considered a "golden land" with a total of only 220 pieces in the game produced by Sky Mavis.
Not only virtual real estate is on the throne, it is a fact that 4.0 technology is also creeping into traditional real estate business models.
In September last year, a Vietnamese startup named Moonka used to sell a number of houses in Can Gio (HCMC) and Bao Loc (Lam Dong) using Blockchain technology. This is also the first time a property in Vietnam has been put up for sale in a completely new way.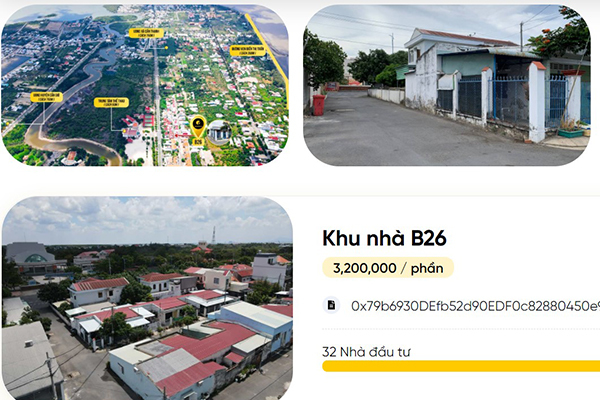 A real piece of land in Can Gio (HCMC) has been subdivided and successfully sold on Moonka using virtual technology.
Not only Moonka, more and more startups have the idea of ​​integrating technology into the real estate business model.
Recently, another startup, Gaapnow, is also developing a real estate floor model that applies AI and Big Data technologies to connect buyers and sellers for smooth liquidity. Not only that, this startup also reached a cooperation agreement with Polygon (Blockchain platform with a market capitalization of 11.7 billion USD, ranked 16th in the world).
According to Mr. Dang Ha Lam – CEO of Gaapnow, the difference of the application of Blockchain technology in the real estate field is that a house or piece of land can be divided into many times thanks to technology. Investors can therefore own a piece of real estate for as little as $100 or even the price of a bowl of pho.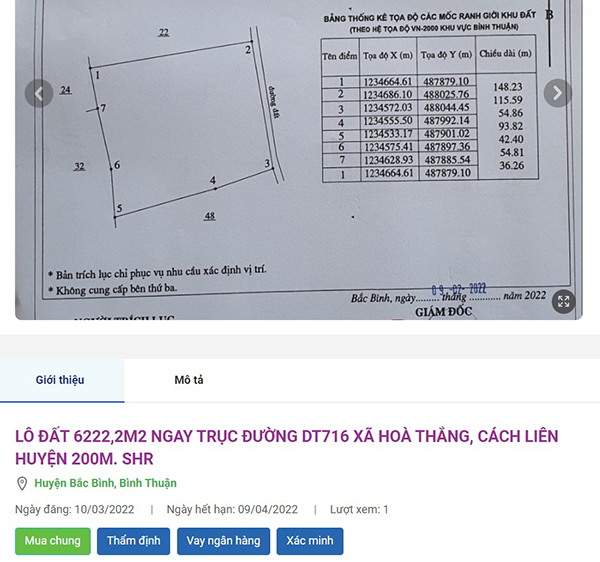 Startup Gaapnow with the model of joint purchase of land thanks to Blockchain technology.
Not only can buyers invest in real estate with a very small amount of money, Blockchain technology also helps a house or piece of land to be liquidated faster because it is divided and sold into several parts. The combination of real estate and virtual technology also contributes to minimizing risks compared to investors in virtual houses and land.
In general, buying and selling virtual land and real estate combined with virtual technology are relatively new types of investment. Participants are mainly young and tech-savvy investors.
However, with Blockchain technology being increasingly popular, having practical value and closer to real life, here, perhaps anyone can own a piece of land or an apartment thanks virtual technology.
Trong Dat

Vietnamese people's Axie Infinity still dominates the NFT market
After the Blockchain game craze, Axie Infinity is still the most searched NFT project for more than a month.
.