If you ask 10 people who work related to Facebook, there are 9 of them that say that checkpoints are the most unpredictable.
Checkpoint is the process for Facebook to verify the identity of a user.
In fact, checkpoints are not scary to ordinary people. This is just a simple step of checking and verifying the primary account. In most cases, users can pass this test by verifying the identity of a friend, entering a code sent to a registered phone number or verifying access at a strange IP address.
These types of checkpoints are both for Facebook to protect users, and to prevent account tampering to run ads and fanpage / group posting malicious content rampant today. Even so, Facebook is often ignored, mostly by people using via.
Via is a fake account obtained by hacking, with all the personal information like that of a real person that exists in a real place. As via is getting more and more wise, able to self-operate, self-chat, self-like and comment, Facebook has to constantly improve its algorithm to scan mistakes rather than miss them.
Checkpoint is one of the reasons for account lockout, even if users do nothing.
Because of that, people in the profession are most afraid Facebook Mass account scanning, although there are also types via scanned via. These are types via USA, Europe, have high reliability, many years of use and are rarely touched by Facebook.
Facebook's scan is the verification by checkpoint. At this point, all checkpointed accounts must perform a series of actions to verify the user is real. The type of checkpoint by checking friends, phone number, IP as mentioned above is relatively 'easy to breathe' with people running via.
However, the heaviest ones are people who run via to verify identity documents. This type of checkpoint once appeared is almost … helpless because there is no way to create personal information matching the fake via.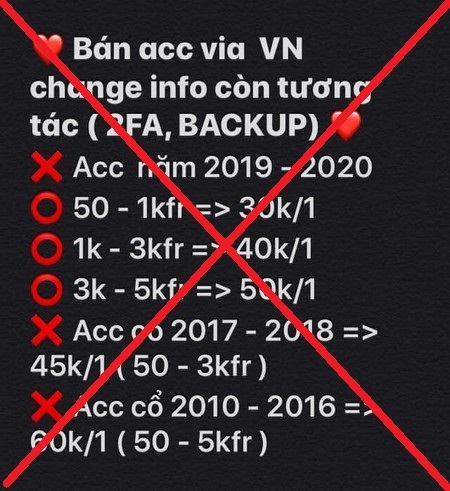 The via sale service is still abundant on Facebook itself without any way of controlling.
Losing via due to mass checkpoint, also from here checkpoint rescue services, bypassing checkpoint were born and actively promoted. Even comment box ICTnews Also regularly receive invitations to use this service, because many articles contain keywords related to Facebook.
However, it is an underground operation service, of course there are also many evil ways. My nick was locked because the checkpoint was reserved, users via via are still anxious to use the checkpoint unlock service but get tricked (scam), the money transferred but via one go does not return.
Along with Facebook tightening advertising and handling strongly accounts that violate the policies due to the US presidential election season, expert Nguyen Dinh Tung (founder, BotUp) advises not to use any kind of extensions, tools, This tutorial, tips and tricks towards clean running don't violate Facebook policies.
Phuong Nguyen

Difficult to control running Facebook ads in Vietnam
Not only singer Thuy Tien, many others can become targets of impersonation on social networks quite easily.
.