Minister of Information and Communications Nguyen Manh Hung said digital technology can solve most of the problems facing cities, and localities should choose the most prominent issues to implement.
Use digital technology to solve difficult problems
Answer the question "Where and how to start smart city "? At the ASEAN Smart Cities 2020 Summit, Minister of Information and Communications Nguyen Manh Hung said: Cities are really having many problems to solve but they are different.
Minister of Information and Communications Nguyen Manh Hung speaking at the ASEAN Smart Cities 2020 Summit.
The Ministry of Information and Communications provides an ICT reference framework for smart cities, where localities must choose issues and priorities for implementation. "Be it environmental pollution, security, health or education … Let's have faith that technology in general and digital technology in particular can solve most of the problems we are facing." face to face. So choose the most difficult problem to do, "said the head of the ICT industry.
Many localities such as Hue, Ho Chi Minh City and Bac Ninh are correctly choosing the biggest problems and solving them by applying new technology.
Hanoi Vice President Nguyen Doan Toan said that in the coming time, Hanoi will prioritize to focus on two major issues: the development of smart urban technical infrastructure (lighting, water supply and drainage, smart traffic … ) and build smart residents.
To do these two things, Hanoi will first form a Smart Operation Center, including the Security and Information Security Monitoring Center; Center for supporting staff using IT; Center for management of press information and information center; Traffic control and control center and public crime prevention; Data assignment center …
Hanoi chooses two areas of transport and tourism to deploy first. Specifically, the integrated intelligent traffic center will be started, including the visual traffic safety handling monitoring system, public security monitoring software, the traffic light control system. Intelligent electronic traffic sign, monitoring software system for traffic control center, public passenger transport management software system, bus smart electronic ticket system, collection system regulatory fees limit personal vehicles.
In the field of tourism, Hanoi will build a tourist information portal on mobile phones; software to manage business and tourism activities. At the same time, deploying according to actual requirements of Hanoi tourist map contents, integrated infrastructure of city tourism data.
According to Ho Chi Minh City Vice President Duong Anh Duc: the city determines building smart cities as a solution to speed development and create a better environment for people. Ho Chi Minh City has deployed utility applications to serve the people in traffic, health, education, flood prevention … contributing to improving the quality of living and working.
Ho Chi Minh City will continue to implement the smart city project phase 2 in sync with the development of the digital economy and digital society. Put into operation and effectively exploit shared data warehouse. Invest in smart operating center and socio-economic forecast center. Basically complete city-wide data transformation by 2025. Using big data to modernize, reduce costs and increase quality and predictability in key areas. AI application in smart urban deployment …
"Localities just need to be smart orderers"
Answering the "bottleneck" of high-quality human resources for smart cities in localities, Minister Nguyen Manh Hung said that the local government has enough professional human resources to deploy smart cities or not. Weak depends on the problem approach.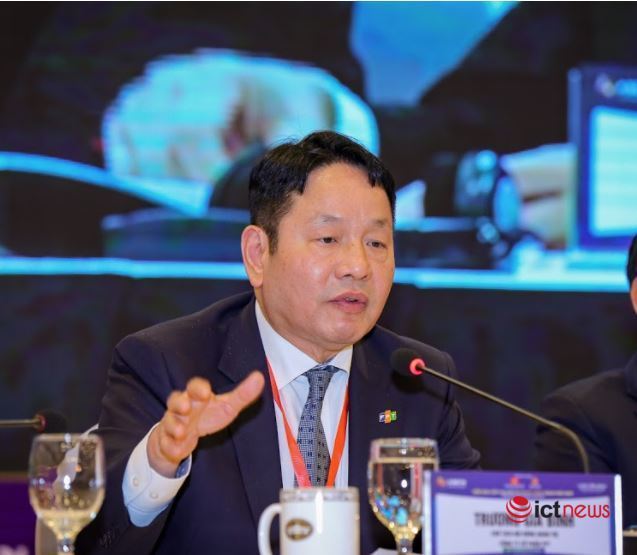 Mr. Truong Gia Binh – representing the business sector participating in the Forum
If the locality chooses to do it by themselves with its human resources, it must recruit a lot of experts, this is a difficult problem to solve. Local businesses should order businesses. Thus, the Government will have many good products with reasonable prices and the people will also benefit. Local authorities need to focus on finding the right problem, setting goals, requesting and hiring businesses. "Local authorities only need to be smart orderers and change institutions to accept the new model of smart cities", the Minister emphasized.
On the business side, Mr. Truong Gia Binh, Chairman of FPT's Board of Directors, said that smart cities are opportunities for all sectors of society. Enterprises will have a favorable environment for digital transformation, from which to develop sustainably; the state has an effective management method; people have the best living and working environment. Along with e-Government towards digital government, building a smart city must be centered on the interests of the people and sustainable development. No one is out of this race.
FPT leaders stated that building and implementing digital transformation programs for smart cities and cities cannot start from urban planning but from socio-economic development strategies, including 4 aspects. : strategic planning, institutional and policy construction, and most importantly, technology platform development. In particular, a digital technology platform with the core of an open data structure, linking and real-time processing will act as the operating center, an analytical tool for the urban digital transformation strategy. and building sustainable smart cities.
Together with government and line ministries, private businesses, communities, startups and citizens can collaborate by contributing data, adopting and innovating smart city solutions. to create many new services, added values ​​for the community.
Duy Vu

The profound messages about a new world from ITU Digital World 2020
After 3 days of being held, the Digital World Conference and Exhibition (ITU Digital World 2020) officially ended. Although held in a very short time, the event still left many profound messages in the minds of participants.
.