On the morning of April 21, the Standing Committee of Hai Phong City Party Committee held a meeting of city officials in the form of online, research, study, grasp, propagate and implement Resolution No. Department of the City Party Committee on digital transformation of Hai Phong city to 2025, with a vision to 2030. Minister of Information and Communications Nguyen Manh Hung and the delegation attended and gave opinions at the conference.
Hai Phong changes its approach to digital transformation
According to Mr. Hoang Minh Cuong, Vice Chairman of the City People's Committee, Hai Phong is the 5th locality in terms of socio-economic development, however, the evaluation and ranking indicators in the fields of information and communication and digital transformation are still at low. According to the ICT Index ranking, in 2020, Hai Phong ranked 50th in technical infrastructure, 38th in human infrastructure, 43rd in IT applications and 36th in online public services.
Vice Chairman of Hai Phong People's Committee analyzed the local reality: digital infrastructure is lacking and weak, service quality is not high; almost no digital data, few shared databases; high rate of using feature phones (9.75%); Mobile speed and broadband speed are both low. In addition, Hai Phong's IT spending budget is small compared to other provinces, especially the top ones; The growth of e-commerce is very low compared to the national average. "This ranking is not commensurate with the overall socio-economic development ranking of Hai Phong", Mr. Cuong said.
According to Vice Chairman of Hai Phong People's Committee, this term marks a fundamental change in the city's digital transformation with a new approach. Resolution 03 of the City Party Committee identifies digital transformation as a driving force and a key task throughout the entire political system; perception plays a decisive role; special role of the head; Digital data is a resource that needs to be shared throughout the political system and serves people and businesses.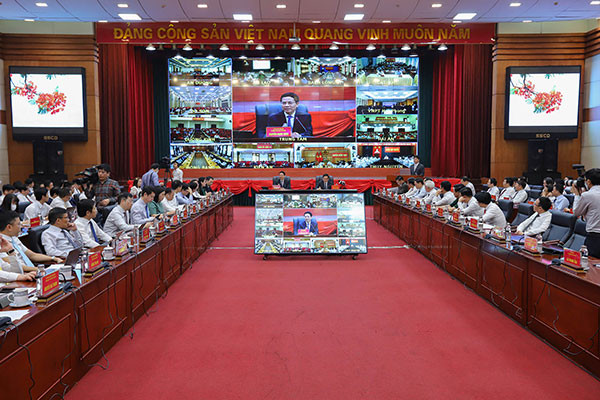 The city has developed an Action Program with 9 groups and 147 tasks in the period 2022 – 2023. In 2022, Hai Phong will perform 59 tasks in 4 groups, in which focusing on tasks including: Infrastructure construction tiers, platforms, shared data; Building digital data; Modernize and apply 4.0 technology and digital technology; Quickly and strongly deploy digital transformation applications that have an impact on governments, people and businesses.
It's not difficult, remove it right there
Within the framework of the conference, Minister of Information and Communications Nguyen Manh Hung and a delegation of units in the Ministry and businesses in the industry had a direct and frank discussion to answer and immediately remove the bottlenecks for Hai Phong. .
The Minister of Information and Communications said that many people have not yet seen the benefits of digital platforms and have not used them, Hai Phong needs to solve this problem first. In 2022, community digital technology groups (with the youth force as the core) will come to each family to directly guide instead of just propagating and persuading. "People using digital platforms will then form a digital society, creating a market for stronger transformation."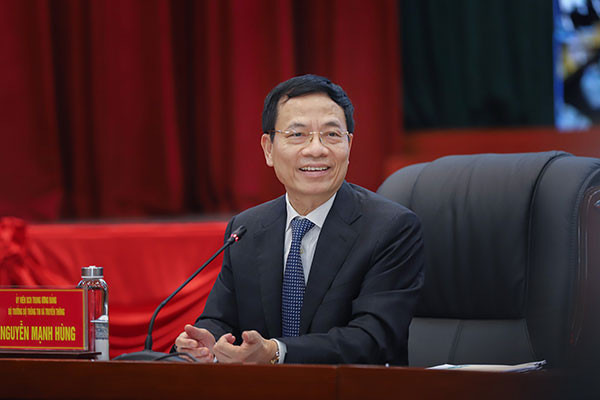 Next June, the Ministry of Information and Communications has built 35 digital platforms to serve people and businesses. In addition to these platforms, Hai Phong can develop its own digital platforms, but the spirit of having to do it quickly, take the lead to share it with other localities, will make Hai Phong a center. technology in the country.
To solve the problem of infrastructure development, Minister Nguyen Manh Hung said that it is necessary to measure and evaluate the quality of telecommunications and infrastructure services, and make requirements for businesses in the area to jointly build build. "Infrastructure investment is not too difficult, implementation is also fast, I suggest that this year, the city holds a meeting with network operators, creating conditions for them to build infrastructure, aiming to bring Hai Phong into the top 10. of the whole country", Minister said.
Enterprises commit to invest in Hai Phong
To Dung Thai, Chairman of the Board of Members of VNPT Group, proposed Hai Phong to remove difficulties and create a mechanism for businesses to build new mobile and broadband infrastructures so that they can implement digital transformation plans. .
Mr. Thai said that for the 5 areas prioritized by the city, businesses will coordinate to deploy, but the first barrier belongs to the management agency. He said that businesses are willing to commit because this is a new field and an opportunity for revenue growth, but governments at all levels must be determined to be able to implement it. "Are we determined to do it for real, if we are really determined, it will work, otherwise it will be very difficult"Mr. Thai said.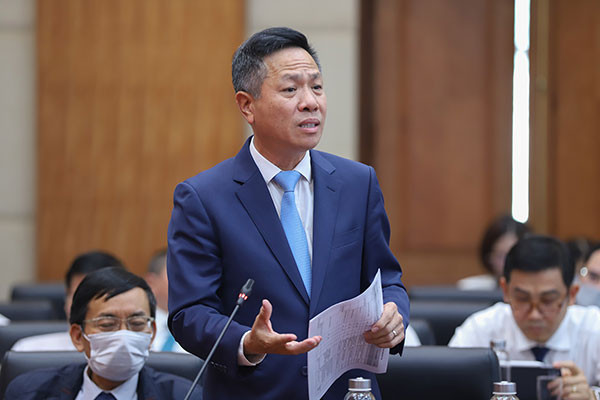 With the same opinion, Mr. Tao Duc Thang, Chairman and General Director of Viettel Group, expressed that the enterprise wishes and is determined to cover the low-wave areas, but asked the local government to create conditions and remove difficulties in the area. locality. Viettel said that the unit is committed to deploying digital infrastructure, fiber optic infrastructure to achieve the goal set by Hai Phong in 2022, and at the same time deploying digital storage infrastructure and turning the city into the center of the region. Northeast.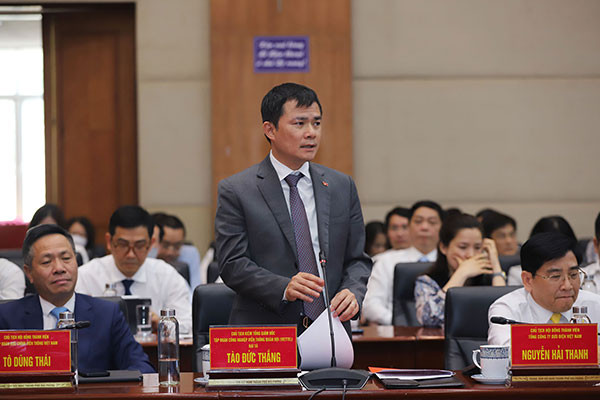 Leaders of other enterprises such as VNPT, CMC, Bkav, Gapo, Savis, Workway all committed to invest in building telecommunications infrastructure, logistics infrastructure, data centers, digital universities in Hai Phong and proposed to the government. localities create favorable conditions for land fund as well as mechanisms for businesses.
Digital transformation creates new driving force for development
At the conference, Minister of Information and Communications Nguyen Manh Hung re-emphasized the view: Digital transformation is changing the way of operating, changing the way of doing things. Digital transformation that only innovates technology, does not change the way of operation, is not effective. Operational innovation must be accompanied by technological innovation to be effective.
The Minister said that localities that want to convert digitally need to choose difficult problems that have not been solved for many terms in order for technology to find solutions. "Hai Phong is in the top 5 of the country's big economy, so is there a way to become the country's digital technology center? The center for digital human resources?"the minister questioned.
According to Minister Nguyen Manh Hung, digital transformation creates a new space for development. Vietnam's growth space is still very large when the digital economy only accounts for 11-12% of GDP. "We set a target that by 2025, if the digital economy reaches 20% of GDP, the growth rate will be 20-25%. This speed is an opportunity, so always think digital transformation creates a new space, creates a new development."he said.
Emphasizing the importance of digital infrastructure for economic development, the Minister said that it is necessary to develop broadband telecommunications infrastructure with wide coverage, one smartphone per citizen, and one smartphone per household. family a fiber optic Internet line. That's Vietnam's cloud computing, data storage and processing infrastructure in Vietnam. It is the infrastructure that provides technology as a service. Those are national digital platforms. Over the years, Vietnamese digital technology enterprises have developed many digital platforms to solve economic, cultural, social and environmental problems. Localities choose the right digital platform to solve their problems.
The head of the information and communication industry said that Hai Phong had met all the conditions and needed to immediately implement digital transformation with different goals and ways of doing things. "When we set a special goal, we will have a special way of doing that, where digital transformation is a change and most need is a new approach. New space, new approach will create breakthrough development"the minister added.
Within the framework of the event, the Ministry of Information and Communications and the People's Committee of Hai Phong city agreed to implement the joint action program to promote digital transformation for Hai Phong city in the 2022-2025 period.
Post: Duy Vu
Photo: Le Anh Dung
.