The unexpected price movements of Bitcoin in just the past few hours have made many investors feel insecure and worried.
In the early morning hours of December 4, Bitcoin price opened at $54,000. However, this morning and noon, the price of the world's most popular cryptocurrency continuously fluctuated sharply.
Accordingly, the price of Bitcoin continuously decreased from 54,000 USD to 52,000 USD (at 10 am) and 49,000 USD (at 11 am this morning). The peak was at 12 noon today, when the price of Bitcoin only kept at $42,000.
Thus, within just one morning, the price of Bitcoin fell to $12,000. This is Bitcoin's biggest price drop since mid-May 2021.
Bitcoin price sometimes dropped to 42,000 at noon on December 4.
Bitfinex statistics show that, in just about an hour when Bitcoin bottomed, there were $ 1.36 billion of short orders being liquidated. In the last 4 hours, the total value of liquidated orders was 1.49 billion USD. Going further, $2.09 billion has been liquidated in the past 12 hours.
Bitfinex estimates also show that up to 376,000 traders (traders) had their orders liquidated in just 24 hours. This is something that often happens whenever Bitcoin has a strong price movement.
At the moment, about an hour after bottoming, the Bitcoin price is maintaining at $48,000. The price gap up to 6,000 from Bitcoin's bottom shows that many investors are viewing this as a good buying opportunity.
An example of this thinking is the case of El Salvador. The country just bought 150 more Bitcoins at an average price of $48,670, or $7.3 million. It was the money pouring in from this group of people that made Bitcoin hold the support at 42,000 and bounce back.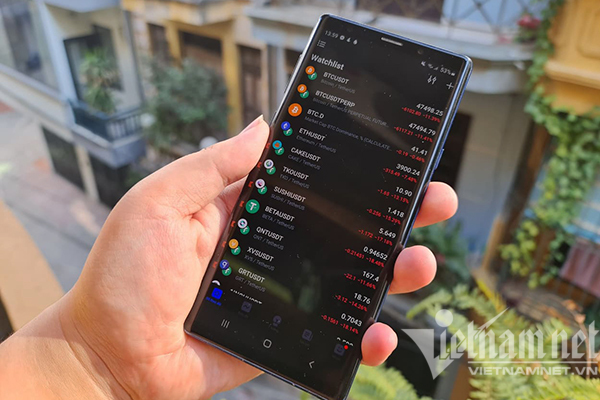 The cryptocurrency market is in the red today.
In terms of market overview, in general with Bitcoin's high volatility, almost the entire cryptocurrency market is in the red. While Bitcoin lost 10-20% in value, other cryptocurrencies saw price drops ranging from 20-40%.
The cryptocurrency market does not have a price ceiling and a floor. The price range in a trading session is very large. Therefore, Bitcoin and other cryptocurrencies have always been considered a risky investment channel and not for the masses.
Bitcoin investors should have a good financial management strategy, limiting "putting all eggs in one basket" or playing in an "all in" style. Investors need to consider carefully before placing short buy and sell orders with large leverage.
Besides, it should be further noted that Bitcoin in particular and other cryptocurrencies have not yet been recognized as a legal currency or means of payment in Vietnam. The use of Bitcoin (and other similar cryptocurrencies) as a means of payment is not recognized and protected by law.
Trong Dat

Virtual horse pet by Blockchain technology
Oly Sport's virtual horses have their own bloodline, with specific genes, and are cared for and raised in a virtual environment just like in the real world.
.