Bitcoin price has hit the $33,700 mark. This is the worst price of Bitcoin in over 3 months. This price level also led to the decline of the entire cryptocurrency market.
In the early hours of this morning (May 9, Vietnam time), Bitcoin price just broke the support level of 34,000 USD. Specifically, on the Coinbase exchange, at one point Bitcoin hit the $33,700 mark.
At the present time (about 2 am on May 9), the Bitcoin price is hovering at 34,500 USD, equivalent to about 830 million Vietnamese dong. Although there has been a slight pullback, Bitcoin's bearish momentum is not over yet.
On a daily basis, the price of Bitcoin has dropped below the low of February 24, 2022 ($34,300). This is an important indicator that Bitcoin is starting a downtrend.
In fact, this has been Bitcoin's 4th consecutive day of decline. If counting from the end of last week, within just 4 days, the price of Bitcoin has dropped by more than 6,000 USD, equivalent to about 15% of its value. This is the lowest Bitcoin price recorded since January 24, 2022.
Along with the devaluation of Bitcoin – the world's most popular cryptocurrency, the whole crypto market is currently in the red. While Bitcoin has lost 4.6% of its value in the past 24 hours, other major cryptocurrencies have also had a less positive outcome.
The price of Ethereum – the second most popular cryptocurrency is now only $2,500, down 5.6% in value. The same thing happened to Binance Coin when the price of this cryptocurrency was only 350 USD, down 5.7%.
Other strong cryptocurrencies that were also affected in this drop are Solana (down 7.4%), Terra (down 7.3%), Polkadot (down 5.7%), Avalanche (down 8%). Ripple (down 3.7%).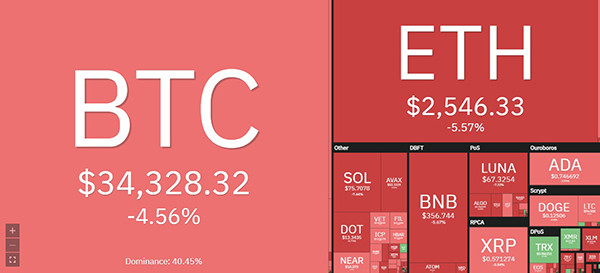 According to Coinmarketcap statistics, in the 100 cryptocurrencies with the largest total market capitalization, there are 89 discount codes along with Bitcoin.
Contrary to the majority of the market, stablecoins such as USDC, Dai, … have a slight increase in price. This reflects the sentiment of many investors in the market wanting to switch from high-risk assets to stable cryptocurrencies.
Currently, the Fear & Greed Index is at 18/100. This is a very low score, showing that fear is a common sentiment among the majority of investors in the crypto market.
In fact, not only the crypto market, the global stock market is also wobbling recently. The reason is that the US Federal Reserve (FED) has decided to increase lending rates by 0.5%. This is expected to cause global inflation to rise and adversely affect the world economy.
Trong Dat
.