Continuously setting new peaks right in the early days of 2021, Bitcoin has caused Vietnamese people to flock to social networking sites to learn about how to invest in virtual money in general.
With a capital in hand about 200 USD, Mr. Hanh Nguyen (University of Technical Education Nam Dinh) said "has a little research about Bitcoin, now wants to invest and does not know where to start, wants to earn more money to pay for studying unfinished subjects ".
Hanh's thoughtful post in the Trade Coin Vietnam group with more than 45,000 members made others laugh. In fact, he is just one of the countless young Vietnamese who are eager to go online to learn through speakers about virtual money (cryptocurrency) and want to get rich quickly thanks to the fierce digital currencies. like Bitcoin.
With just a computer connected to the Internet, one person can become an amateur coin investor.
At the time of writing, Bitcoin has hit the $ 52,000 mark, and the rally may not be over yet, according to experts. The trend that Americans are rushing to invest in virtual currency when the price of gold, oil, stocks and interest rates falls has led to a wave of people in other countries swinging to the top, catching the bottom.
This crowd sentiment can also be attributed to news like Tesla spending $ 1.5 billion to buy Bitcoin or virtual currency exchange Coinbase valued at $ 77 billion, or $ 303 per share. Billionaires like Elon Musk have also contributed to " blowing up " virtual money thanks to the constant tweets in recent years.
In Vietnam, although virtual currencies are generally considered to be an investment bubble with the potential to collapse and high risks, and have been warned by the State Bank many times, amateur investors still plunge into play.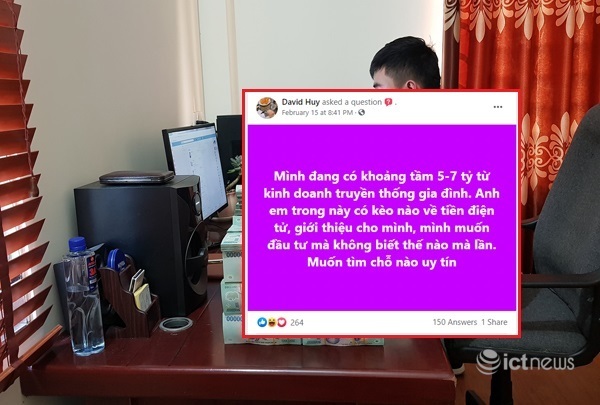 Even retail investors do not need to learn anything but to ask for money. (Photo for illustration only)
People like Mr. Hanh, who have no basic understanding of this market like how to trade on the floor, the general terms, let alone order types, cut loss, and avoid account fire. But the emergence of this group has contributed to market liquidity, an important catalyst that drives trading volumes up.
On the contrary, there are also many professional investors who give useful advice to everyone. "To really make a high profit you have to take the risk. The risk will decrease when you understand this market, understand and analyze yourself, and evaluate the coin, token that you consider to increase in value, technology or potential in the future. Find out in online reviews and analysis about a coin that is not lacking ", shared Mr. Cuong Tran (Ho Chi Minh City), an expert with 18,000 followers.
Although there are many warnings and advice from many experts, closed groups on Zalo or Telegram still sprout like mushrooms, but if you do not equip yourself with knowledge, amateur investors are easily lured. Coax participating in multi-level exchanges, fraudulent virtual money leads to money loss of bearing disability.
Phuong Nguyen

With Tesla's backing, can Bitcoin become gold?
Many believe that under the impact of the investment that Tesla poured into Bitcoin, the digital currency in the future will be transformed into an asset class like gold.
.