August 23, 2021 13:25 GMT+7
After 3 months of plunging, Bitcoin regained its value of $50,000 for the first time, pulling the market capitalization of the virtual currency market to $2.1 trillion on the morning of August 23.
From mid-May, Chinese authorities suddenly tightened virtual currency trading activities in the country, and banned all virtual currency mining activities across the country.
China's move has pushed Bitcoin down continuously since then, at one point falling more than 50% and reaching a dangerous level of $28,000, creating the risk of a virtual currency bubble bursting.
Data shows that Bitcoin has been on a steady rise throughout the past week and hit the $50,000 mark this morning.
But after more than 3 months of ups and downs, Bitcoin finally regained the important $50,000 mark this morning (August 23). Along with Bitcoin, which increased slightly from a day earlier (2%), other billion-dollar cryptocurrencies also reversed up such as Ethereum $3,330 (2%), Cardano $2.81 (11%), Binance Coin $457 (1%), Dogecoin $0.32 (2%).
The upward momentum throughout the past week has pulled Vietnam's virtual currency projects up as far as is known. With the confirmed uptrend back, coins like AXS or C98 of Vietnamese people are full of hope of setting new peaks and setting new capitalization records.
Bitcoin's price rally this time does not seem to be affected by macroeconomic policies such as a rising USD, central banks reversing monetary policy or the US introducing an investor tax bill. virtual money.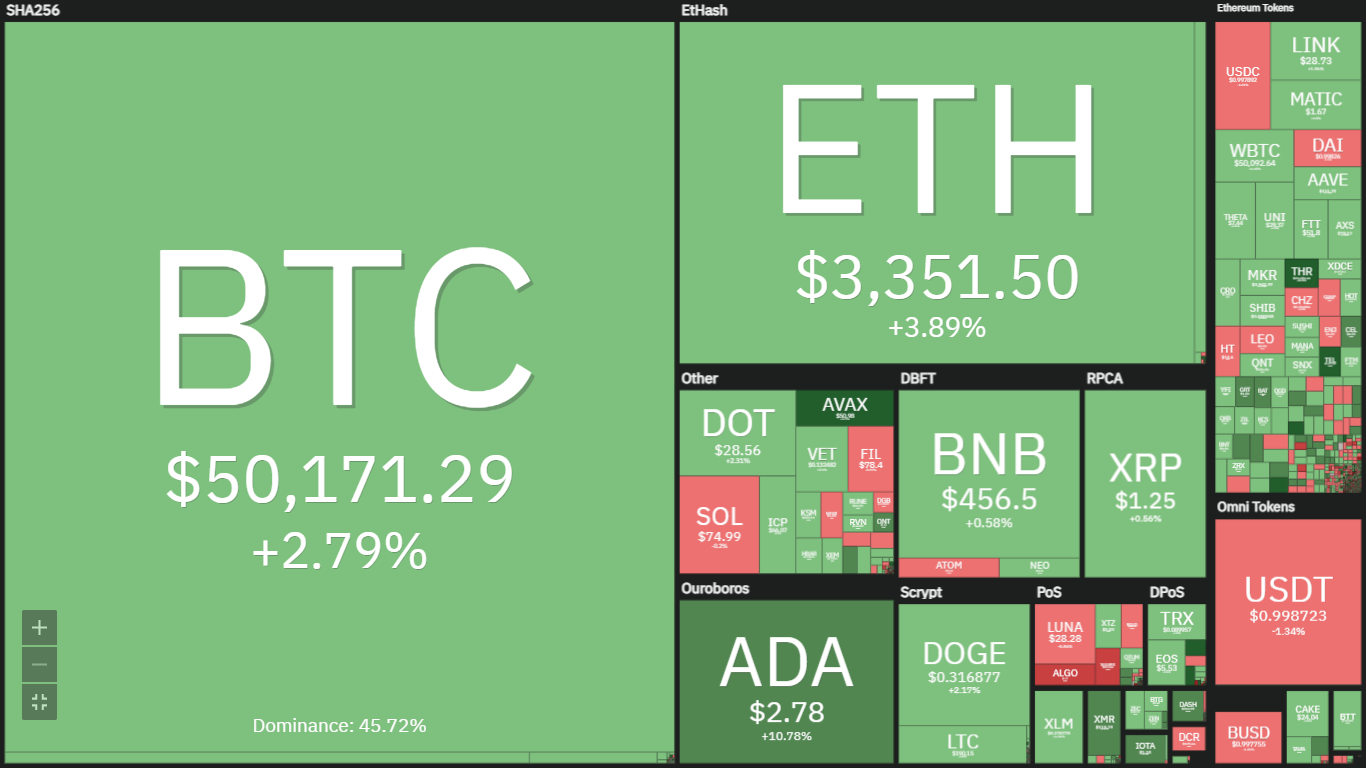 Bitcoin price rally pulls the green back into the crypto market.
Meanwhile, payment platform PayPal has just announced that it will allow customers in the UK to buy and sell Bitcoin and other virtual currencies in their wallets, as of Monday UK time.
This move led experts to forecast that Bitcoin will correct slightly for a few sessions before continuing to increase this week.
Phuong Nguyen
Bitcoin straight to the $50,000 mark this week?
A new support area of ​​$43,000 has been created while many positive signals suggest that Bitcoin could break through the $50,000 mark as soon as this week.
.