Since the end of 2020 until now, the Bitcoin price has never dropped so deeply. This is a bad sign for the whole crypto market.
Bitcoin price had a very volatile session this morning (June 13). From the price of $ 27,000 in the early morning, to near noon, the price of BTC dropped to $ 24,900.
Thus, in just a few hours, Bitcoin has lost nearly 10% of its value. The current price of Bitcoin even broke the 26,700 mark on May 12, the time when the LUNA coin collapsed.
Notably, this is also the lowest price of Bitcoin since the end of 2020. In 2021 and the first half of 2022, although many waves of volatility have occurred in the crypto market, the price of BTC has never dropped below the level of 26,500 USD.
If calculated from the latest high on the daily frame, Bitcoin has dropped from 31,700 USD to 25,000 USD in just 1 week. With this latest move, it can be seen that Bitcoin has officially entered a bearish cycle.
According to data from Coinglass, the crypto market over the past 24 hours recorded over $500 million in liquidation of derivatives orders, led by ETH and BTC transactions.
The Bitcoin crash also immediately cast a red color over the entire crypto market. VietNamNet's record shows that, in the morning of June 13, most of the strong cryptocurrencies are in a state of deep decline.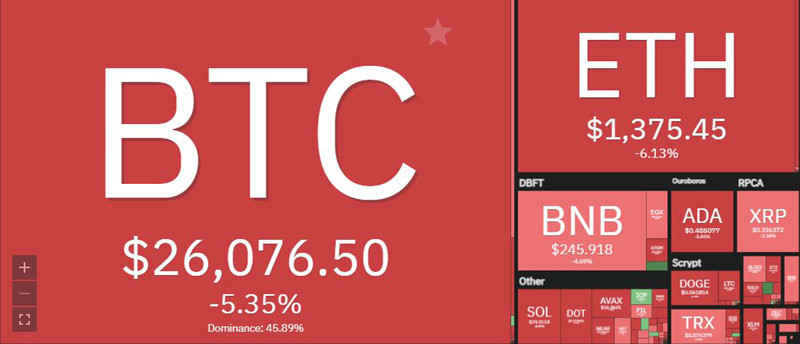 Currently, Ethereum – the world's second cryptocurrency is fluctuating at $1,375, the lowest level since December 2020.
Strong cryptocurrencies like Binance Coin (BNB), Cardano (ADA) are currently down 5%. Meanwhile, Ripple (XRP) and Polkadot (DOT) lost about 2.5% of their value.
The green color in the market currently only focuses on the group of stable cryptocurrencies (stablecoins) such as USDT, USDC. This is not surprising because most investors tend to switch from risky assets to currencies with low volatility in value.
At the present time, by the end of the morning on June 13, the Bitcoin price is showing signs of recovery when it slightly increased from $ 24,900 to $ 26,000. This bullish move came from bottom-fishing by a large number of investors in the market, when Bitcoin price reached support.
Trong Dat
.