Touted by its supporters as a safe haven from political strife, it is a fact that the price of Bitcoin is stagnating.
Bitcoin is viewed by many libertarians as a kind of digital gold. With a limited total supply (only 21 million BTC), increasingly difficult mining plus the trust and acceptance of many people, Bitcoin has similar characteristics to gold.
However, unlike gold, Bitcoin can be stored in cold wallets the size of a USB stick. Bitcoin can also be traded cross-border without the control of financial systems. That is also the reason, many people tend to "embrace" Bitcoin as a form of property insurance in an increasingly chaotic and unpredictable world.
Bitcoin is commonly known for its usage scenario of digital gold.
In fact, concerns about the volatility of the post-Covid-19 world are well-founded. In the US, inflation is rising at its fastest rate in recent decades. The S&P 500 volatility expectations measure VIX – also known as Wall Street's fear index since the beginning of the year – has also been constantly fluctuating.
In Europe, the armed conflict between Russia and Ukraine has challenged the peace and stability in the region for many years. Economic sanctions, besieging Western embargoes have devastated the Russian economy.
The devaluation of the ruble caused many Russians to lose their savings. Meanwhile, in Ukraine, people had to leave their homes and properties to flee the war. It is not easy to withdraw money from banks or bring it across borders.
Theoretically, such economic and geopolitical developments are said to be very beneficial for Bitcoin. However, in the past month or so, the price of this digital gold has not exploded, contrary to the predictions of Wall Street analysts.
Since mid-February until now, the Bitcoin price has been moving sideways, ranging from $36,000 to $44,000. At the moment, as of noon on March 17, the Bitcoin price is currently holding at $41,000.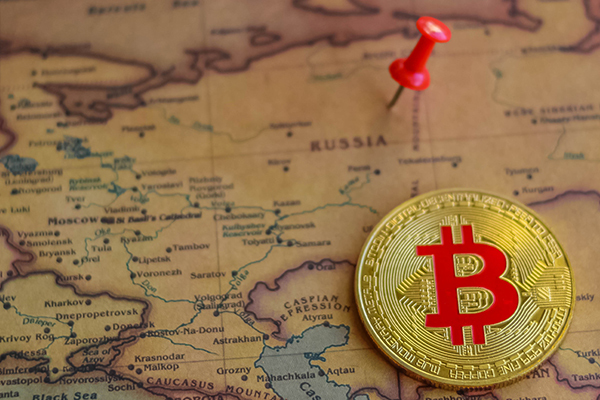 The conflict between Russia and Ukraine has not had as much of an impact on Bitcoin's popularity as experts had predicted.
The popularity of cryptocurrency transactions also did not turn out the way many expected. Bitcoin trading volume increased after Russia's invasion of Ukraine, but has remained relatively stable since then. This shows that the people of the two countries are in no hurry to exchange rubles (Russia) and Hryvnia (Ukraine) into digital gold.
Russian oligarchs also do not appear to be using cryptocurrencies as a means of evading sanctions and asset freezes from the west, despite initial predictions.
Even so, in this conflict, the Ukrainian government has shown its very fast pace with the cryptocurrency movement. The proof is that thanks to the positive actions of Deputy Prime Minister and Minister of Digital Transformation of Ukraine – Mr. Mykhailo Fedorov, the country has received tens of millions of dollars in support from around the world in the form of cryptocurrencies.
It can be seen that not Bitcoin in particular and cryptocurrencies in general have no impact on the Russia-Ukraine conflict, however, this digital gold does not show as much influence as expected.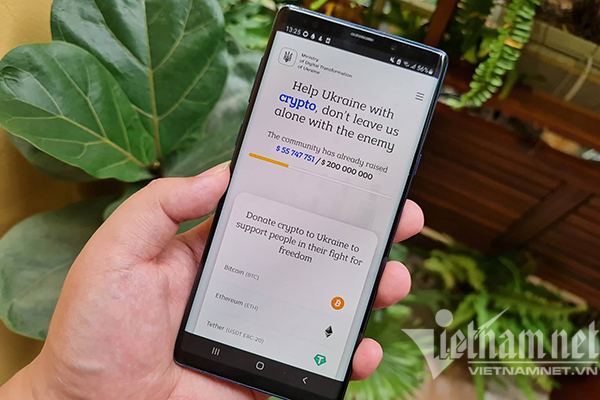 The Ukrainian government has developed its own website to receive donations in cryptocurrency. Photo: Trong Dat
The most obvious reason is that cryptocurrencies are still confusing and inaccessible to the masses, especially in times of war.
Besides, for crypto skeptics, Bitcoin in particular and virtual assets in general are still too volatile to be a hedge against economic instability. treat.
In addition, factors that are considered good for Bitcoin in the short term such as inflation and political conflicts can be harmful for Bitcoin in the long term, as it also brings attention from governments. .
According to billionaire Sam Bankman-Fried – CEO of crypto exchange FTX, the media's negative information about cryptocurrencies is also a factor affecting the growth of this market.
However, the fact that the Ukrainian government has benefited greatly from its fast-paced embrace of cryptocurrencies also highlights the usefulness of this particular asset to some extent. It is the ability of cryptocurrency to raise and disburse fast compared to traditional financial services.
Thanks to this, tens of millions of dollars were transferred to the Ukrainian government from all over the world easily. In a situation where national banks cannot function properly, cryptocurrencies can still be transferred and received almost instantly. This can be seen as the most visible benefit of Bitcoin in general and cryptocurrencies in particular in a post-Covid-19 uncertain world.
Trong Dat

Buy 'houses and apartments' for just the price of a bowl of pho
Many virtual lands have been successfully sold for millions of dollars. A real piece of land or house can now also be divided and sold into parts thanks to virtual technology.
.