This is the sharing of the founder of cryptocurrency exchange Binance – Mr. Changpeng Zhao (CZ) after arriving in Hanoi.
As VietNamNet reported, yesterday (June 3), Mr. Changpeng Zhao, who is ranked 19th among the richest people in the world, set foot in Vietnam.
Billionaire Changpeng Zhao was born in 1977, is a Chinese-Canadian. The total fortune that this billionaire owns is about 17.4 billion USD, mainly in the form of cryptocurrencies.
Sharing after arriving in Hanoi, Mr. Changpeng Zhao said that Blockchain is a new technology for the digital economy. How countries adopt this technology today will have a profound impact on the future of the local economy and the world at large.
According to Mr. Changpeng Zhao, more and more countries show their determination in grasping and properly applying Blockchain technology in life.
"I think clear and effective regulation is essential for Blockchain to be applied in every corner of life, not just cryptocurrencies, DeFi or NFT," said CZ.
Changpeng Zhao said that Binance is continuously licensed to operate in France, Italy, Abu Dhabi (UAE), Bahrain, Dubai …. is concrete evidence of the company always complying with local regulations. related to digital money.
During his arrival in Vietnam, billionaire Changpeng Zhao, who is also the founder of Binance, said that this cryptocurrency exchange will always comply with Vietnamese laws.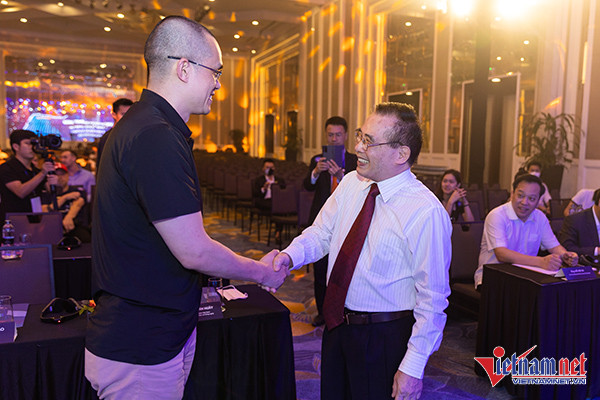 The CEO of Binance affirmed that he will put users first so that Vietnamese users in particular and users around the world believe that Binance's platform is one of the safest and most reliable in the world.
To realize this commitment, Binance and Vietnam Blockchain Association announced a cooperation on research exchange, Blockchain technology application and human resource training in Vietnam.
According to Mr. Phan Duc Trung – Vice President of Vietnam Blockchain Association, the commitment of the Binance representative to comply with all provisions of the law when operating in Vietnam is a big step forward, laying an important premise for the promotion of the blockchain industry. promote the development of Blockchain technology, contributing to the process of national digital transformation.
Vice President of Vietnam Blockchain Association said: "In its role, the Association not only plays the role of connecting and gathering the Blockchain community in the country but also a bridge to bring Vietnamese products to the world. world as well as attracting more international resources to Vietnam".
In order for Blockchain technology to develop sustainably and continue to resonate, the Association will work with Binance to focus on research and development of Blockchain applications in many fields, from decentralized finance to emerging trends. new technologies such as NFT, Web 3, Metaverse… Through networking programs, the Association will also promote personnel training and attract international investment in Vietnam.
Trong Dat
.