Recently, many users receive messages inviting to make money online easily, can earn up to 10 million VND / day. VNCERT / CC Center recommends that users be careful because this can be a new type of scam, potentially many risks.
Offer to make money online up to 10 million per day
According to information from the Vietnam Cyber ​​Emergency Response Center (VNCERT / CC) under the Department of Information Security, Ministry of Information and Communications, by monitoring the situation of spam messages, recently, VNCERT / CC Center found out displaying many seduction messages, inviting users to make money online in many different forms.
For example, users receive advertising spam messages, seducing content such as "How to earn VND 10,000,000 per day, log on website sharexx.com GQES" or "How to earn VND 600,000 per day to log in the web: sharexx.com "… These messages are sent to users from many different subscribers.
The first test shows that the subjects will send a spam message to the user to offer in the form of teaching to make money online. Then, when the user clicks on the link described in the message, he / she will be taken to a website to befriend a customer service agent via Zalo, with the phone number of a foreign carrier.
Next, when users make friends with Zalo in the name of customer care staff, they will be advised to access an official website with the domain name "likexx.com". After entering this website, the user must create an account and fill in his information and bank card number.
When the account registration is complete, the user will do the task of interacting (like, share), registering at social networking channels such as YouTube, Facebook and TikTok. In particular, each task completed, users will receive 3,500 VND and when enough 100,000 VND will be withdrawn free for the first time. For the second withdrawal, when users reach the minimum amount of 300,000 VND, but to withdraw money, you must upgrade to VIP package. At the same time, to quickly reach the amount needed to withdraw and want more tasks in one day, users must upgrade to the VIP package.
Potential risks, multilevel factors
The process of monitoring and studying the behavior of spreading messages to seduce online money shows that this can be a new form of fraud, with signs of violation of the law, with the risk of seriously affecting people. Because, the websites that the object provided do not have authentic information such as no specific information about the agency, organization or individual representative, they only provide completely untrue information. Not to mention, the subscribers providing the connection are from foreign carriers, so it is difficult to handle the problem.
"At the same time, the act of seducing users to provide personal information such as bank account numbers on these unauthenticated websites can be used to steal usage information for malicious purposes. ", the representative of VNCERT / CC shared.
Besides, when the first bonus is completed, many users may trust and top up to upgrade to a VIP account. The amount to upgrade to VIP account is from 1-5 million VND depending on each level. In fact, when collecting information from other users in the system, there are many opinions saying that the user has completed the task but when withdrawing money is denied. Even many VIP accounts can only withdraw once or twice for the first time and then no longer withdraw.
In addition, users can be taken advantage of to help objects increase likes and subscriptions for the purpose of profiting for themselves and have multi-level factors with the commission level given if inviting others to join. Participation is increased by the number of offers.
What should users do to avoid it?
In order to prevent and prevent risks and risks that may occur, VNCERT / CC Center warns users to be vigilant when receiving messages with content to seduce, offer to make money online, in addition to out, users should apply some measures to minimize spam messages, spam calls in general and phishing messages and calls in particular.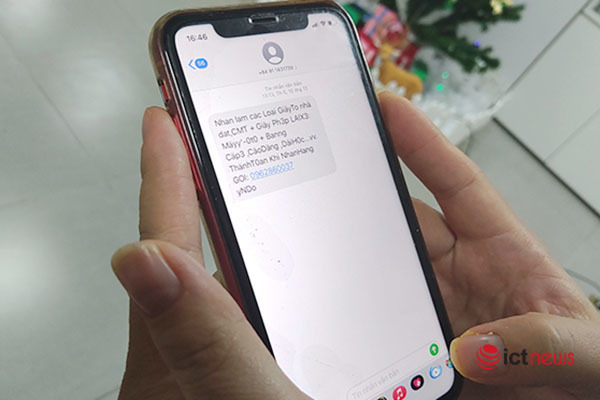 VNCERT / CC recommends that users apply a number of measures to minimize spam messages, spam calls in general and phishing messages and calls in particular (Artwork)
Specifically, users should not provide personal information on social networking sites, sales websites, information sites of unknown origin … At the same time, regularly monitor propaganda information from State management agencies to update increasingly sophisticated fraud.
In case of receiving advertising text messages, advertising calls without prior consent, especially when receiving messages showing signs of illegal violation such as fraud, advertising gambling content … people users should reflect to the switchboard 5656. User feedback plays an important role in helping state management agencies to verify and handle violations.
To reflect spam messages, users text to switchboard 5656 with the syntax "S [nguon_phat_tan] [Noi dung SMS rac]". The text message syntax that reflects the spam call, composes the message as "V [nguon_phat_tan] [Noi dung cuoc goi rac]". In addition, users can also reflect on the website https://thongbaorac.ais.gov.vn.
MT
More than 100,000 mobile subscribers signed up on the "No Ads List"
According to the Department of Information Security (Ministry of Information and Communications), there are more than 100,000 mobile subscribers already registered on the "No Ads List". Organizations, businesses and individuals that send text messages or make advertising calls to subscribers on this list are all heavily penalized.
.