Anyone can donate computers, phones or other learning aids to disadvantaged children around the area where they live.
Zalo Connect is one of many technology platforms that have proven effective after a long time of operation.
This anti-epidemic platform is now integrated as a feature on the Zalo application. Users can access this feature by typing "Zalo Connect" in the search bar of the Zalo application. Depending on their needs, they can choose either "I need help" or "I want to help".
The main function of Zalo Connect is to help people seek emergency help from the community for food, medicine, necessities or quickly connect with doctors and medical experts for medical advice from far.
This platform has recently added a new feature, which is to help poor children and disadvantaged children speak up to receive support from the community.
Students with difficult circumstances can go to the Zalo Connect application, select "School supplies" and attach their share to send a support request. Photo: Trong Dat
Specifically, in addition to necessary items such as food and necessities in the "Supply" section, there will be a new category on Zalo Connect with the name "Study Supplies". Students and students in difficult circumstances can express their aspirations and wishes for help through this.
Donors will find information about these cases around their area. From there, they can easily contact, verify, and support these cases.
PV's Note VietNamNet It shows that, currently in the "School Supplies" category on Zalo Connect, most of the help requests are related to devices such as computers and tablets to serve online learning for children.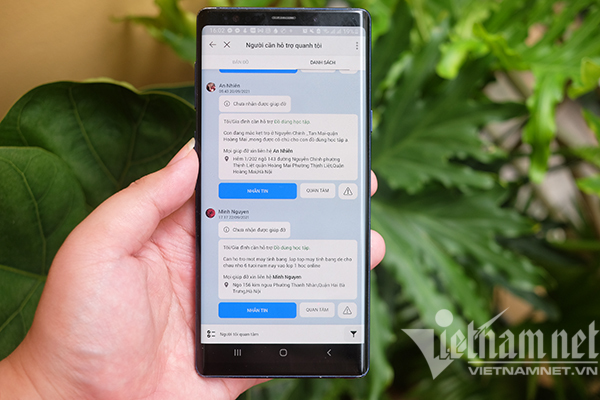 Most requests for help in the "School supplies" segment on Zalo Connect are related to devices for online learning such as tablets, iPads,… Photo: Trong Dat
Sharing on Zalo Connect, Ms. Pham Van Anh (Tuong Mai, Hoang Mai, Hanoi) said: "My family currently has 4 people, 2 husband and wife and 2 small children. I was sick, sick, couldn't go to work, just stayed at home to take care of my children. My husband is the main worker, but due to the epidemic, my husband has been at home for nearly 3 months now, with no income, the already difficult situation is now even more difficult."
With that situation, Ms. Van Anh wishes to receive support from benefactors so that her children can have computers to study online to reduce eye damage. In fact, this is the common desire of many parents who are submitting help requests on the platform.
Most of them want to support an old computer for study purposes. Because computers are valuable devices, many people are willing to spend money to buy cheap computers from benefactors who have no need to use them.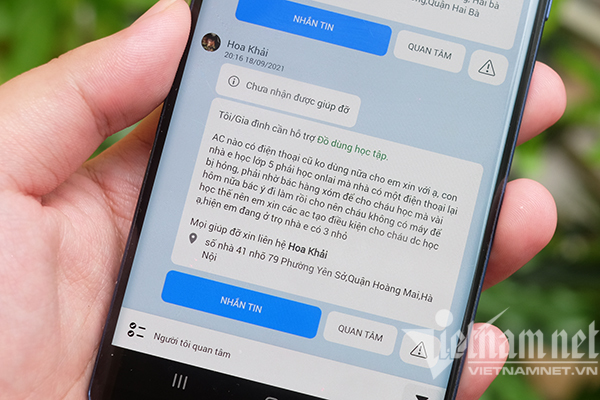 Those who have old and redundant computers and phones can use Zalo Connect to search and help disadvantaged children around their area. Photo: Trong Dat
According to statistics from the Ministry of Education and Training, as of September 12, the whole country had 26/63 provinces/cities studying online. The total number of students studying online is 7.35 million students at all levels. Among them, about 1.5 million children do not have computers for online learning.
In order to solve this problem, the Ministry of Information and Communications and the Ministry of Education and Training held the launching ceremony of the program "Waves and computers for children". This is a program with profound humanistic meaning, with the aim of mobilizing people, businesses, supporting computers, packages and setting up telecommunications infrastructure to help students with difficult circumstances have access to the Internet environment.
Although not within the framework of the program "Waves and computers for children", the support feature of "School supplies" on Zalo Connect is also a useful solution to connect benefactors with students. students with difficult circumstances.
Through Zalo Connect, many people can give away phones, computers and tablets themselves that do not need to be used to help and support specific cases in their own area.
Trong Dat
"Waves and computers for you" connect people with people more firmly
The network, wave and computer equipment for children is a physical and mechanical connection for learning, but also a stronger connection between people and people.
.