Different from the available services, this is the only security camera solution on the market that has synchronization from camera equipment, Internet services to cloud systems when these components are from the same supplier.
The Make in Vietnam security camera market has just added a new name, which is the smart cameras of FPT Telecom. This is a set of solutions called FPT Camera SME which is aimed at small and medium enterprises.
Different from the services of other providers in the market, this is the first Make in Vietnam security camera service that provides a synchronous way of both system and solution.
Accordingly, from AI camera equipment, Internet services to cloud systems located at the data center, are all developed, integrated and deployed by a single provider, FPT Telecom. This is the difference and also the advantage of this security camera solution thanks to the existing telecommunications infrastructure.
Make in Vietnam surveillance camera model developed by FPT Telecom.
FPT Camera SME currently has two device options. The first is an indoor camera model with a 102-degree viewing angle lens, Wi-Fi connection, 10m infrared. Next is another specialized camera model used in outdoor conditions with a viewing angle of 106 degrees, heat resistance of 75 degrees C, IP66 dust and water resistance, 20m infrared.
Both these Make in Vietnam camera models use the same 1/2.8-inch image sensor with high image quality, Full HD 1080p resolution. The manufacturer also equipped with an intelligent IQ recognition feature on the outdoor camera version. As a result, the outdoor security cameras will have the function of detecting intruders.
Notably, the AI ​​on FPT Camera can distinguish between human and object movements with up to 99% accuracy. The images captured by the camera will be analyzed in real time, thereby giving an immediate warning if someone is detected entering the monitored area.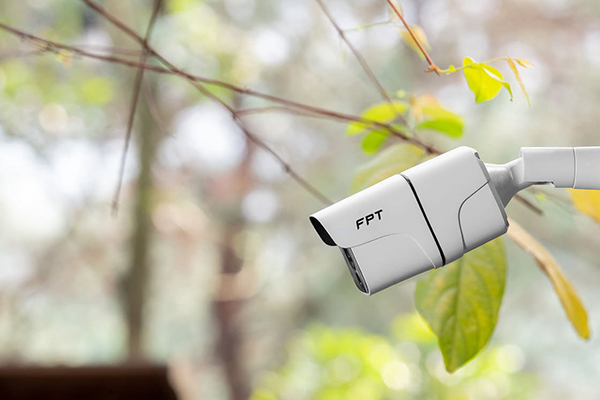 Due to the integration of the cloud, users of FPT's security cameras do not have to invest in storage devices as usual.
Users can freely choose storage packages and review previous data within 1 to 45 days depending on demand thanks to cloud service (cloud computing). With the cloud, users of this Make in Vietnam security camera model will not need to invest in a recorder or memory card for storage, thereby reducing a significant part of the initial investment cost.
Data from the camera can be viewed online, played back, from a variety of devices with near-zero latency and 2-layer encryption. Camera monitoring and management can be done on mobile applications, computers or even on televisions through FPT Play Box.
According to the developer, this security camera solution is especially suitable for chain businesses with many business establishments, factories, production facilities, real estate projects, residential areas, organizations. residents, even schools, hospitals or isolation areas in the context of an outbreak.
Trong Dat

Does Vietnam have a 3D digitization startup, or no less than Google's Street View?
This startup uses 3D scanners, 360 cameras, drones to capture the showroom space, building, factory …, converting it from physical form to digital form.
.