Just a short time after the sale, the first AirTags of Apple arrived in the Vietnamese market.
Launched at an event held in April, AirTag is a compact smart navigation device developed by Apple. This device has the form of a small circular disc, used to attach to objects such as bags, keys, and vehicles so that users can easily find their belongings.
Basically, this device is made of stainless steel material. On the AirTag has a chip that allows you to locate objects when connected to an application on the iPhone. This device is also equipped with additional audio speakers to aid in recognition when searching.
Apple offered to sell for $ 29 / unit and $ 99 / set (including 4 units). But when it comes to Vietnam, the price of this device is "leveled" up quite a lot.
The first AirTags have begun to dock in the Vietnamese market. This positioning device is sold individually or sold in sets of 4.
As noted by PV. VietNamNet, the price of the first AirTags on the market is 1 million VND / unit. If you buy in sets (4 pieces), users can enjoy a more preferential price of about 3.7 million VND.
Share with PV. VietNamNet, Mr. Dinh Nam – one of the first owners of AirTag in Vietnam, said that this accessory was imported by a store specializing in Apple portable goods in Hanoi.
Regarding specific origins, the first AirTag shipments originated from Singapore in the form of packs (1 box of 4). Because the need to buy a large quantity is not much, after importing, the AirTag is torn by the shop owner for retail at a price of 1 million dong.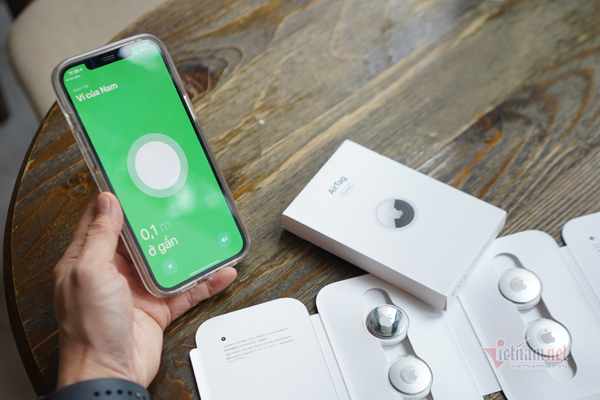 Users can attach AirTag to objects such as wallets, keys, motorcycles, cars, and then use the iPhone application to search using the location feature.
As can be seen, the price of AirTag in Vietnam is much higher (about 1.7 times) compared to the international market. However, an expert in this field said that although the retail price is quite high, the shops are not profitable.
The Covid-19 pandemic affected international trade more or less. Difficulty in transport is the challenge that makes portable devices cost. Because the imported price is already high, on average, for each AirTag sold, the shop owners only make a profit of about 200,000 VND.
Of course, this is just the price of AirTag in the early days. As the source of goods becomes more abundant, the price of AirTag in Vietnam is likely to have a slight adjustment. However, for Apple fans, the price difference of only 100,000 – 200,000 VND will surely not discourage this group of users. The AirTag market, therefore, also promises to be very bustling.
Trong Dat
iPhone 13 Pro Max is revealed with new design details
The iPhone 13 Pro Max model has just appeared although it is still a few months from this new product by Apple.
.