After dog-type cryptocurrencies like Dogecoin, Shiba Inu, crypto investors are now caught up in a new trend with cat-type "virtual money". It's the RICI Elon craze (rici.io).
The cryptocurrency market is witnessing waves of investment trends. That is also the reason for the appearance of many "virtual money" projects named after foods and animals.
Such projects are commonly known as coin memes. They are cryptocurrencies inspired by popular funny images on the Internet, or tokens made after the names and images of famous people in the world.
Once seen as jokes, the rate at which these meme coin projects have risen in price is challenging some of the major cap cryptocurrencies like Bitcoin and Ethereum.
Dog and cat meme coins are constantly stirring the crypto market.
Earlier this year, the crypto world witnessed a "virtual currency" fever with Dogecoin (growth 8,500%). In the second half of the year, another dog-type token, Shiba Inu, stirred up the cryptocurrency market with a growth of up to 1,000% in just 1 month.
After the "virtual currency" fever of dogs, cryptocurrency investors are now caught up in a new trend of cat "virtual currencies", with the biggest representative of this trend being RICI Elon (RICI).
RICI is a token with a combination of the hottest trends in the crypto market like DeFi, GameFi and Metaverse. RICI holders can trade on decentralized exchanges (DEXs), buy NFTs for "play to earn" gaming or even more distant future apps in a Metaverse world.
In fact, just a few days after its launch, the price of the "virtual currency" RICI Elon has had an impressive growth, nearly 200 times. From the price of $0.00001 at the time of listing on the Pancake Swap, there are times when the price of RICI (RICI Elon's utility token), touches the threshold of $0.002.
The price of RICI – cat meme coin used to be around $0.002, an increase of about 200 times compared to the listed price. (Photo: Trong Dat)
The reason investors are interested in meme coins is because they often have a very low starting price, with no limit on the amount of capital invested. Just spend 10 USD, players can own up to thousands of these tokens. Meanwhile, if creating a fever, the price of meme coins can increase by hundreds, even thousands of times.
In the case of RICI Elon, this meme went its own way when it was not open for sale but gave free tokens to users. That's why, after only a few days, the community of RICI holders has grown to more than 62,000 people. Not only that, the fact that RICI Elon "burned" up to 99.99% of the tokens created made the price of this "virtual currency" skyrocket.
Notably, less than a week after its appearance, RICI has risen to rank 4 in the number of holders in the world of meme coins, just behind famous names like Dogecoin, Shiba Inu or Dogelon Mars.
Although the number of holders is not inferior to Dogecoin or Shiba Inu, the capitalization of RICI Elon is quite small (only 150 million USD if fully diluted). That is why many people believe that the value of RICI will increase sharply in the future, especially when the previous meme coins have a capitalization of billions, even tens of billions of dollars.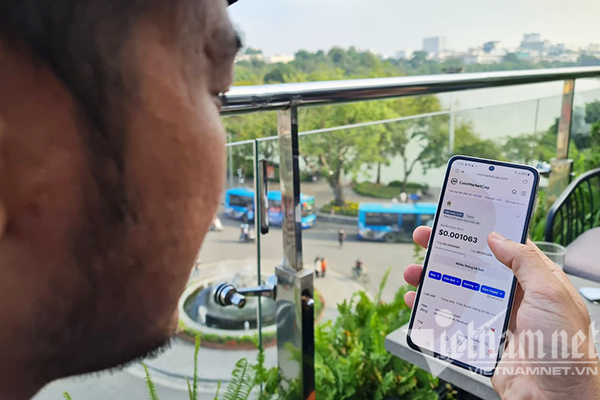 Investors should have a reasonable capital management strategy, avoiding being too absorbed in running after the meme coin fever. (Photo: Trong Dat)
The cat-type virtual currency fever is likely to be even hotter in the near future because RICI has just released an NFT game. It can be seen that RICI is aiming to break out of the shadow of a coin meme by providing users with an entertainment with their token.
However, with trendy cryptocurrencies like Shiba Inu, Pig Finance, Akita Inu, Husky or RICI Elon… players should be alert and have a reasonable capital management.
Usually, if looking at the long-term, experienced investors still put their faith in major cryptocurrencies with large capitalization such as Bitcoin, Ethereum, Polkadot, Binance Coin,…
These are cryptocurrencies with a large community, great potential, and a strong development team with a solid academic background. With the meme coin, investors should only participate for fun with a moderate amount of capital, avoiding the situation of giving up all their capital to chase these fevers.
Besides, it must be noted that Bitcoin in particular and other cryptocurrencies have not yet been recognized as a legal currency or means of payment in Vietnam. The use of Bitcoin (and other similar cryptocurrencies) as a means of payment is not recognized and protected by law.
Trong Dat

People investing in virtual money "fever" because of the shiba inu dog cash
Cryptocurrency investors are calling on financial brokerage services firm Robinhood Markets to add shiba inu to their platform, causing the value of the virtual currency derived from the network to skyrocket this month.
.