New Delhi So far, 62 million people have been infected with the Corona virus in the world. Of which more than 1.5 million have died due to corona virus. At the same time, to prevent corona infection, an appeal is being made that people should avoid coming in contact with each other. Meanwhile, some pictures of a wedding are becoming quite viral on social media. In which a bride is seen getting married even after being corona infected. Interestingly, the bride is seen sitting at the window of her house performing all the wedding rituals.
Bride corona infected before marriage
Actually California residents Patrick Delgado and Lauren Jimenez were ready to be married in late November. At the same time, the bride was found corona infected when her health deteriorated three days before the wedding. However, keeping the bride in isolation, the couple decided to complete their wedding ceremony.
Got married in a unique way
For the present, for the wedding, he finally fulfilled the wedding vows, holding the ends of a decorated ribbon. On this the couple says that they did this because they wanted to feel that they are holding each other's hands. In the wedding ceremony pictures, the bride can be seen sitting on her bedroom window on the first floor of her house. At the same time, the groom was standing under the window in the front yard.
The marriage date was changed thrice
According to Lauren Jimenez, she was very sad when she was found to be corona infected, but got support from her partner. He says that he had already changed his marriage date three times due to the corona epidemic. So this time they completed the wedding doing something different.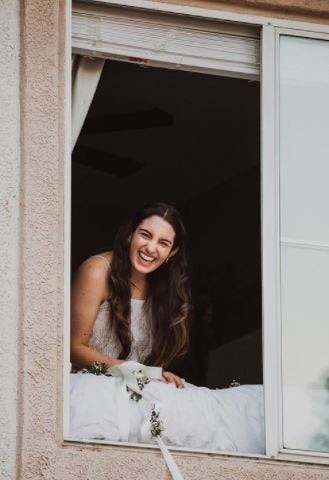 Unique wedding 2020
Wedding photographer Jessica Jackson, who was shooting this wedding, says that "whatever could have gone wrong happened." I was really sad because everything we had planned was already being canceled. It was the best wedding of 2020 that I shot during COVID-19. "At the moment, the wedding photos are becoming quite viral on social media. While many users are wishing them the best.
Read also:
More than two lakh cases of corona increased in the US for the third consecutive day, a record 2.35 lakh cases came in 24 hours
In the world, 1.5 million infected people died due to corona, 6.66 lakh cases came in 24 hours, 12 thousand lost their lives
.