Nintendo USA has sued the distributors of the hack Nintendo Switch on Amazon, including the Winmart account of defendant Le Hoang Minh.
According to the latest lawsuit from Nintendo, a defendant was identified as Le Hoang Minh, business people on Amazon to name Winmart, sold equipment RCM Loader. The device works over a USB-C connector, marketed as a plug-and-play solution for bringing bootable load files into custom sections (CFW), including Team's SX OS -Xecuter.
Specifically, this device, after the intervention, will allow users to play illegal or pirated games. According to Nintendo, it has sent DMCA (Digital Millennium Copyright Act) notices to distributors, including Le Hoang Minh's Amazon account, but it has received counter-requests. So Nintendo filed a lawsuit and demanded court intervention.
According to court documents, Nintendo filed a lawsuit in the Seattle court on Wednesday. In the lawsuit, Nintendo described "serious and worsening international problems" caused by software piracy of video game software. Nintendo is asking the court for deterrent rulings and offering $ 2,500 in compensation for each violation.
Winmart's portfolio of jailbroken products on Amazon has now been removed (Screenshot)
In May, Nintendo won a similar case with damages of up to $ 2 million and a permanent ban on dealers allegedly hackers. In that lawsuit, the distributor allegedly sold hardware and software distributed by the Team Xecuter organization, two members of this group, Gary Bowser and Max Louarn, were later arrested by the authorities with 11 various crimes.
This time, Nintendo did not mention specific Team Xecuter products, but did point out that the dealer does distribute RCM and SX OS (Team Xecuter software) or other similar programs. As noted by ICTnews, users can search for information on the RCM, but a list of specific products related to Nintendo on Amazon deleted.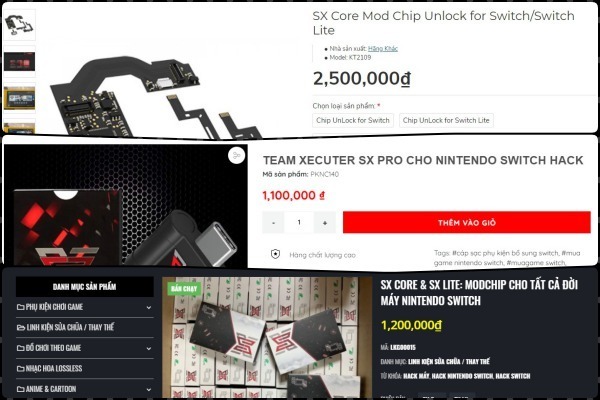 Many stores and e-commerce platforms in Vietnam are still selling similar stuff
Before that, like ICTnews reported, "Unlocking Nintendo Switch tool is publicly available in Vietnam" with prices ranging from 800 thousand to 1.2 million, even up to 2.5 million. Most of the shops or service providers are not committed to guarantee and affirm welding manipulator can cause engine damage.
Phong Vu

Apple is sued for a tracking tool on the iPhone
A group led by privacy activist Max Schrems has filed complaints with German and Spanish authorities because of the online tracking tool on Apple's iPhones.
.