Q1V is the first laptop model of Vietnamese computer company Massko. The machine is expected to sell genuine in mid-January 2022 for 10.7 million VND.
Recently, the Vietnamese laptop market has just appeared a new name, Massko computer company. This brand is preparing to launch a laptop model priced at about 10 million VND early next year.
Accordingly, the upcoming laptop model is codenamed Massko Q1V. This device belongs to the same segment as some popular laptop models such as Dell Inspiron N3502, Acer Aspire 3 A314 or Asus Vivobook X515MA.
Massko's first computer model has just appeared in the Vietnamese market. Photo: Trong Dat
The point that makes Q1V different from competitors is that this computer model uses Snapdragon 7c chip. This is also one of the rare laptop models using this chip line in the Vietnamese computer market.
Notably, according to the manufacturer, Massko Q1V will come pre-installed with the latest 64-bit Windows 11 Pro. This is the copyrighted operating system that is included with the machine for life.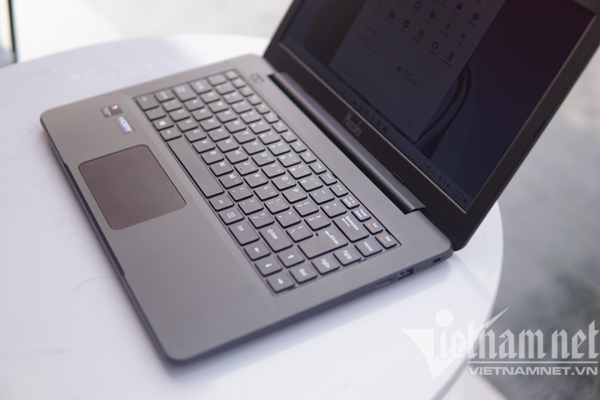 Thanks to its large overall size, the Q1V keyboard has a moderate distance between buttons, long key travel, and a good typing feeling.
Basically, using Windows 11 on laptops using Snapdragon chips is no different from other chip lines. Users can still use popular software such as Chrome browser, Office software or work online with Zoom normally.
Notably, the machine does not have a fan and a heat sink, so it does not make noise during use. Although there are some concerns related to the device's heat dissipation ability because the machine does not have a fan, the actual use with the Massko Q1V gives relatively positive results, the machine is not in a state of overheating as worried. initial.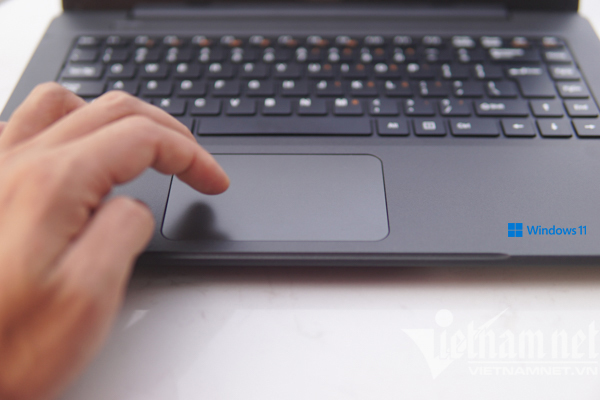 The touchpad of this laptop model is quite small compared to the overall size of the machine. This is the minus point of Massko Q1V.
There is a special point when Massko Q1V is capable of 4G LTE connectivity with the integrated sim slot on the right edge. On the sides, there are also connection ports including HDMI, 3.5mm headphone port, two USB-A 3.0, one USB-C port, microSD card slot, but no RJ-45 port to plug in the LAN wire.
In terms of configuration, Massko Q1V has 4GB RAM and 128GB eMMC internal memory commonly used on smartphones. With a memory capacity of only 128GB, after installing the operating system, users only have less than 100GB of storage left. This is a weakness of Massko Q1V in particular and also a common weakness of models in this price range.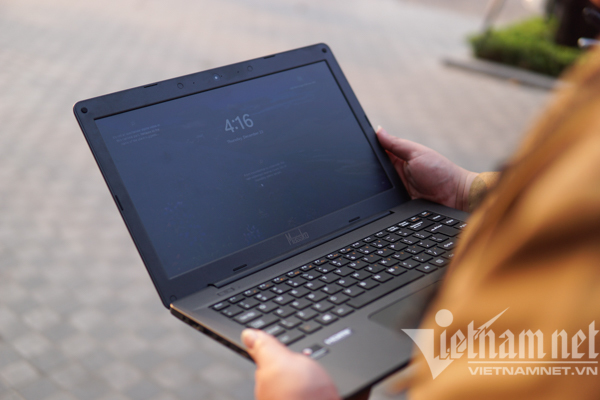 Q1V uses a 14-inch LCD screen, HD resolution of 1366 x 768 pixels. The screen is slightly turned to cold tones, the brightness and contrast are average. The screen border is quite thick and lumpy plastic, creating a rough feeling. Photo: Trong Dat
In general, with a price range of about 10 million VND, currently Vietnamese users do not have too many choices. The choices mainly come from low-cost laptops from ASUS or Acer.
The appearance of Massko Q1V with Snapdragon chip is expected to bring a new price line in this segment of the market. This is especially meaningful in the context that user demand for popular laptops is huge in the context of the Covid-19 epidemic that has not shown any signs of cooling down.
Trong Dat

On hand laptop "Copyright Win" online learning costs 6 million
Cheap Masstel laptops are aimed at serving children's online learning needs in the context of the spreading Covid-19 epidemic.
.