Technology cannot reverse a pandemic, however, it can assist in preventing the spread of disease, educating, alerting, empowering and significantly reducing damage.
Diseases constantly threaten human life. SARS, H1N1, Ebola… all made the world turn upside down. However, every time we face a threat, we find new ways to fight and manage an unexpected pandemic. Technology cannot reverse the epidemic, but it is a great helper for everyone. Today, with technologies such as mobility, cloud, analytics, robotics, artificial intelligence, 4G / 5G, high-speed Internet, humankind can adopt an innovative pre-epidemic approach.
Map of Covid-19 in Senegal. (Photo: UNV)
Here are eight areas where technology plays an important role in the fight against Covid-19:
Fight against fake news
Fake and misleading news about the number of cases, suspected infections, treatment methods, diagnoses, vaccines, drugs, government policies … cause disturbance and insecurity for people. It can lead to widespread chaos, rushing to hoard essential goods, price blowing, violence on the street, discrimination, conspiracy theories … To minimize misinformation, companies like Google, Facebook, and YouTube must work tirelessly to guide people to access official, verified news published by WHO or local authorities. By giving people accurate information, they will know what to do in the right way.
Find a cure
When the new epidemic struck, the first question that came to mind was whether there was any medicine to cure it or if there was a vaccine to prevent it. The world is desperately looking for ways to slow the spread of corona virus and effective treatments. Technology makes that process faster.
Artificial intelligence (AI) plays an important role in suggesting the ingredients of a vaccine thanks to deep understanding of the protein structure of the virus, helping medical researchers dig through a multitude of related documents at the speed. ever had. Teams at Allen Research Institute, Google DeepMind have developed AI tools that share datasets and search results. In January, Google DeepMind introduced AlphaFold, a modern system capable of predicting a protein's 3D structure based on its genetic sequence. Meanwhile, the University of Texas and the US National Institutes of Health used popular biotechnology to create the first 3D atom-scale map of mutant proteins.
Trace application on smartphones helps to investigate epidemiology faster and provide timely alerts. (Photo: ICTworks)
Increase traceability and transparency when sharing data
During an epidemic, it is important to clearly communicate with people, making sure they take appropriate measures to prevent epidemics. Some groups are using prevailing technologies such as mobile phone, AI … to provide a clear picture of the epidemic situation.
For example, Microsoft Bing introduces an interactive Covid-19 map that provides widespread disease news. Sixfold has released a live cross-border truck map to help every supply chain in Europe recognize delays in delivery times.
Social networking platforms like TikTok work with WHO to help users recognize correct and timely information. WHO experts also livestream to answer everyone's questions.
The Taiwan Disease Command Center (CECC) combines medical data with travel data to create a real-time alert and monitoring system. For example, the system automatically sends alerts during clinical examination if they have ever moved to the epidemic area. In India, carriers such as Jio, BSNL, Airtel … have replaced ringback tones with Covid-19 awareness-raising messages.
Tracking with facial recognition and big data
When controlling a disease, analyzing big data helps to quickly identify infected people, connect with them and investigate epidemiology. Facial recognition technology along with data can recognize a person even when they wear a mask.
Such technologies aid in tracking the movements of people in quarantine. Surveillance cameras integrated with face detection will detect who violates regulations and go out even though they are quarantined.
Evaluate and predict risks thanks to AI
AI is increasingly urgent with healthcare today. AI-based data prediction and analysis model allows medical professionals to gain insight into diseases. With AI, they can more accurately predict the rate of spread, drugs, and treatment. Researchers easily find relevant reports, leading to new knowledge or approaches to dealing with outbreaks.
AI-based risk assessment tools designed to avoid confusion between the symptoms of a common cold, flu or Covid-19 patient; whether or not tests are needed and if so, what tests should be done.
For example, Baidu develops an AI solution to efficiently screen large populations, detecting changes in body temperature as they move. The system can check for up to 200 people / min without interrupting circulation. Such technologies can be deployed in crowded areas, hospitals, train stations, airports … to identify patients quickly, quarantine them before infecting more people.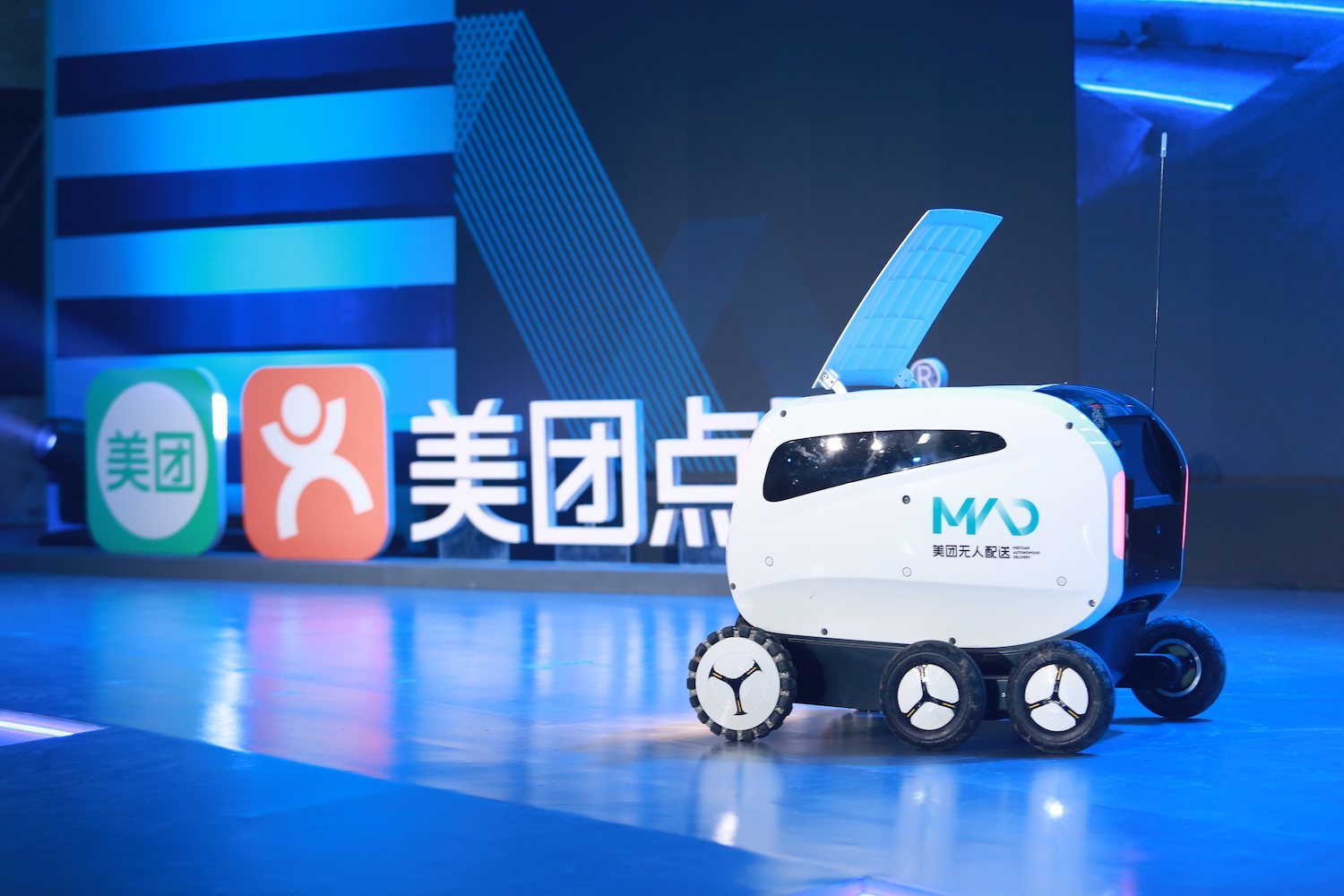 Meituan's delivery robot. (Photo: Tech In Asia)
Contactless delivery thanks to autonomous vehicles, drones and robots
Self-driving cars, drones, and robots all come in handy at a time when people need to avoid contact. Self-driving vehicles are used to transport sick people between medical facilities without risking the life of healthy people. Robots are used to deliver goods, food, sterilize hospitals, patrol the streets. Drones are used to deliver food, monitor residents, transport test kits and drugs to quarantine sites, use thermal imaging cameras to identify infected people, spray disinfectants …
Technology supports temperature monitoring
Wireless thermometer guns and other infrared thermometers are gaining popularity. They are used at checkpoints in offices, airports, hotels, train stations, shops and public areas. These technologies assist in measuring the body temperature from a distance, which is very useful when it comes to identifying who needs a closer examination. Automatic body temperature monitoring combined with facial recognition help make the process faster and more efficient.
Remote work technology supports social distance
When epidemics or other disasters threaten the business world, working remotely ensures that businesses continue to operate normally, even during times of social disengagement. Technologies that allow secure access to data, enterprise applications, virtual meetings, cloud conferences, virtual reality / augmented reality … are all common. Remote working is the "miracle" of technology, is one of the best solutions to support people in distance.
Today, the biggest threat to the whole world is the pandemic, an infectious virus with tremendous devastation that kills many people. Clearly, we are not prepared for an epidemic like Covid-19. As technology advances exponentially, people and society also need to accelerate to adapt to it and invest in technology systems, preparing for a similar scenario in the future. After the translation of Covid-19 has passed, one of the most obvious takeaways is that information technology, from AI to robotics, will help control epidemics and combat urgent medical situations in a timely and systematic manner. and stay calm.
Du Lam (Synthetic)

Re-enable the quick response information nest to help analyze data about Covid-19 translation
One of the main tasks of the Quick Response Information Group of the National Steering Committee for Disease Control Covid-19 is to help the Steering Committee and the Ministry of Health analyze information, data and expert opinions on the situation. Translate.
How to install Bluezone to help warn suspected Covid-19
The Ministry of Information and Communications and the Ministry of Health have agreed to deploy a Bluezone application nationwide to serve Covid-19 epidemic prevention and control. This application helps to early warn users if they have accidentally been in contact with Covid-19 infected people.
To receive alerts from Bluezone, the first thing to do is to download and install this app.
Link download Bluezone on Android Link download Bluezone on iOS
Once installed, users need to give Bluezone app permission to access storage and Bluetooth connection to receive alerts from the app.
.