Not only allows recalling messages, setting lock codes, hiding active status…, recently, Zalo has added a feature "Self-deleting messages" to help users protect more private information.
Today, people pay special attention to privacy and security in the social network space. Here are useful features of Zalo to help increase security and protect user privacy.
Self-deleting messages
If you only want to store messages for a short time, users can use the self-deleting message feature (disappearing message) on Zalo.
Outgoing message content is automatically deleted within 1, 7 or 30 days (depending on user settings). With this time, the message will not disappear before the recipient has read the content. This will help users feel more secure when exchanging personal or work information through this platform.
Set up self-deleting messages on your phone with 4 easy steps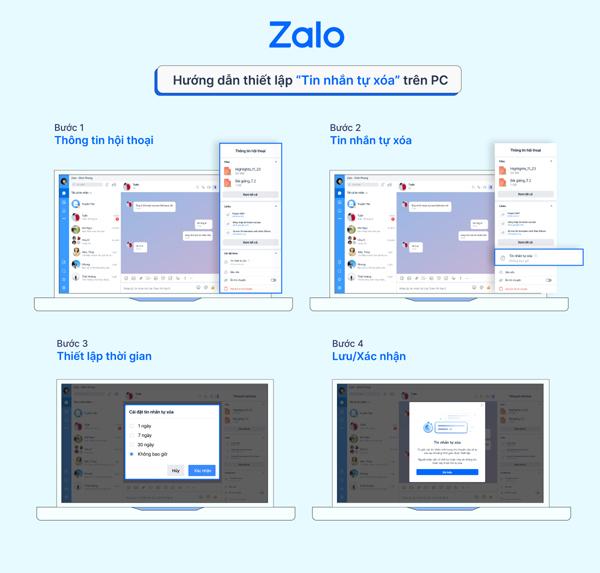 On the computer, it is also easy to turn on Zalo's self-deleting message feature
To activate the self-deleting message feature, users click "Options" (for phones) or "Conversation information" (for computers) and select "Self-deleting messages", then set the time and save.
Message recall
The message recall feature on Zalo is not only useful when users message the wrong information, but also convenient when you want to remove important exchange content to ensure security and privacy. When a message is revoked, a message will be displayed in a chat window with both sender and receiver.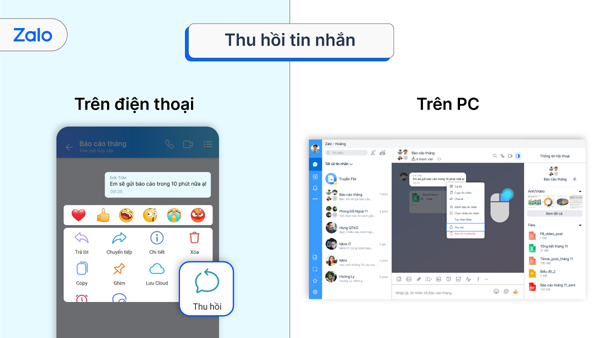 Message recall helps users remove sent content
With Zalo on the computer, users just need to right-click on the message and select "Revoke". On the mobile version, users hold down the message until an option appears and click "Recall".
Hide active status
To avoid being disturbed, users can install the feature to hide the active status on Zalo. Accordingly, friends on Zalo will not see the user's last visit, nor know if you are active on Zalo.
Simple setup. Users click on "Settings", select "Privacy" and turn off the feature "Show access status". Soon Zalo friends will not know if the user is online or not.
Block calls and messages from strangers
In fact, many unfamiliar accounts can contact and distract, even annoy the users. Users can experience the feature of blocking calls and messages from strangers on Zalo to avoid being disturbed.
Accordingly, when setting up this feature, all accounts that are not Zalo friends of the user will not be able to connect by message or call. To use, users go to "Settings", select "Privacy" and turn off "Receive messages and calls from strangers".
Share diary to friends list only
Users can actively only share the activity log with their friends list or make it public to everyone when using Zalo. Even users can set up privacy, not letting some friends see their Zalo logs.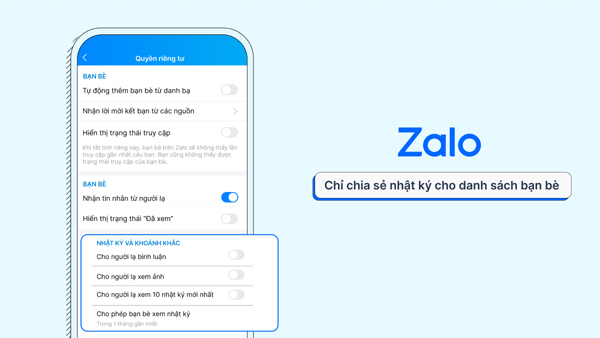 Users can block strangers from viewing logs, photos and comments on Zalo
To keep the privacy and security of personal information on Zalo logs, users can block strangers from viewing photos and comments by: opening "Settings", selecting "Privacy" and turning off features for strangers comment, see photos.
Privacy settings when receiving friend requests
Zalo is a communication and working tool for many people, but not everyone has the need for mass connection. Users can try out the features set up how to receive friend requests.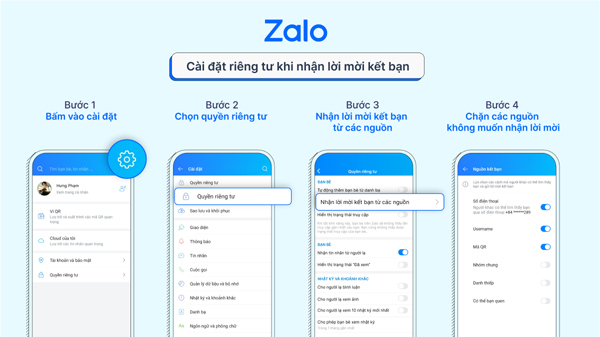 You can easily set your privacy when you receive friend requests on Zalo
Users can go to "Settings" and then select "Privacy", turn off the feature "Automatically add friends from contacts". Thus, the phone numbers in the phone book will not be added to Zalo by default.
Users can also control the sources of friend requests by hiding the QR code, or turning on the feature to not allow others to find you on Zalo.
Hide personal information
On Zalo, the user's phone number will be hidden by default and only public to friends who have saved the number in the contact list. To avoid strangers from collecting data, users can hide more personal information on Zalo. To activate, users open Zalo on the phone, select "Settings", go to "Privacy" and click "Do not show the date of birth to others".
Set the passcode
Setting up a lock code for your Zalo account is a recommended step to protect users' private messages.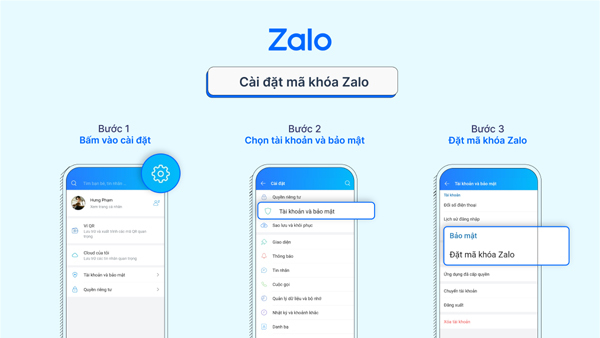 Installing Zalo key code helps users exchange important information more private and secure
Accordingly, users can click on "Settings", select "Account and security", and then set a lock code for Zalo with a 4-digit sequence. Thus, as soon as you exit Zalo and want to access it again, users will need to enter a password to open the application.
Le Thanh
.